A few Sundays back, I was free from university work and had plenty of free time on Sunday.
I am active on Instagram and have decent number of followers.
https://www.instagram.com/darpan.jpg/
Thought, why not use the Instagram feature of to do an AMA – Ask Me Anything session.
I had total fun answering questions from diverse range of topics – money, life, work, advice, photography, girlfriend – what not! 😀
Sharing the entire AMA here via screenshots of Instagram stories.
---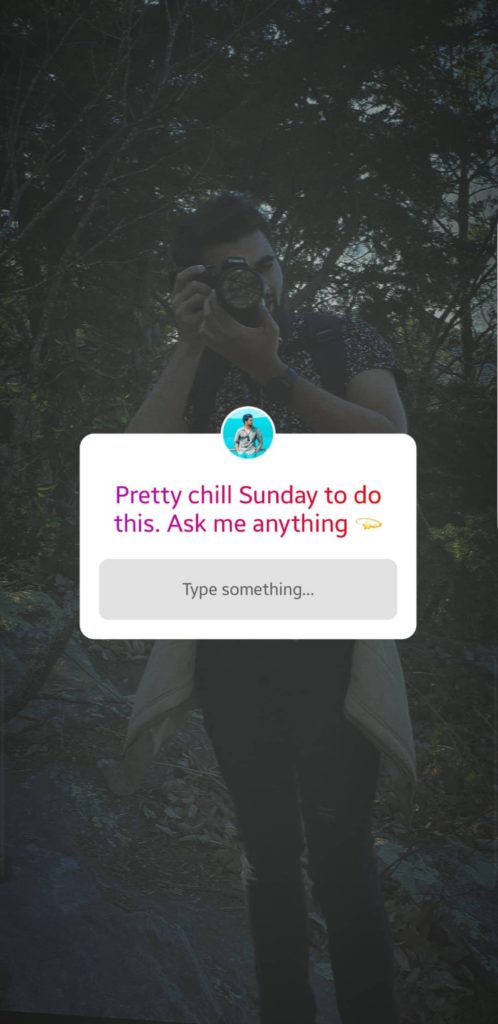 Pretty chill Sunday to do
this. Ask me anything…
---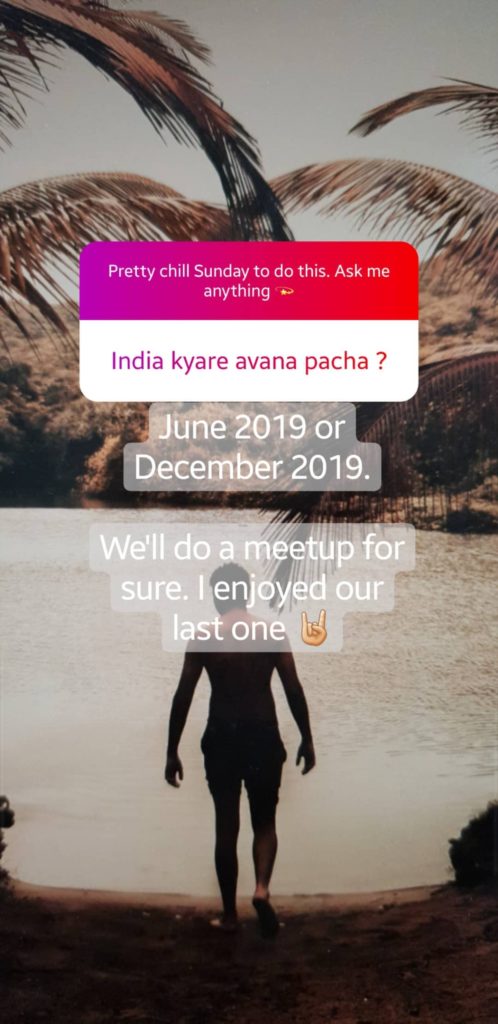 Q. When are you coming back to India?

A. June 2019 or
December 2019.
We'll do a meetup for
sure, l enjoyed our
last one.
---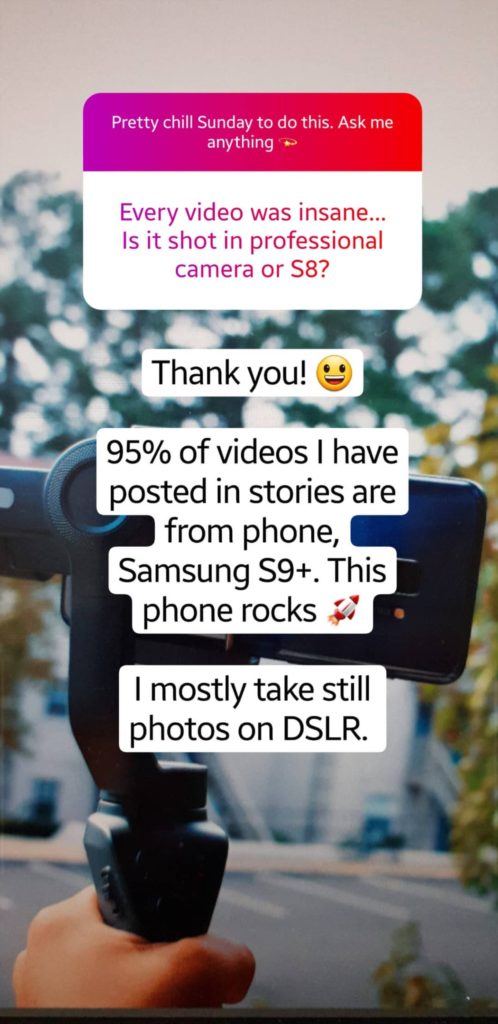 Q. Every video was insane… Is it shot in professional camera or S8?
A. Thank you!
95% of videos I have posted in stories are from phone, Samsung S9+. This
phone rocks. I mostly take still
photos on DSLR.
---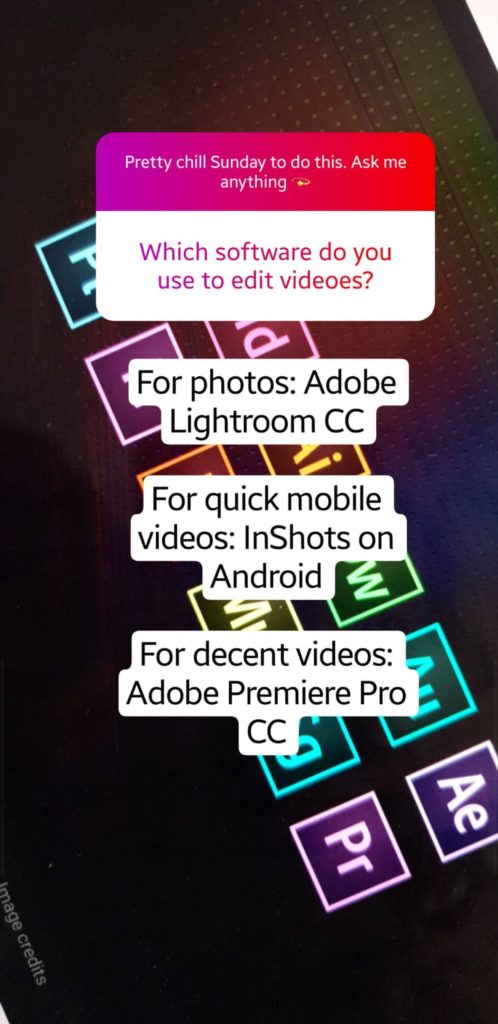 Q. Which software do you use to edit videos?
A.
For photos: Adobe Lightroom CC
For quick mobile videos: InShots on Android
For decent videos: Adobe Premiere Pro
---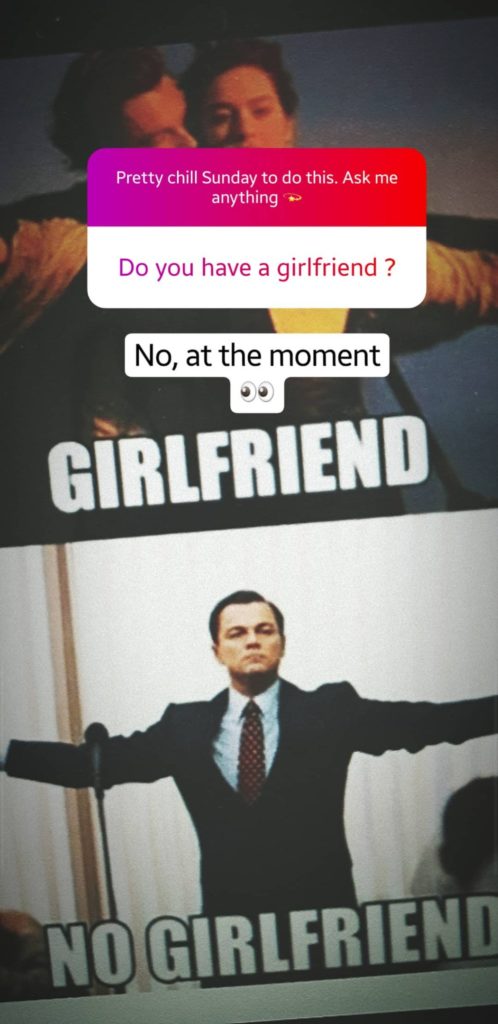 Q. Do you have a girlfriend?
A. No, at the moment
---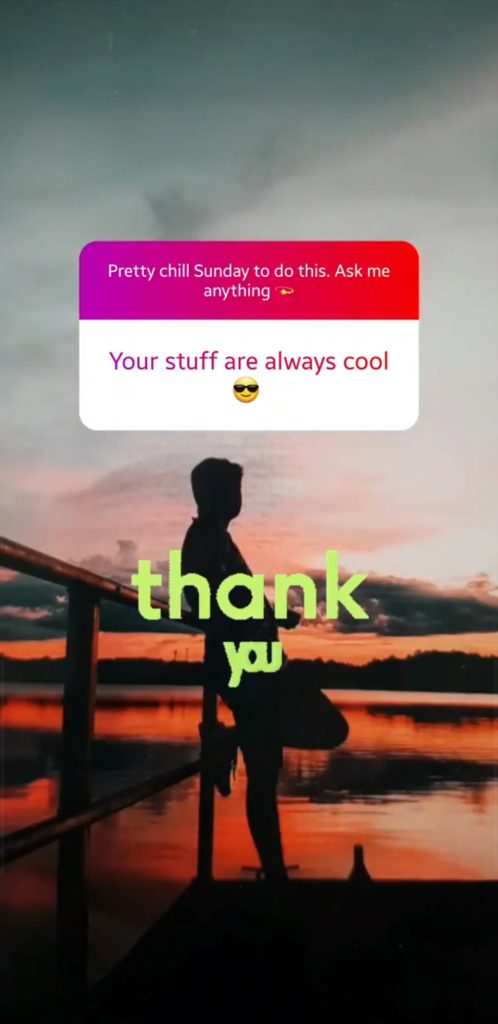 Q. Your stuff are always cool
A. Thank you!
---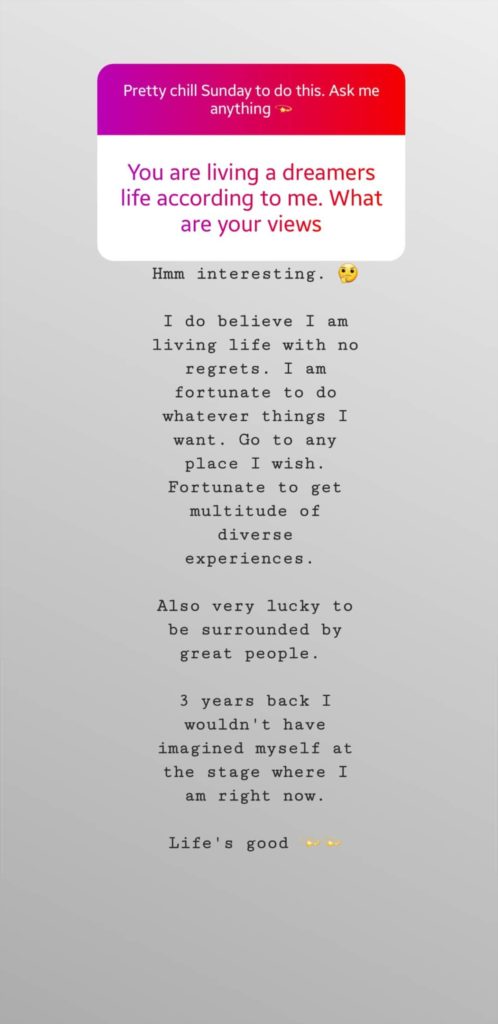 Q. You are living a dreamers life according to me. What are your views
A. Hmm interesting I do believe I am living 1life with no regrets. I am fortunate to do whatever things I want. Go to any place I wish. Fortunate to get multitude of diverse experiences Also very lucky to be surrounded by great people 3 years back I wouldn't have imagined myself at the stage where I am right now.
---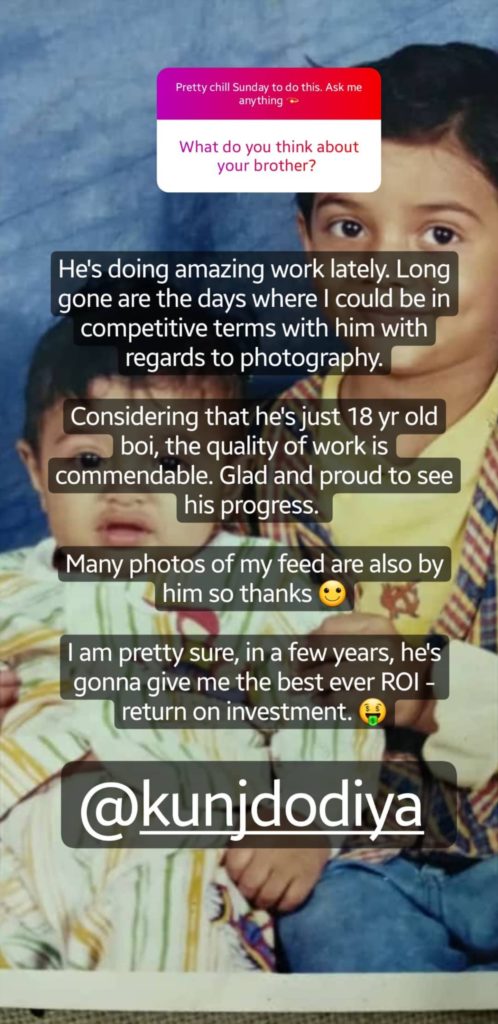 Q. What do you think about your brother?

A. He's doing amazing work lately. Long gone are the days where could be in competitive terms with him with regards to photography.
Considering that he's just 18 yr old boi, the quality of work is
commendable. Glad and proud to see his progress.

Many photos of my feed are also by him so thanks. 🙂

I am pretty sure, in a few years, he's gonna give me the best ever ROI return on investment.
@kunjdodiya
---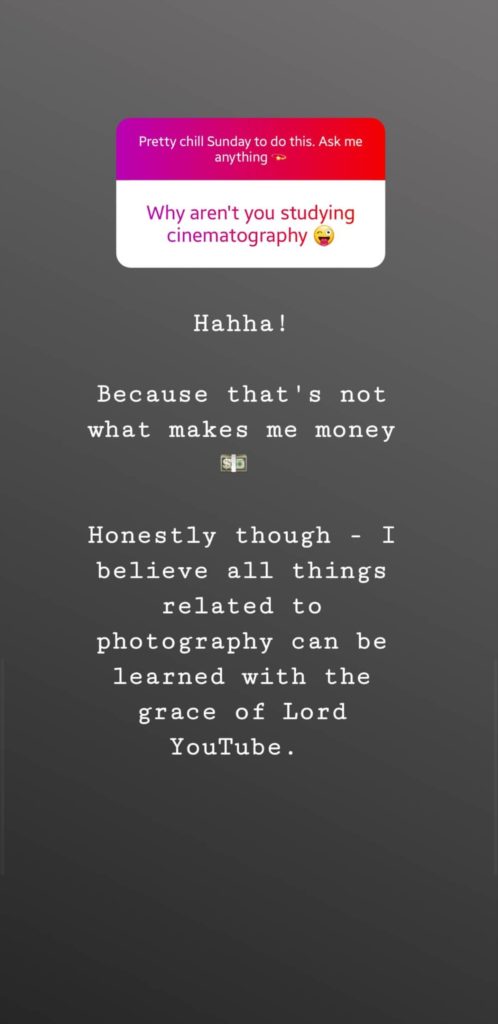 Q. Why aren't you studying cinematography

A. Hahha! Because that's not
what makes me money.
Honestly though – I believe all things related to photography can be learned with the grace of Lord YouTube.
---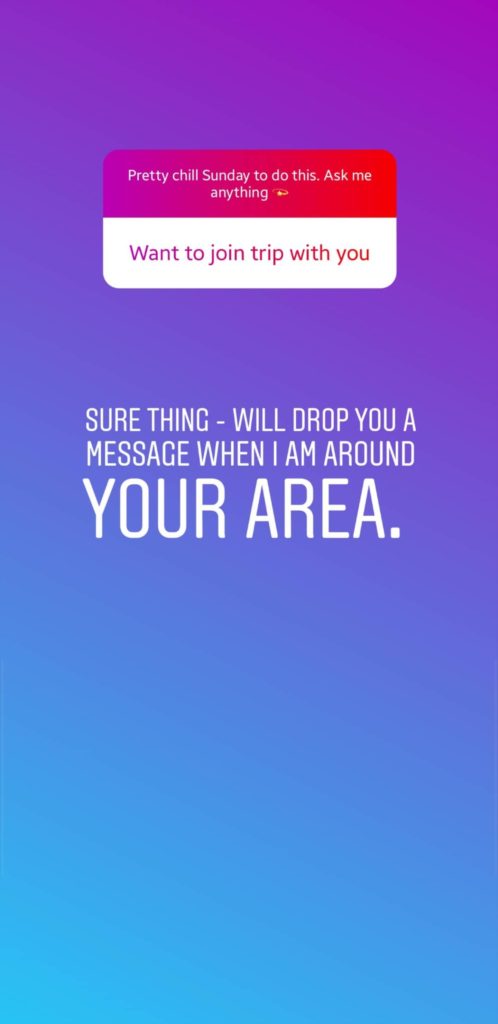 Q. Want to join trip with you

A. Sure thing – will drop you a message when I am around your area
---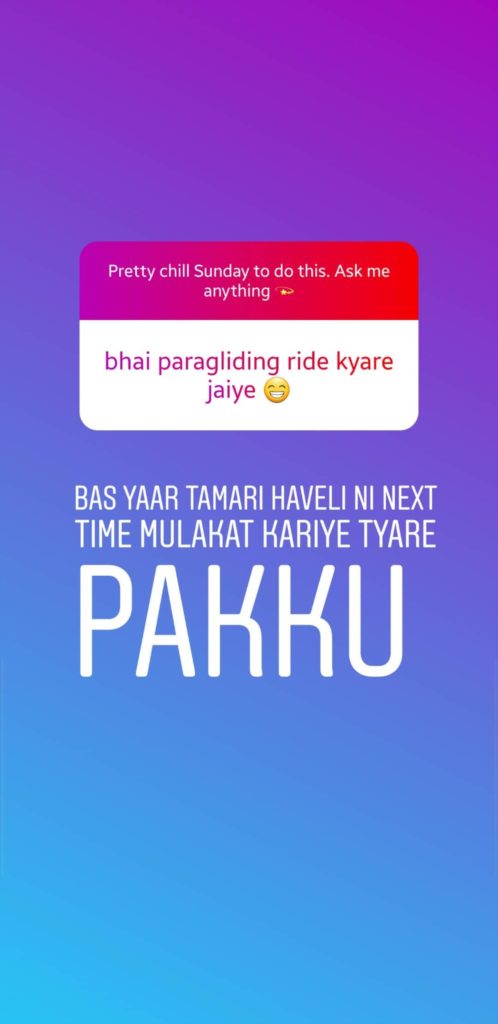 Q. bhai paragliding ride kyare jaiye

A. BAS YAAR TAMARI HAVELI NI NEXT TIME MULAKAT KARIYE TYARE PAKKU
---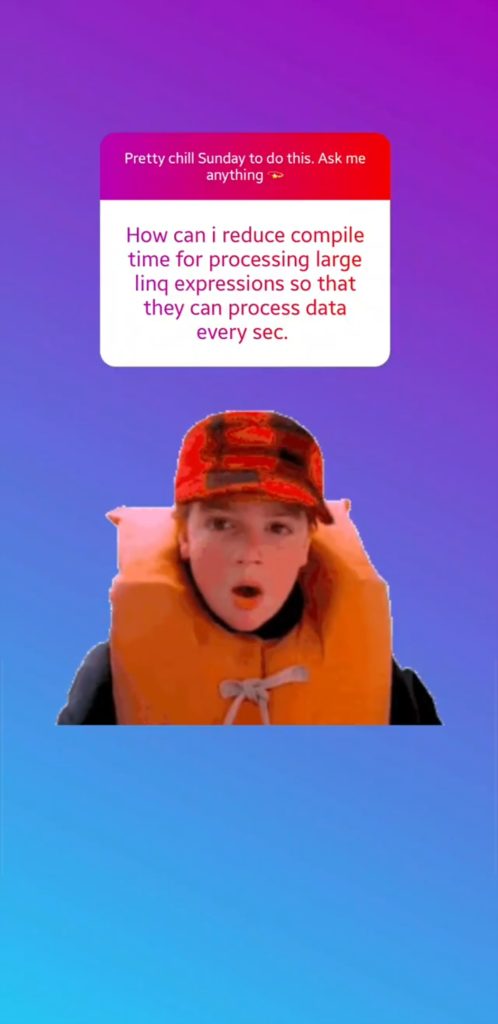 Q. How can i reduce compile time for processing large linq expressions so that they can process data every sec.
A. WTF
---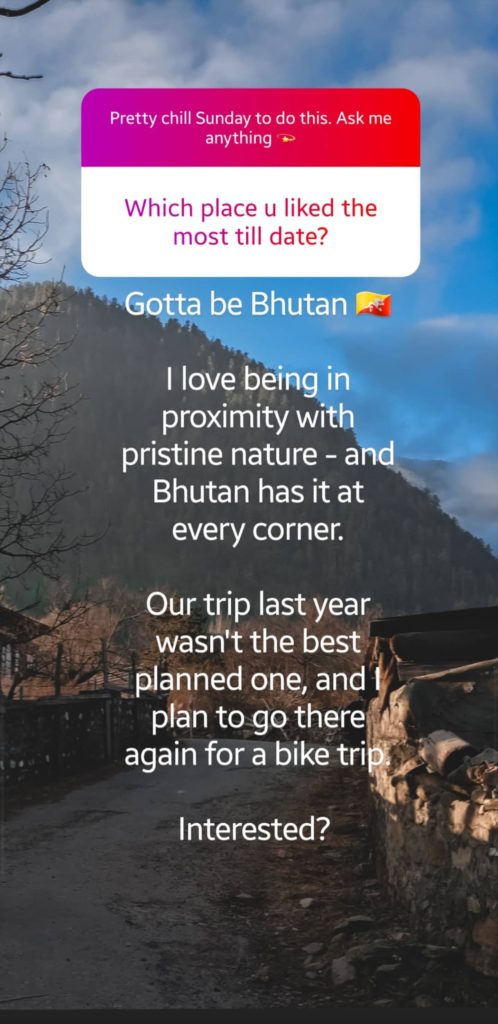 Q. Which place u liked the most till date?
A. Gotta be Bhutan
I love being in proximity with pristine nature – and Bhutan has it at every corner.
Our trip last year wasn't the best planned one, and plan to go there again for a bike trip.
Interested?
---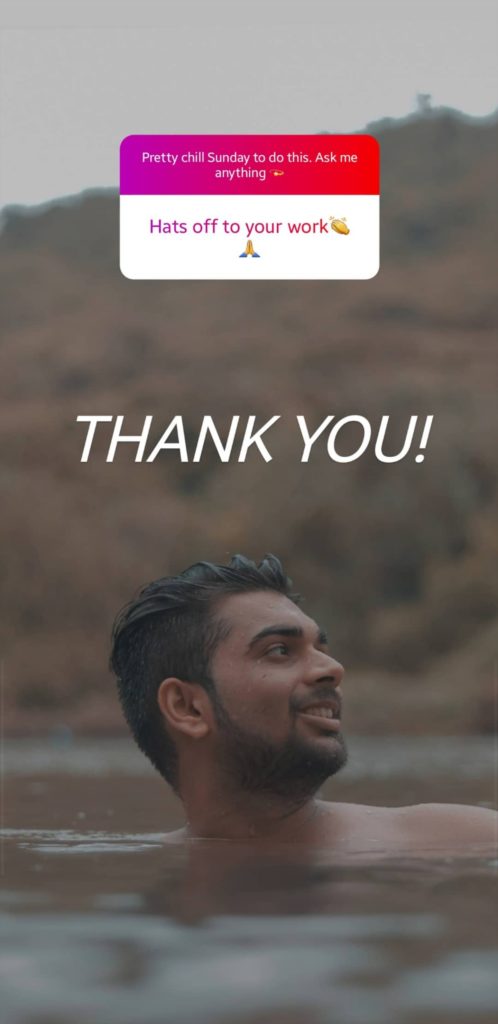 Q. Hats off to your work
A. THANK YOU!
---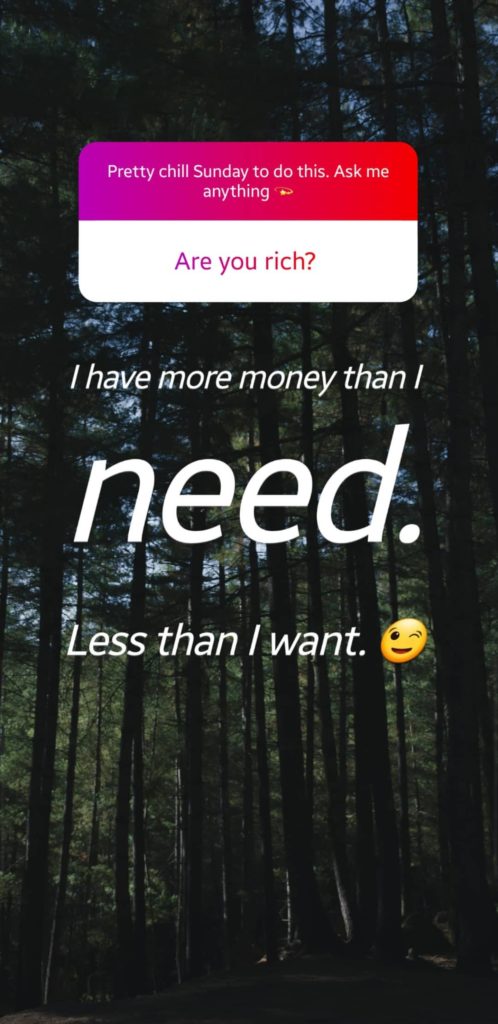 Q. Are you rich?

A. I have more money than I need. Less than I want.
---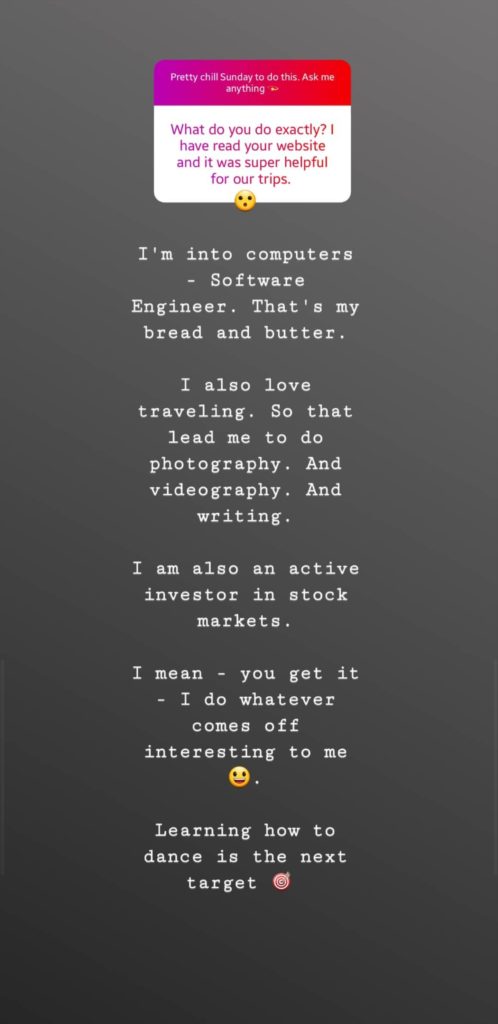 Q. What do you do exactly? I have read your website and it was super helpful for our trips.
A. I'm into computers – Software Engineer. That's my bread and butter.
I also love traveling. So that lead me to do photography. And videography. And writing.
I am also an active investor in stock markets. I mean – you get it – I do whatever comes off interesting to me. 🙂
Learning how to dance is the next target.
---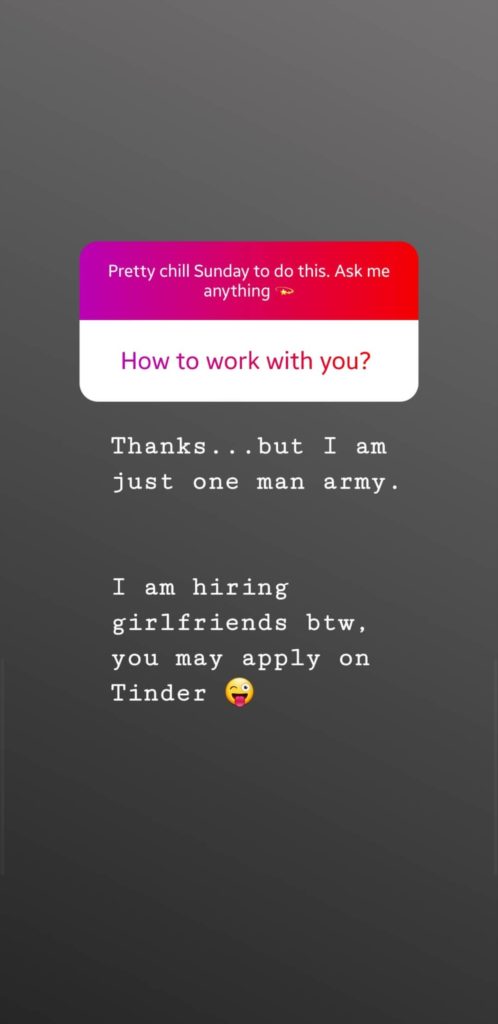 Q. How to work with you?
A. Thanks. ..but I am just one man army.
I am hiring girlfriends btw, you may apply on Tinder 😛
---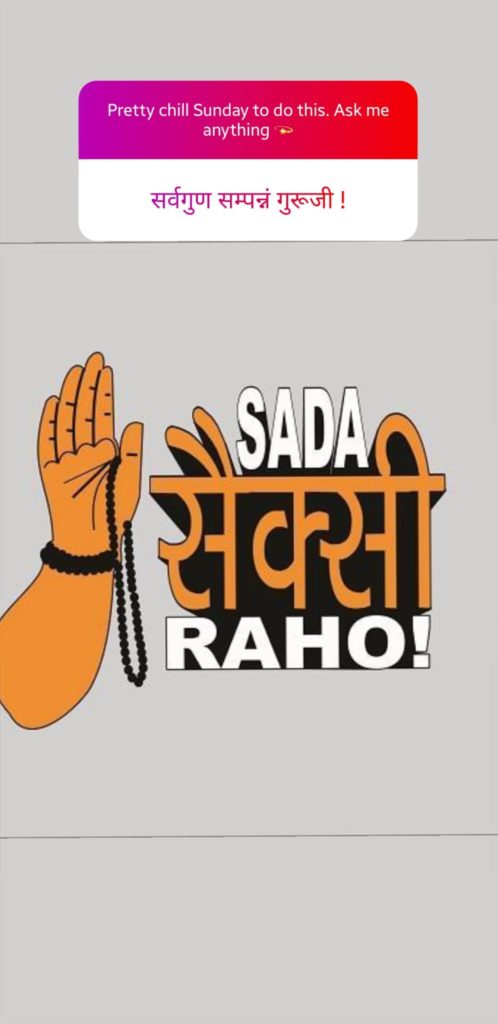 ---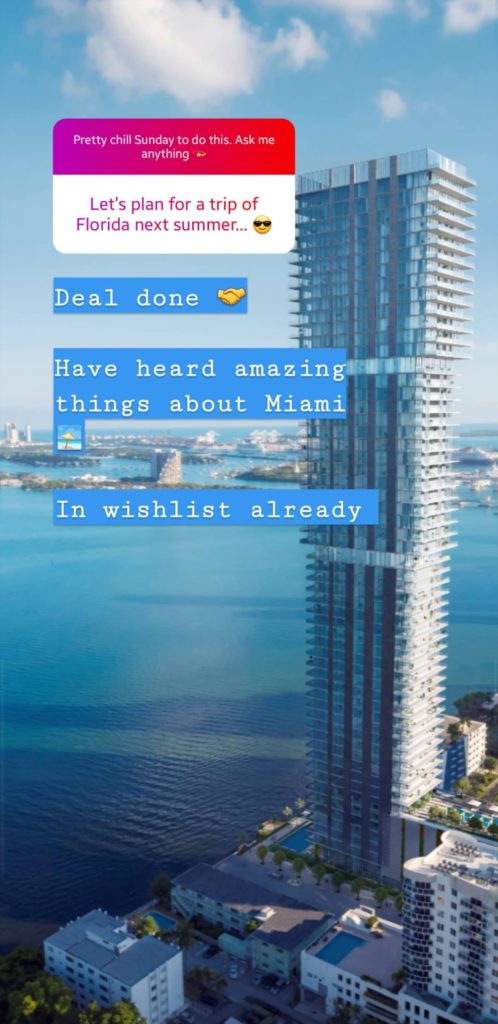 Q. Let's plan for a trip of Florida next summer…
A. Deal done!
Have heard amazing things about Miami.
In wishlist already.
---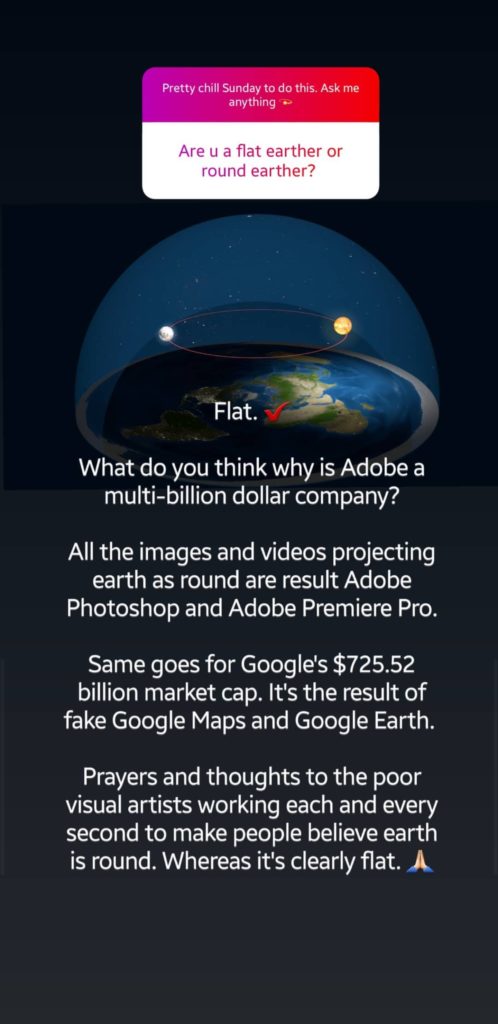 Q. Are u a flat earther or round earther?
A. Flat
What do you think why is Adobe a multi-billion dollar company?
All the images and videos projecting earth as round are result Adobe Photoshop and Adobe Premiere Pro.
Same goes for Google's $725.52 billion market cap. It's the result of fake Google Maps and Google Earth.
Prayers and thoughts to the poor visual artists working each and every second to make people believe earth is round. Whereas it's clearly flat.
---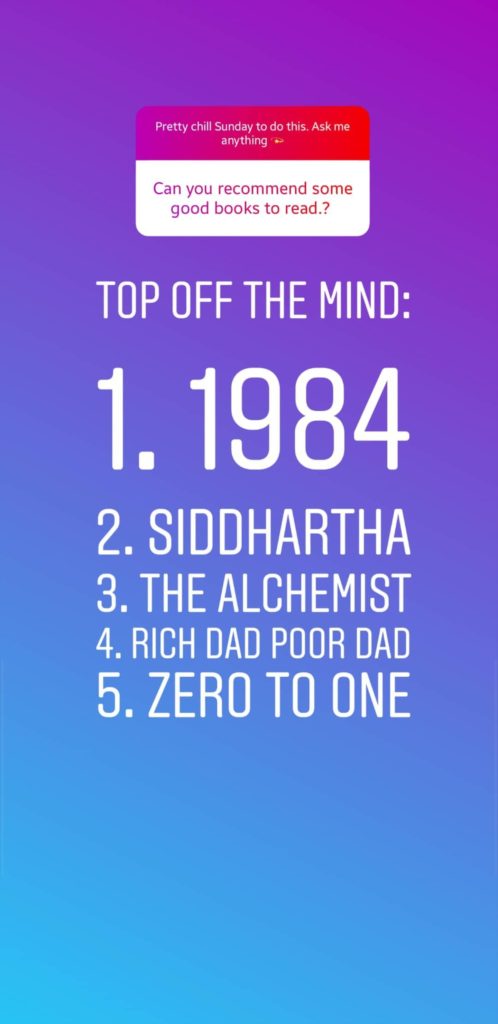 Q. Can you recommend some good books to read.?
A. TOP OFF THE MIND:
1. 1984
2. SIDDHARTHA
3. THE ALCHEMIST
4. RICH DAD POOR DAD
5. ZERO TO ONE
---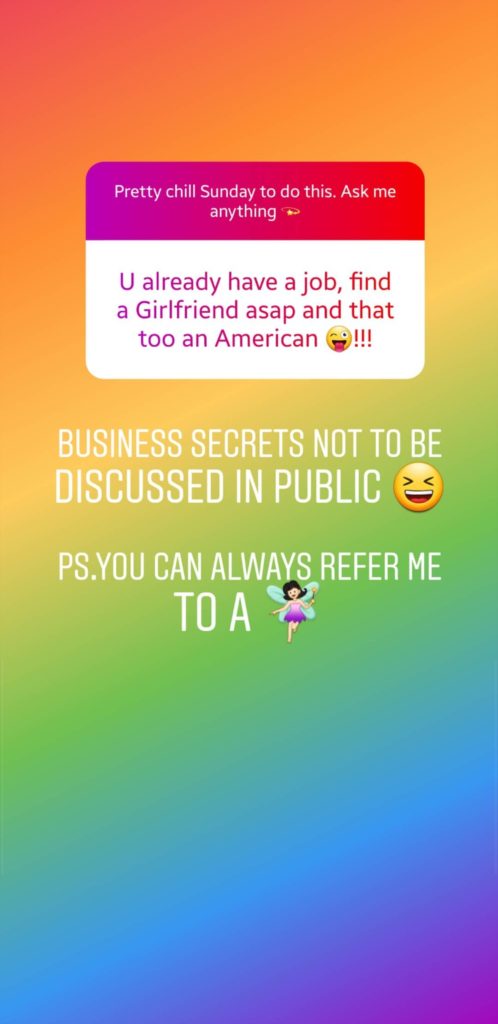 Bixby vision didn't work for this image. No caption for this lol.
---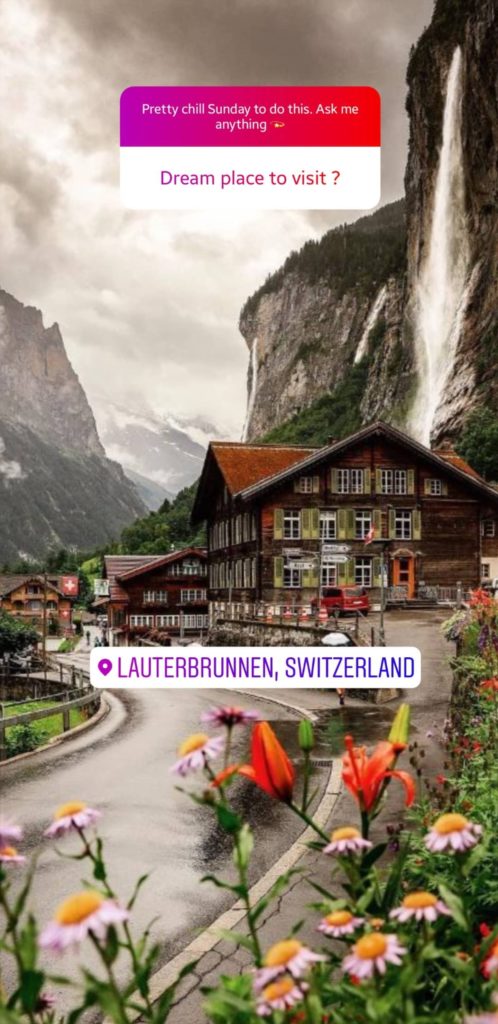 ---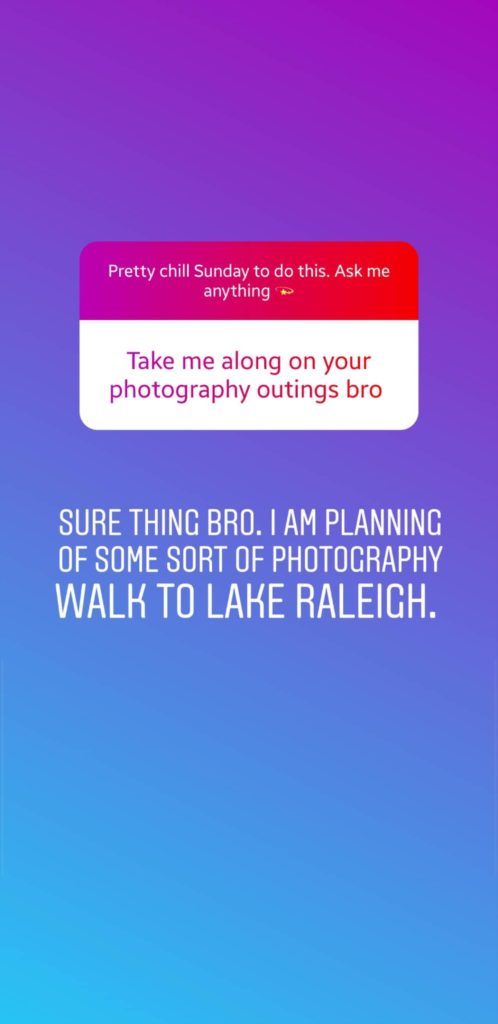 Q. Take me along on your photography outings bro
A. SURE THING BRO. I AM PLANNING OF SOME SORT OF PHOTOGRAPHY WALK TO LAKE RALEIGH.
---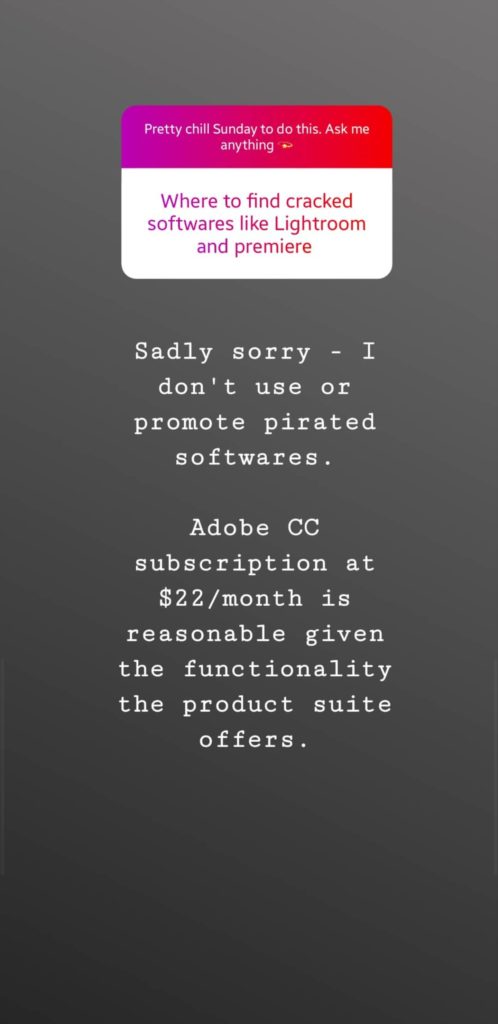 Q. Where to find cracked softwares like Lightroom and premiere?
A. Sadly sorry I don't use or promote pirated softwares.
Adobe CC subscription at $22/month is reasonable given the functionality the product suite offers.
---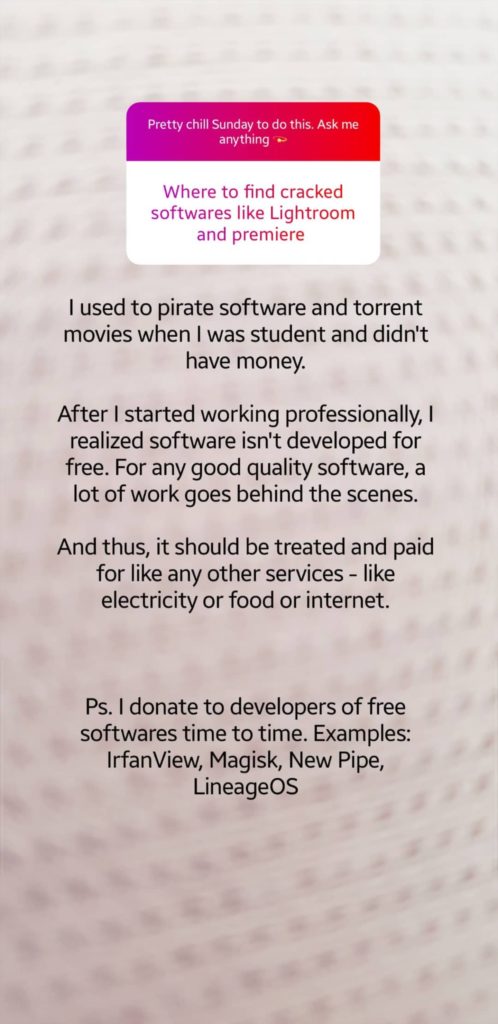 Q. Where to find cracked softwares like Lightroom and premiere
A. I used to pirate software and torrent movies when I was student and didn't have money.
After I started working professionally, | realized software isn't developed for free. For any good quality software, a lot of work goes behind the scenes.
And thus, it should be treated and paid for like any other services – like electricity or food or internet.
Ps. I donate to developers of free softwares time to time.
Examples: IrfanView, Magisk, New Pipe, LineageOS
---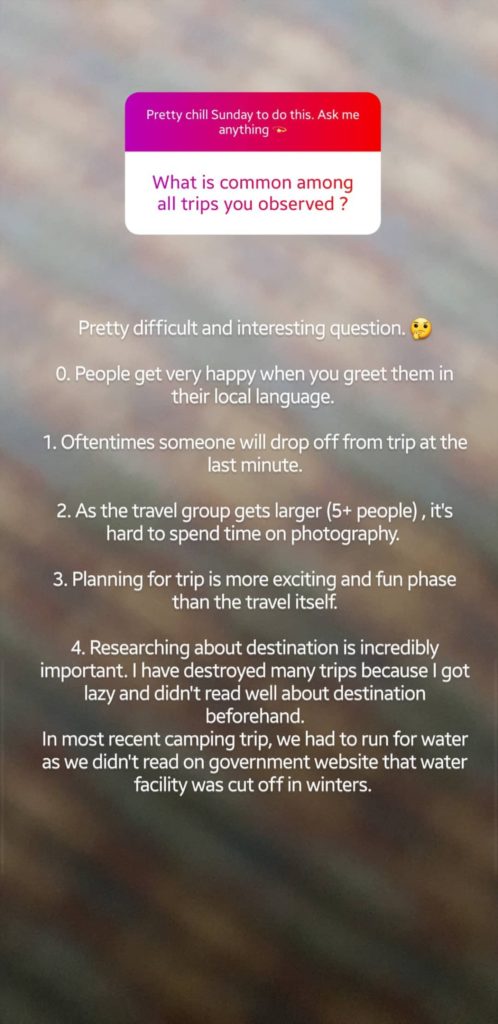 Q. What is common among all trips you observed ?
A. Pretty difficult and interesting question.
0. People get very happy when you greet them in their local language.
1. Oftentimes someone will drop off from trip at the last minute.
2. As the travel group gets larger (5+ people), it's hard to spend time on photography.
3. Planning for trip is more exciting and fun phase than the travel itself
4. Researching about destination is incredibly important. I have destroyed many trips because I got lazy and didn't read well about destination beforehand.
In most recent camping trip, we had to run for water as we didn't read on government website that water facility was cut off in winters.
---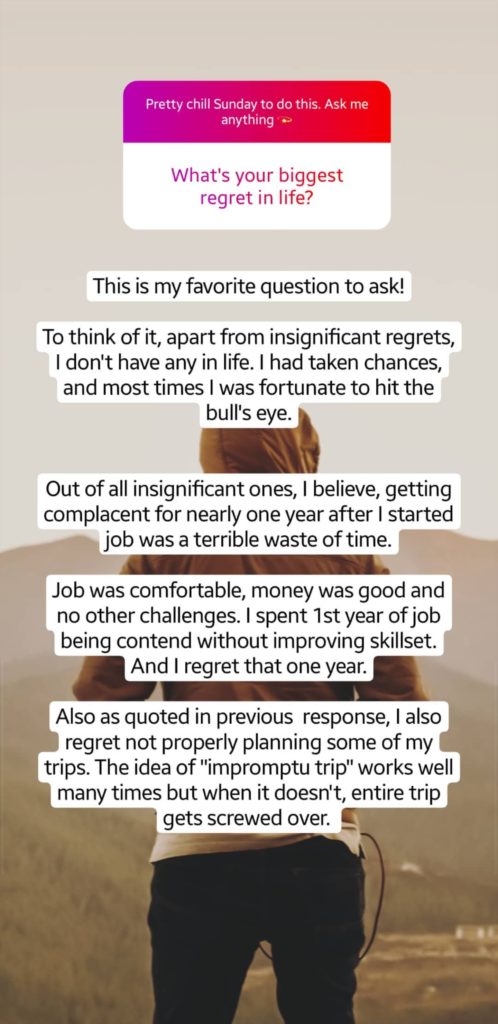 Q. What's your biggest regret in life?
A. This is my favorite question to ask!
To think of it, apart from insignificant regrets, I don't have any in life. I had taken chances, and most times I was fortunate to hit the bull's eye.
Out of all insignificant ones, I believe, getting complacent for nearly one year after I started job was a terrible waste of time
Job was comfortable, money was good and no other challenges. I spent 1st year of job being contend without improving skillset. And I regret that one year.
Also as quoted in previous response, I also regret not properly planning some of my trips. The idea of "impromptu trip" works well many times but when it doesn't, entire trip gets screwed over.
---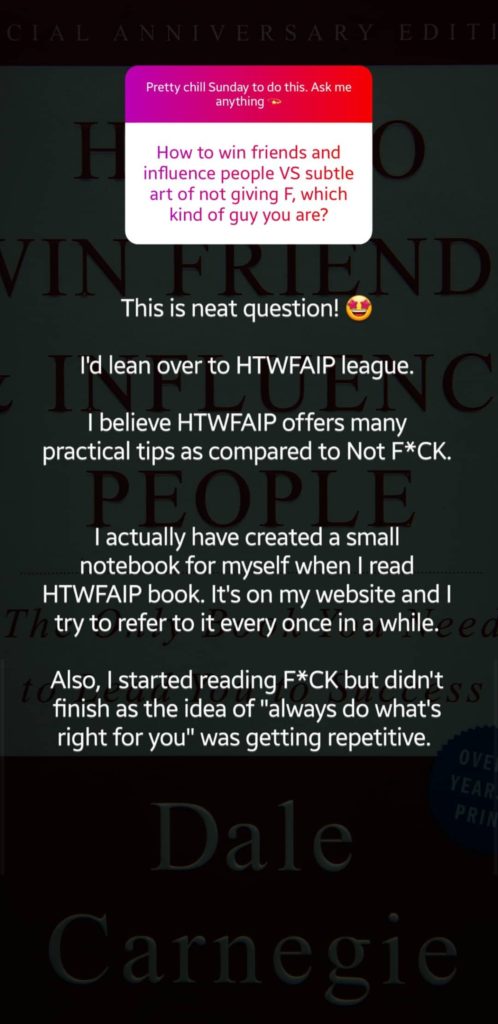 Q. How to win friends and influence people VS subtle art of not giving F, which kind of guy you are?
A. This is neat question!
I'd lean over to HTWFAIP league.
I believe HTWFAIP offers many practical tips as compared to Not FCK.
I actually have created a small notebook for myself when I read HTWFAIP book. It's on my website and I try to refer to it every once in a while.
Also, I started reading FCK but didn't finish as the idea of "always do what's right for you" was getting repetitive.
---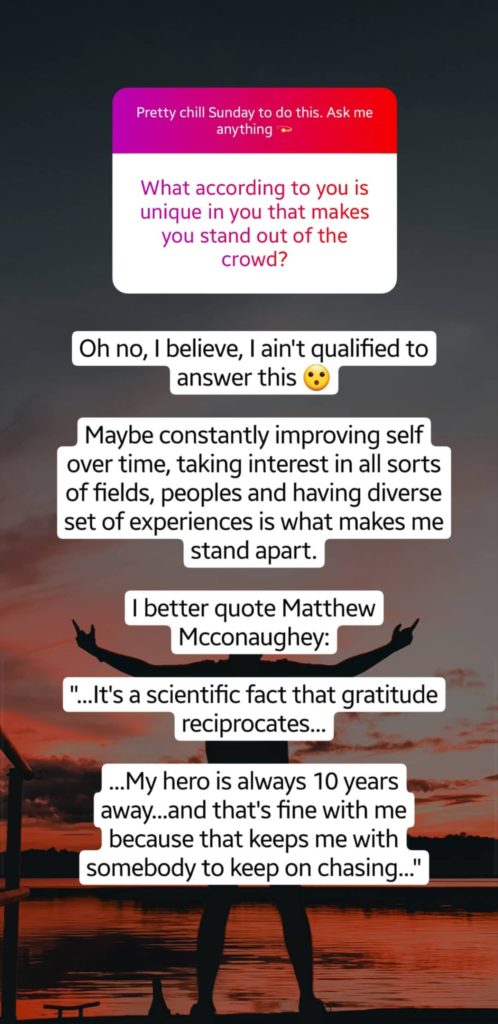 Q. What according to you is unique in you that makes you stand out of the crowd?
A. Oh no, I believe, I ain't qualified to answer this.
Maybe constantly improving self over time, taking interest in all sorts of fields, peoples and having diverse set of experiences is what makes me stand apart.
I better quote Matthew Mcconaughey:
"…It's a scientific fact that gratitude reciprocates. My hero is always 10 years away..and that's fine with me because that keeps me with somebody to keep on chasing…"
---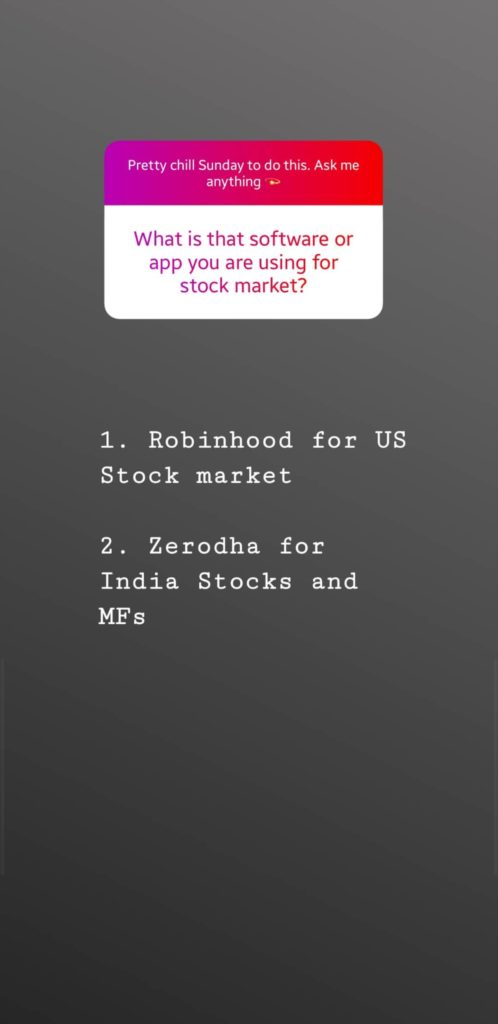 Q. What is that software or app you are using for stock market?
A.
1. Robinhood for US Stock market
2. Zerodha for India Stocks and MFs
---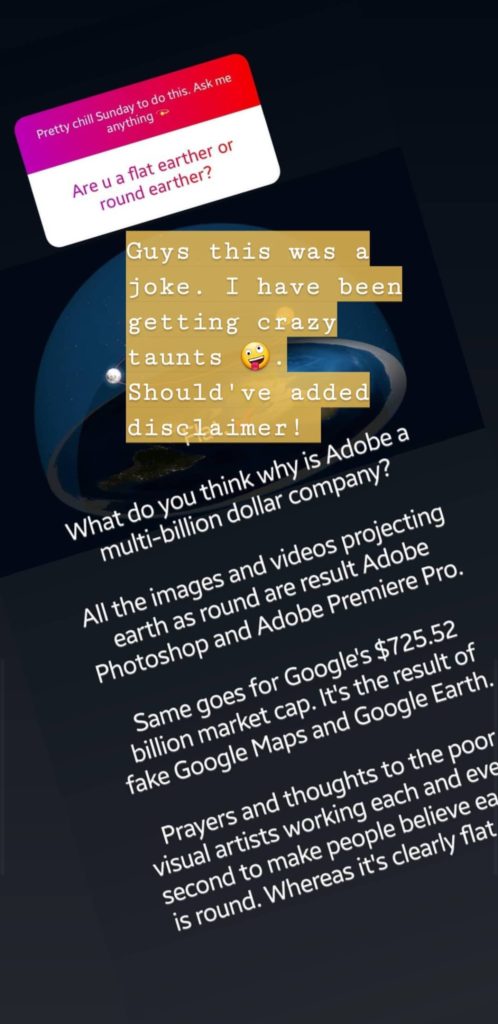 The flat earther was a joke!
---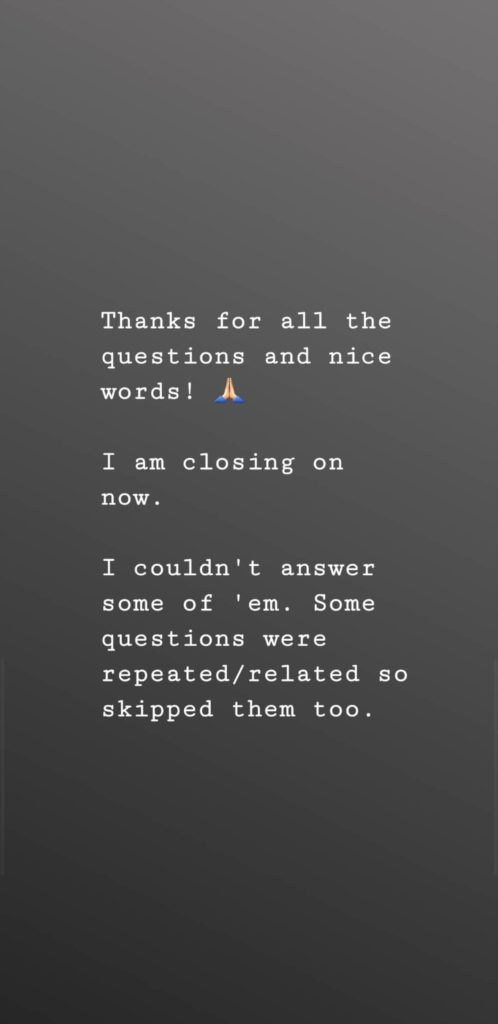 Thanks for all the questions and nice words!
I am closing on now. I couldn' t answer some of 'em.
Some questions were repeated/related so skipped them too.
---
Sooo!
That was a fun experience for me.
I plan to do this once in a while to keep engaged with people around me. That's why the title AMA 1.