Nadiad! The city of nine!
Quoting Wikipedia: "There are 9 villages or towns located to all the 9 roads that exit from Nadiad; 9 step wells around the city; and 9 lakes in the city."
Having been in the city for 4 years, one day during lectures I wondered, Why not decode the number 9? Why not go and see all those lakes, wells and roads? And the seeds were planted. And soon, the thought turned into reality.
As Paulo Coelho said, Don't be someone who searches, finds and then runs away. I won't run away. Unveiling our act of exploration…The 9diad!
— UPDATE —
Pradeep Panja, a class 10th Student from Nadiad has reached out to me to inform me about an excellent initiative.
He and his friends have formed a committee and have set a goal to clean great historical stepwells of Nadiad city.
If you're reading this and want to help Pradeep in someway, or just want to encourage him, you may contact him on Facebook or on WhatsApp on 9426560628.
I applaud his intent wholeheartedly and will do everything I can to assist him. For those who don't like to read long long stories. 🙂
I wandered Nadiad with a good old friend Rahul Thakor, a good old pen-notepad, a good old CBZ, a good old Galaxy S4 and a good old Redmi 1S. We roamed city streets for two days, September 25, 26, when Infosys placement drive was up in college!
Our goal was simple, to visit all the 9 lakes, wells and roads. Capture them in lenses and collect information and trivias. I handled the task of navigation and information collection while Rahul did the photography.
We discovered that there are,
Infact, 9 lakes in the city. (We found 10 in total!)
Infact,  9 road exits from the city.
Stepwells? Well, we couldn't find a single good one. They're all deteriorated.
Lakes: There's not a single good lake where one can hang out. Most are polluted or don't have adequate water.
Roads: One road exit, to Dakor, where it crosses NE1, is a good resort. Other 8 are mediocre.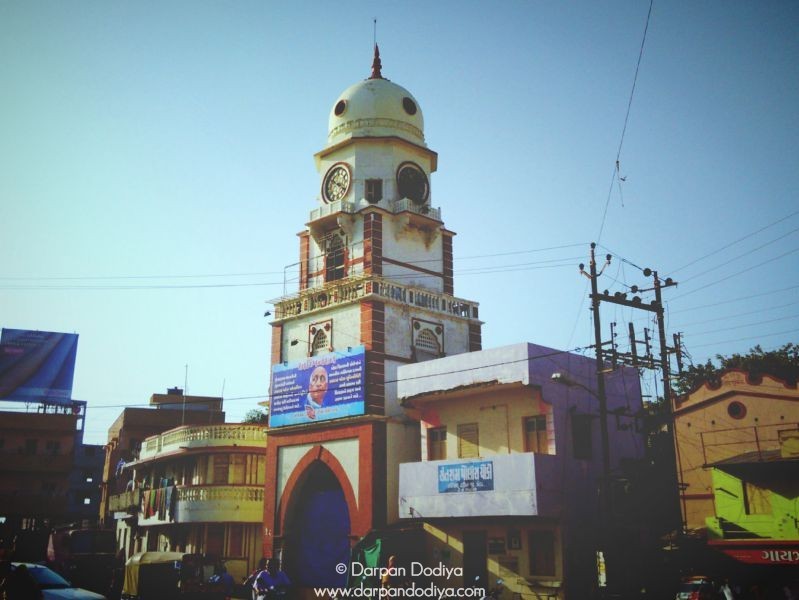 (If you want to experience essence of Nadiad, then enter from this gate and roam on the narrow streets for half an hour.)
For us, the 2 day hunt was total fun! We were through all of Nadiad, including the outskirts. Nadiad is diverse. We had experienced many times that we drove for just a kilometer and the surroundings were changed drastically.
Stories aside. Let me show you our actions: Jump over to this. The Google Map details all the places we visited with to-the-point related information. Keep it open till you finish reading this post.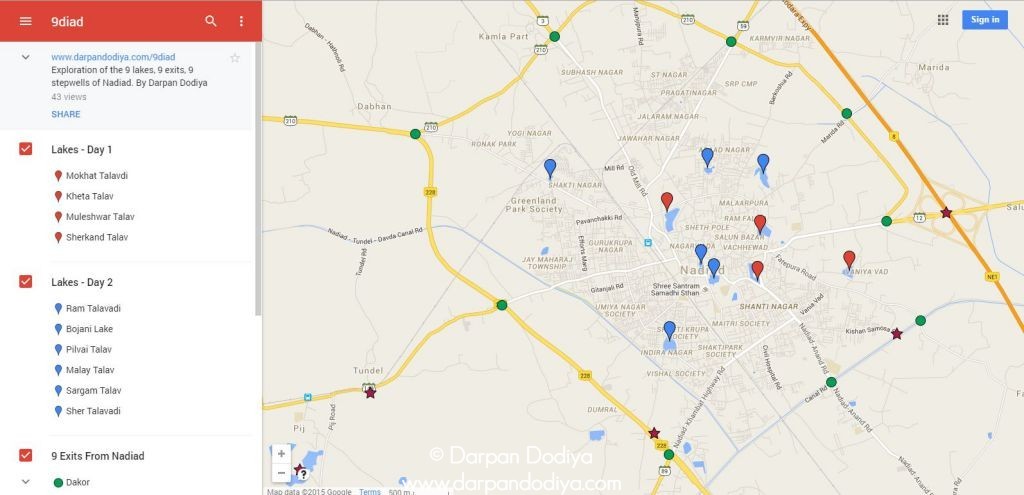 Keep scrolling down to experience our trip. It is full of intriguing photos, dramatic moments and well, what not!
Before we (I and Rahul) went out, we had divided our work. I was supposed to take care of navigation, to deal with people and to make notes. Rahul handled photography. We had also decided to photograph every place by 3 ways.
a. Normal photos (Redmi 1S 8MP and Samsung Galaxy S4 13MP)
b. High resolution panoramas
c. Video (1080p)
I post processed the photos using, Adobe Photoshop, Snapseed, VSCO, Pixlr, PicsArt and Facetune.
All set. We were off!
Refer this map to see location of all places.
Point 1: Mokhat Talavdi
This lake is closest from where I live, Vaniyavad. So I chose it as a starting point. Two minute drive, assisted by Google Maps and we did NOT reach to the lake!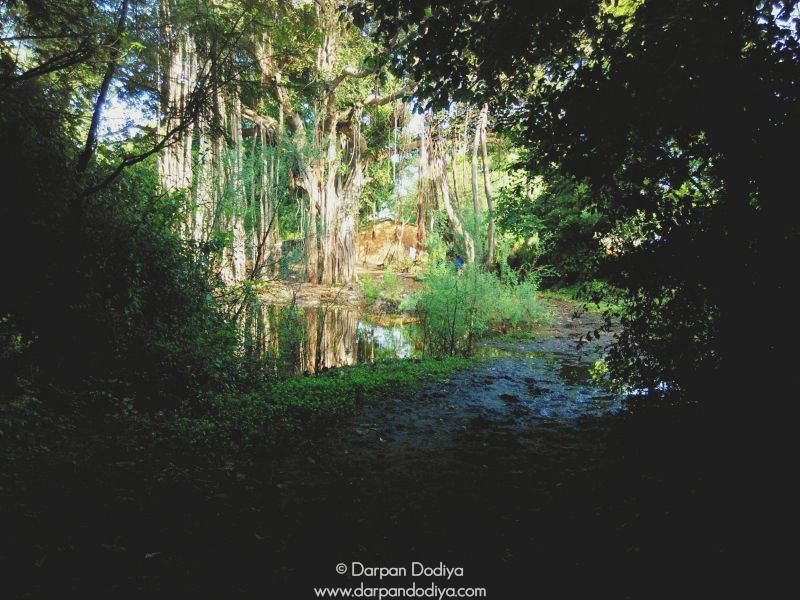 Yes, that's what happened. We were halted by a dead end. There was no way ahead of us.  પ્રથમ ગ્રાસે મક્ષિકા!
Locals helped us out to find our way to the lake. Lake was in outskirts, free from city so it wasn't polluted. In fact, this lake was the cleanest and offered finest views compared to other lakes.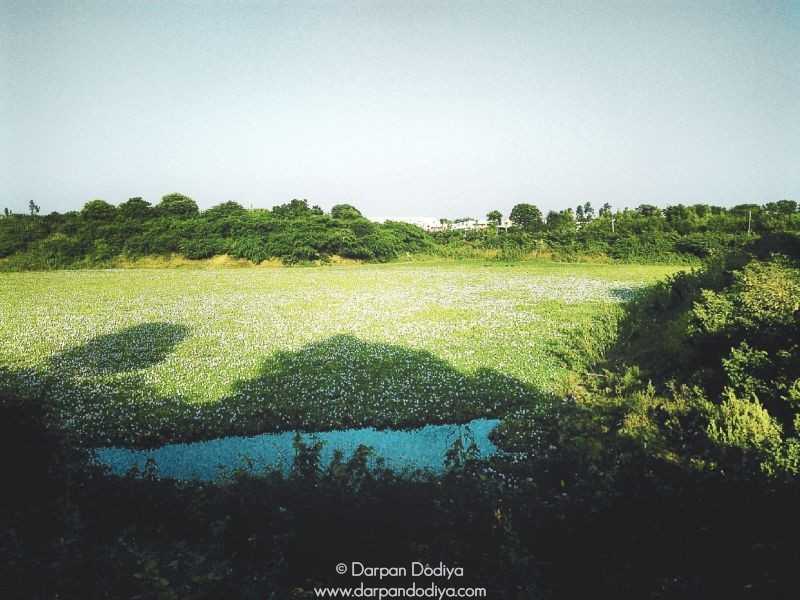 Rahul started photographing the place, and well, he was soon interrupted by a group of locals! The villagers thought that we were there for some unethical work. They threatened us to leave the place within seconds. I explained them our motive of being there and they were convinced. Good start!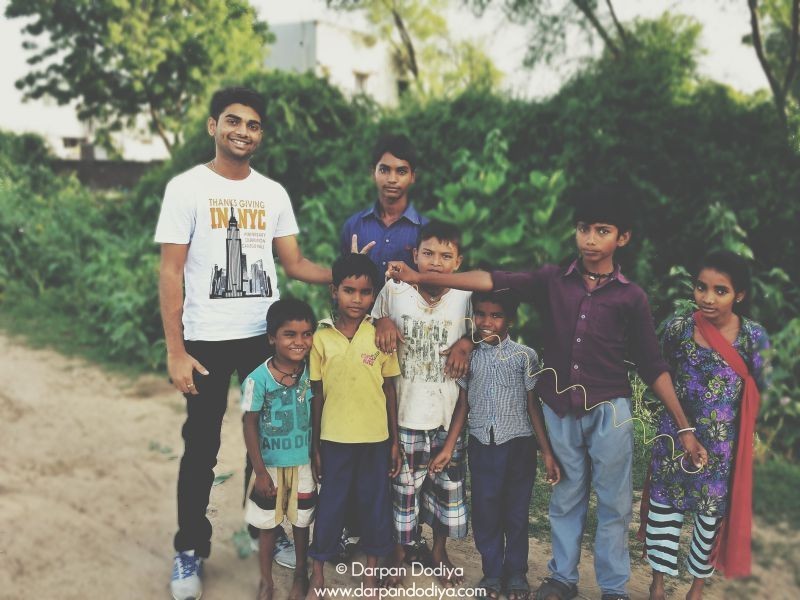 (Local kids  too gathered around us!)
Point 2: Kheta Talav
If you live in Nadiad, then it's almost impossible that you haven't seen this water body. It's in front of Woodlands restaurant, near Maha Gujarat hospital.
Similar with the case of other lakes, this too was polluted. Water was green.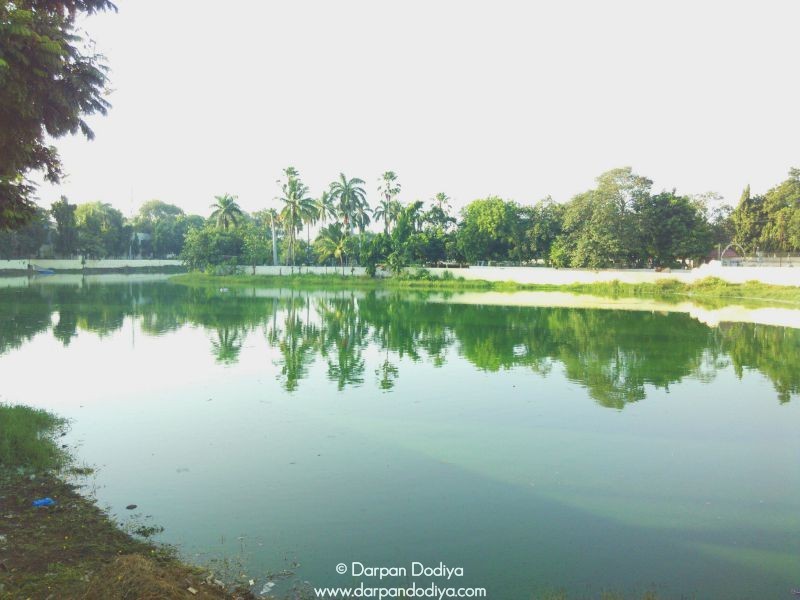 This lake, if developed well, has the potential to be a good chillout place.
Point 3: Muleshwar Talav
Fun fact, we spent 5 minutes to find entrace – a handful of open space from where we could stand, observe the place and can get some photos.
Coming from Vaniyavad-College road area to this area, I felt like I travelled 10 years back! The vicinity was largely undeveloped.
Lake was ordinary, surrounded by concrete structures. But photography can turn any ordinary thing into an interesting one! Have a look: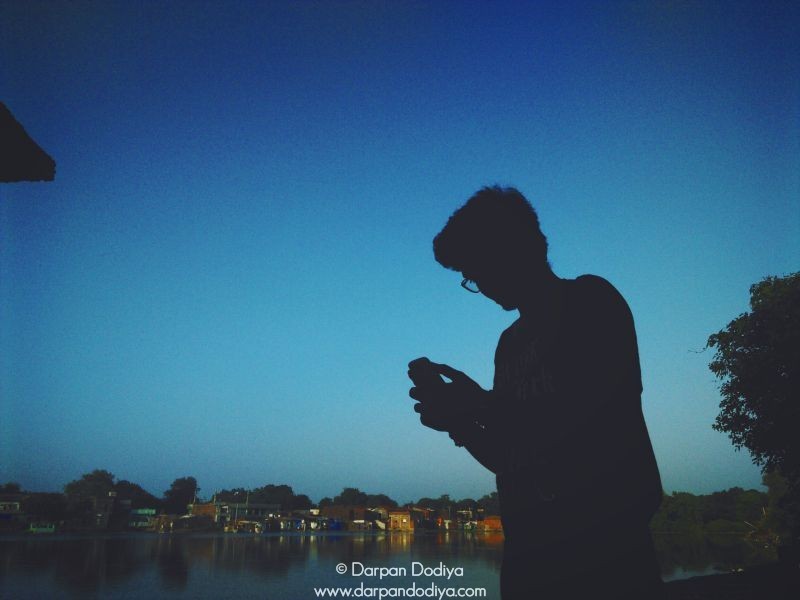 You absolutely don't want to see the reality.
Point 4: Sherkand Talav
Roads of this region deserve special mention. I am sure, I must have lost some gram of fat, driving on the messy roads!
Now, this lake, is the most polluted. Let go the blue color of water, it wasn't even green, it was almost black. We quickly moved out of the place.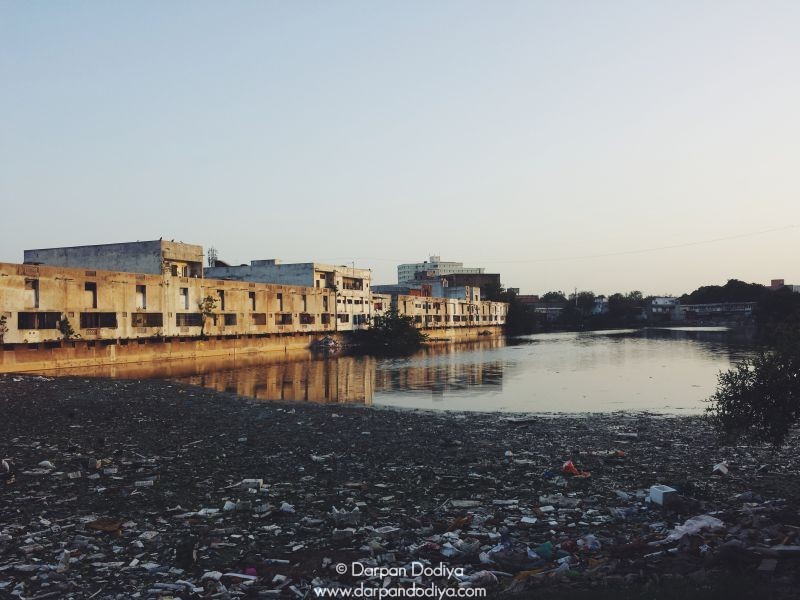 Do you remember the line, when I wrote, a good old CBZ? Forget the good part for now, but bike was certainly old.
Do you remember the line, when I wrote, the messy roads?
Now, Old bike + Messy roads = Crippled bike!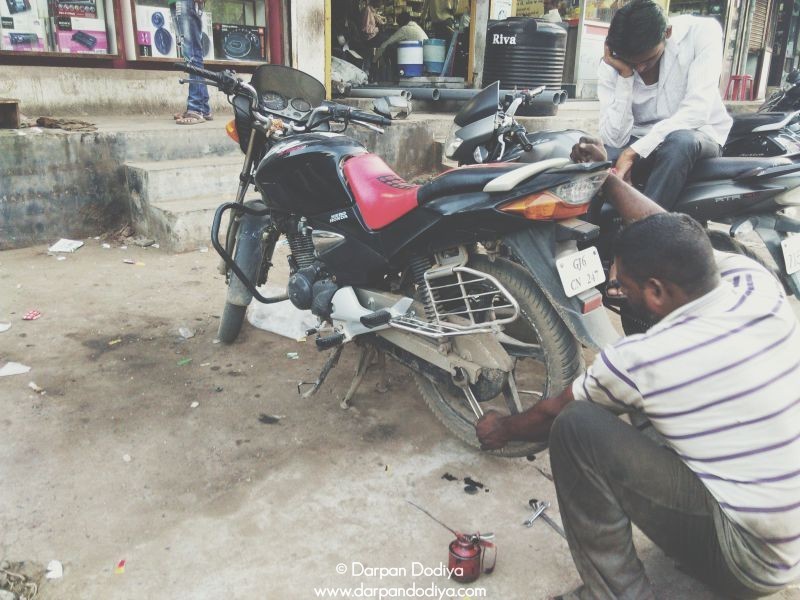 The repair work took hours and we had to stop our further journey.
Day 1 ends!
Day 2: 6 Lakes, 9 Exit Roads
As our good old CBZ betrayed us on Day 1, we had huge task on Day 2. 6 lakes and 9 road exits.
Point 5: Sargam Talav
Now, this lake was surrounded by buildings so densely that we had to sneak into one house to get the view. (Yes, we took permission 🙂 )
Story of this lake was same as others, polluted heavily. Half of the surrounding buildings were already drown in the water.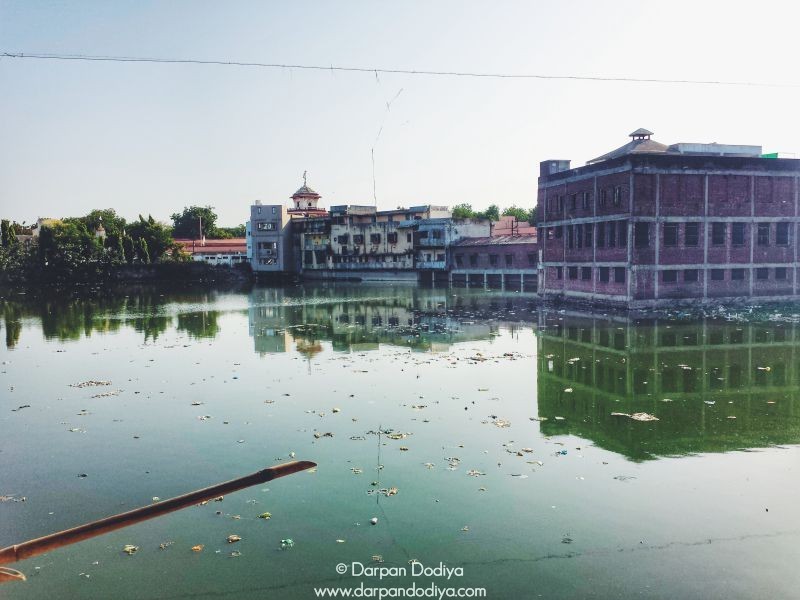 Meanwhile, Google Maps led us to a lake, which had no water, but had plain flat soil! We fired shot at non existent target.
Point 6: Malay Lake
Lake with building in! There used to be a nice lake, with water but now it has new building roped in.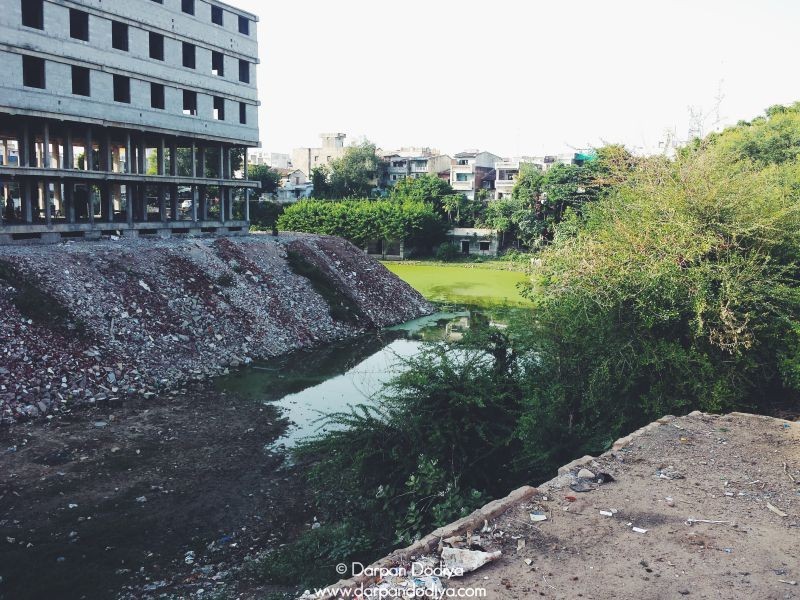 Though, we were quizzed heavily before we could get to the lake. Story: The lake is behind district fire and emergency center, which is very sensitive center. As soon as we entered the premises, a security guard saw and took both of us to his superior. Questions were then fired one by one,
Who are you?
Where do you live?
Why are you here?
What do you want to do?
Show your camera
Show your ID
Show your notepad…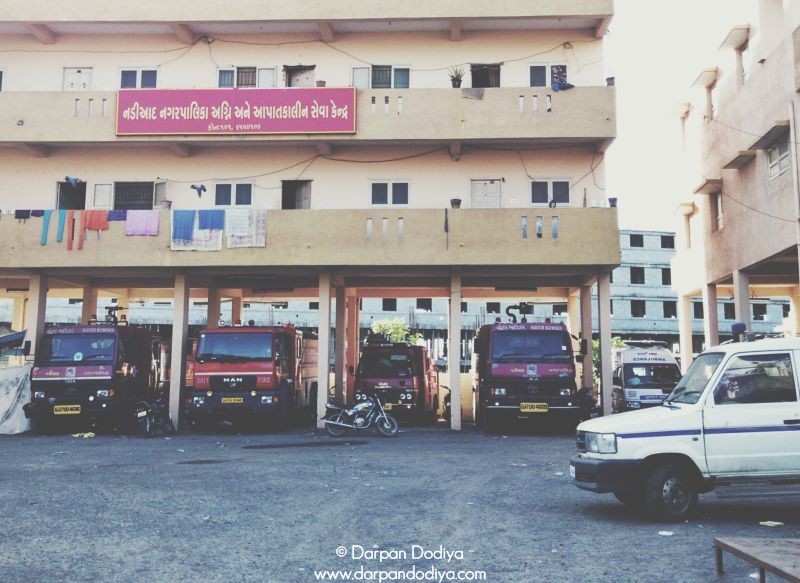 Needless to say, we were there for nothing unethical. He allowed us to proceed happily.
Point 7: Sher Talavadi
Wikipedia says that Nadiad has 9 stepwells as well. Since the beginning, we asked many people but none was able to show us any well. Except at this point!
One local pointed out to a region in the lake and said, 'There used to be a stepwell.' Used to be. Not anymore! See the circles tree below. There used to be a functioning and accessible stepwell.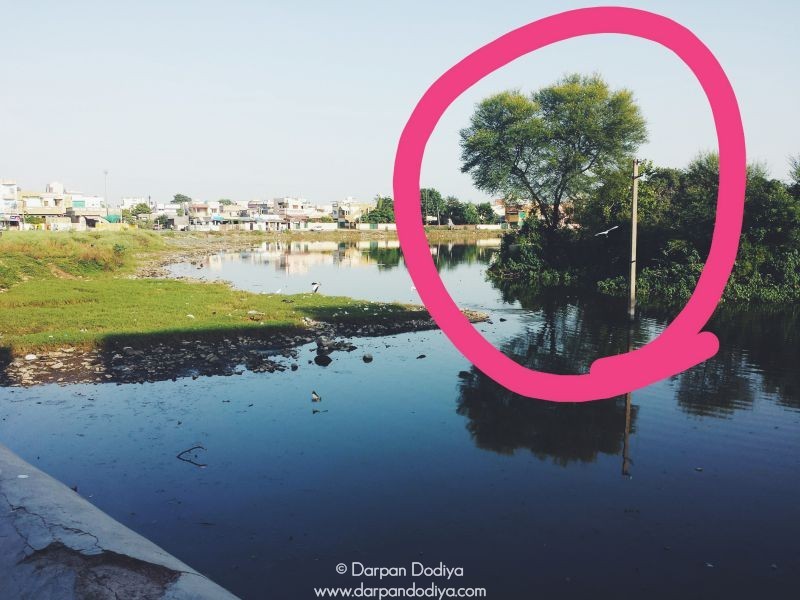 Unlike most other lakes, Sher lake wasn't surrounded by any structures. (Plot twist: Not surrounded by concrete structures because it has roads on the sides. Who will build buildings on roads? :P)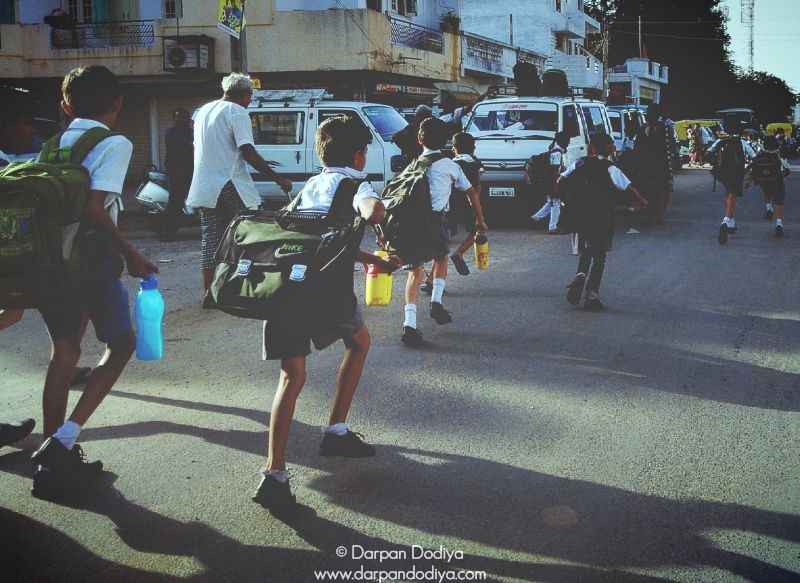 (Once upon a time, we all were like these kids. Always ready to run away from school!)
Point 8: Ram Talavadi
From what I know, Talavadi = Small scaled version of Talav.
Ram Talavadi fits perfectly in that definition. It has span of less than a hockey field. (Trivia: I found number of dogs more than number of humans in the area. :D)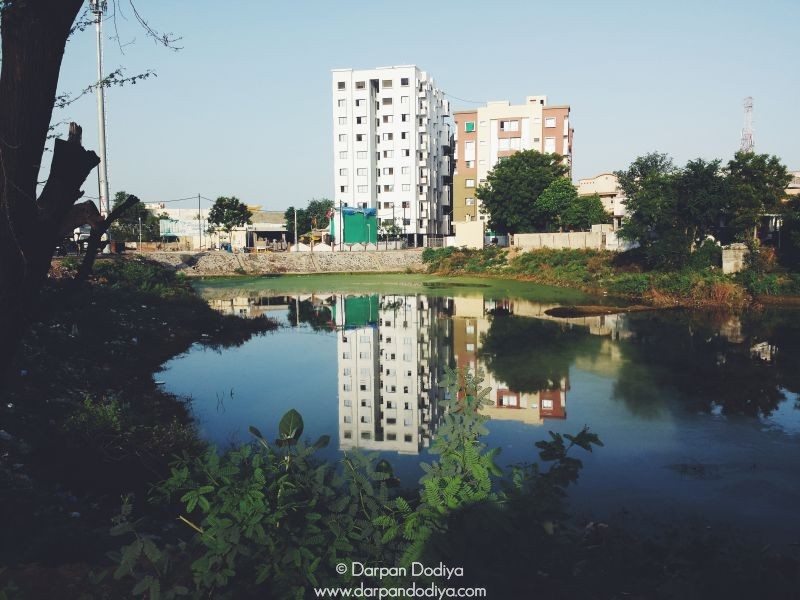 If you've ever been to Nadiad railway station, you would have heard name of this lake from rickshawalas. Ram Talavadi.
Point 9: Bojan/Bojani Lake
I noticed only one unusual thing in this lake,
Several ducks were skimming! Saw a living animal first time from the all the lakes of Nadiad. 🙂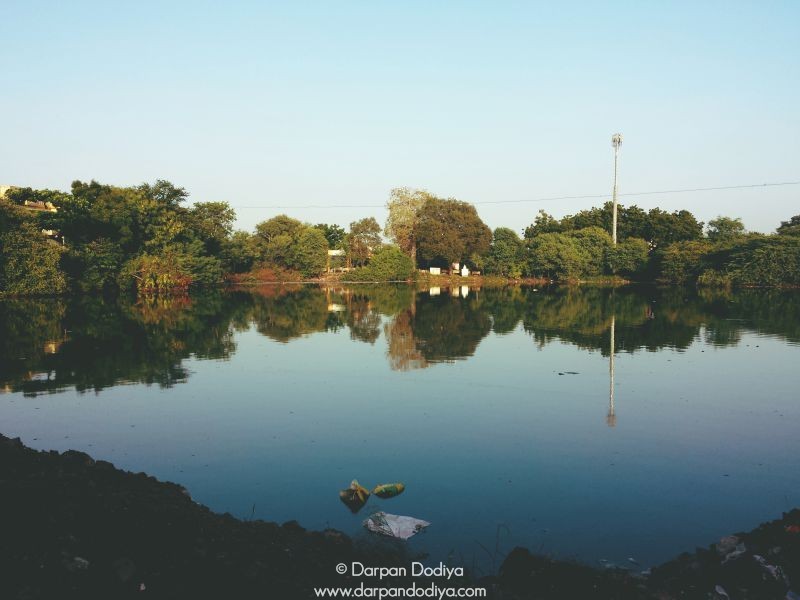 Point 10: Pilvai Talav
The last one of our program! This lake was the largest one amongst all others.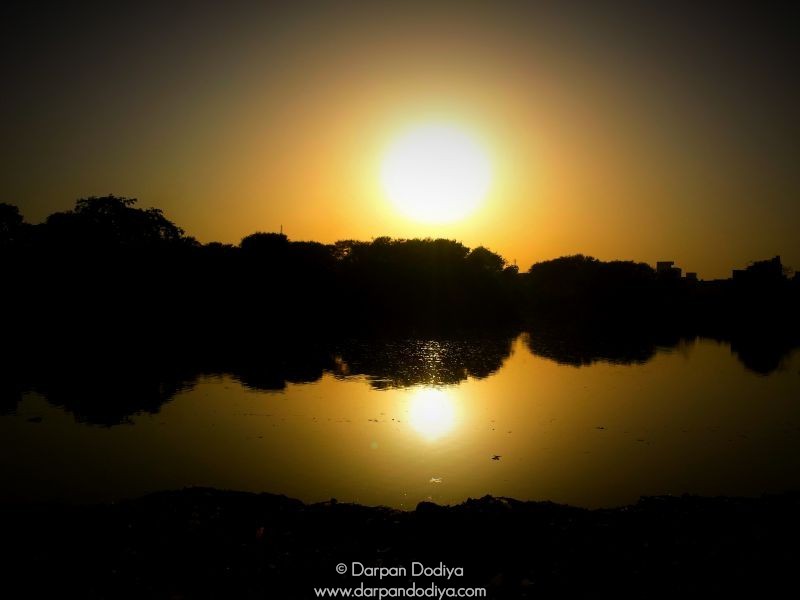 We found a good peaceful place to sit back and relax on the banks. Afterall, peace of mind is all one needs in life!
End of part one. 9 lakes. Next chapter…
Nadiad has actually 9 different exits to different areas. Fortunately for us, visiting all of them was an easy drive.
See map here. Notice the green dots.
We started from Dakor exit which crosses A'bad – Baroda NE1. Out of all 9 exits, this is the only one where one can hang out. The bridge offers good views in night.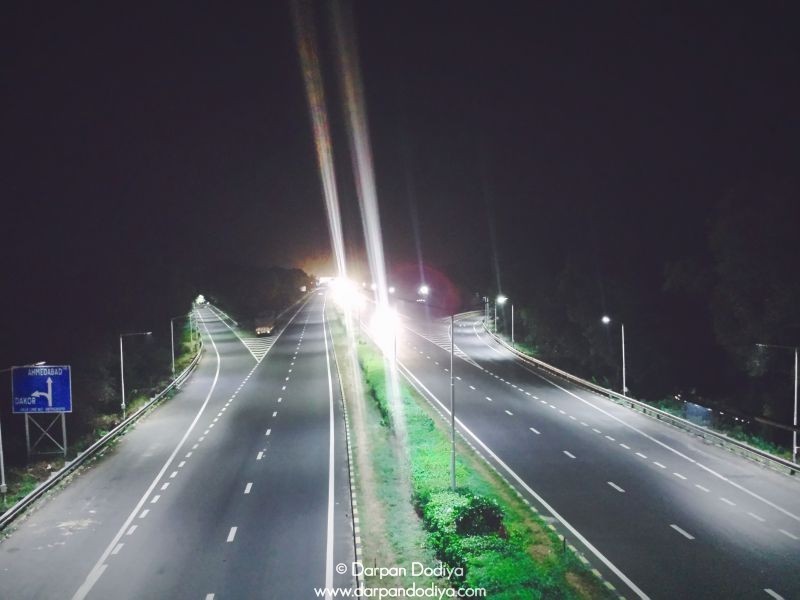 Moving forward, we crossed exits one by one. They are typical cross roads, need no extra information unlike lakes.
Some exits that you might have heard of:
Dabhan Chokdi (Known for Kismat Kathiyawadi)
Pij Chokdi (Boulevard 9)
Uttarsanda – Anand Exit
Piplaj Chokdi (Hub hotels, Galaxy, Rajasthan, Kismat)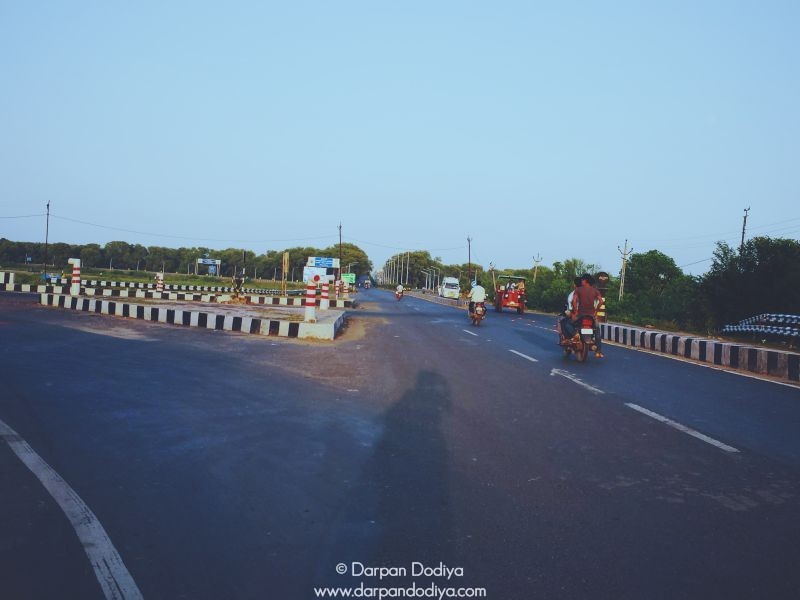 (Exits are more or less same. They have nothing in unique.)
When I started from Dakor exit, I didn't expect to find all 9 exits. I thought that 9 roads exits was just a theoretical concept to match the number 9. Hands up! Etymology wins here!
By the time sun would cross horizon, we had finished all the lakes and all the 9 exits of Nadiad. Then, the time was for a quiet breathing session on the banks of Canal, time for recalling vibrant incidents we experienced. It's the experience that matters the most in the end, isn't it?
2 days would be cherished by us forever. We wandered almost all areas of Nadiad. We met with diverse humans, some trashed us straightaway, some welcomed us wholeheartedly. In all, we took 2341 photos and 112 minutes of videos. It was the first time in 4 years when I felt that Nadiad is not as boring as most people conceive!
So…that was our event: 9diad!