Saptashrungi Gadh is a Hindu pilgrimage site near Vani, Nashik, Maharashtra. The name 'Sapta' stands for 'Seven' and 'Shrunga' for 'Peaks'. Thus, the temple is surrounded by seven hills. Saptashrungi temple is one of the 51 Shakti Peethas in India. A large number of devotees visit Vani Devi temple every day.
I published this post last year (May 2015) as a photo gallery. I casually posted photos of Saptashrungi temple I took during trip to Vani. Eventually, the post started getting top ranking on Google, and by today (February 2016) it has more than 7000 views.
I'm updating original article, "Saptashrungi Devi Temple Vani – A Photo Tour, History & Story", with intention to make it most useful to readers. Like other travel posts, photos will be the essence.
Let's hit the road!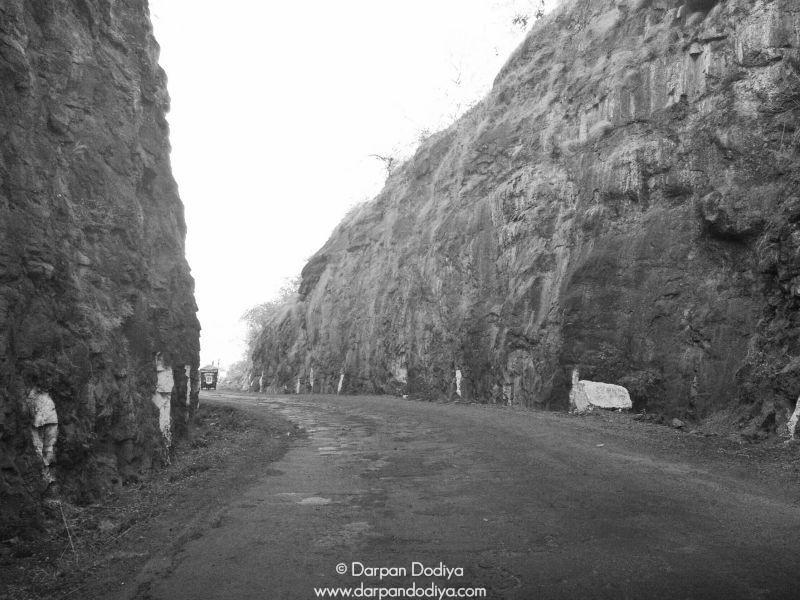 Plan of Saptashrungi Devi Vani
I had a week off in college so I packed bags and set off for home.
On one bright Sunday morning, mom pinned a one-day-trip plan to Saputara and Saptashrungi devi temple.
Why not!
Within a couple of hours, we were seen passing through the hilly terrains of Sahyadri range. Impromptu trips always turn out as splendid ones, so was the case with trip to Saptashrungi devi.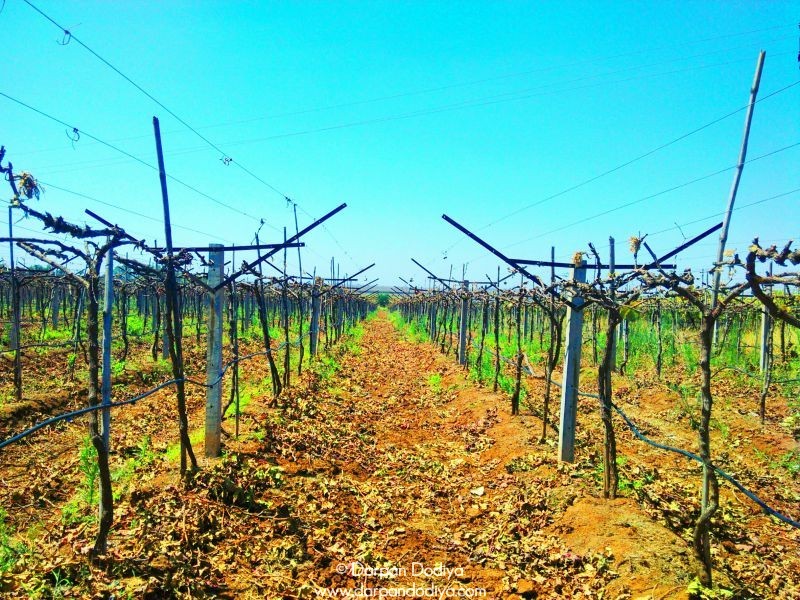 In one grape farm on Saputara Vani road
First Impressions Reaching Saptashrungi
Our time of visit fell under Chaitra Navratri. During Navratri period, fair is organized on the hill top. Road to Saptashrungi Garh is made unavailable for public access — and that's for good. Traffic problems come down to zero.
MSRTC buses were running frequently between Nanduri – Saptashrungi Temple. Nanduri is base station to reach Saptashrungi. From here, last steep road to hill top stretch starts.
Bus from Nanduri to Saptashrungi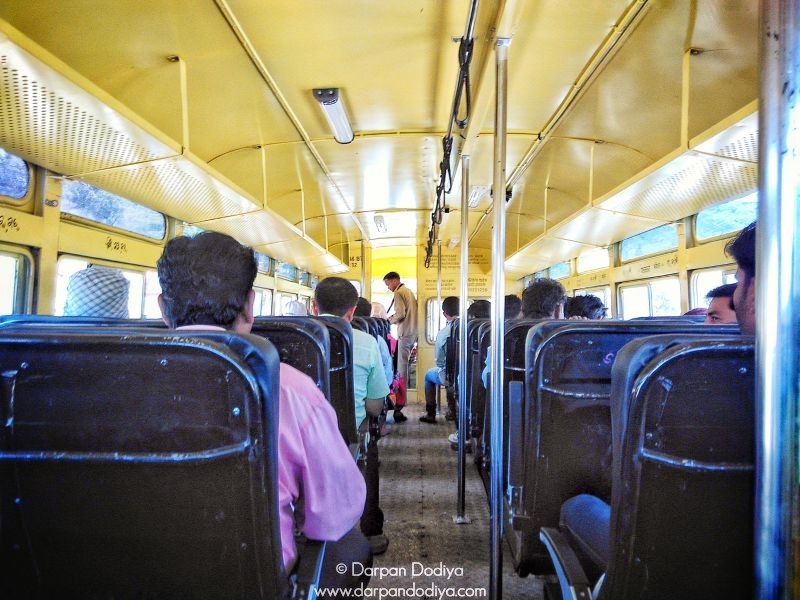 I'd like to praise management of Saptashrungi. The systematic way they used to manage traffic and huge crowd is commendable.
In this post, you'd find many photos of fair too. It's a catch! You might not get to see the same scenes during rest of the year.
Valley view point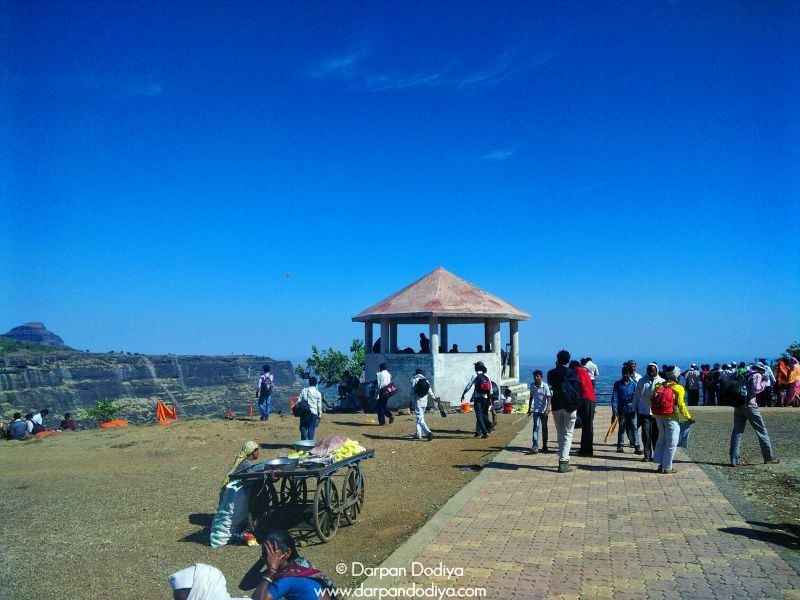 Geography & Infrastructure
Saptashrungi is a hill range consisting of seven hills locally called Ghads and form part of the Sahyadri Range of hills in Western Ghats.
The Dhodap, in the center of this mountain range, is the highest peak with an elevation of 4,600 feet (1,400 m), and Saptasrungi is towards its west.
There are 108 water bodies (ponds) located in the watershed of these hills, which are called Kundas.
Nanduri and Vani are the villages nearest to the temple, which are situated at the foot of the hills.
View of Nanduri village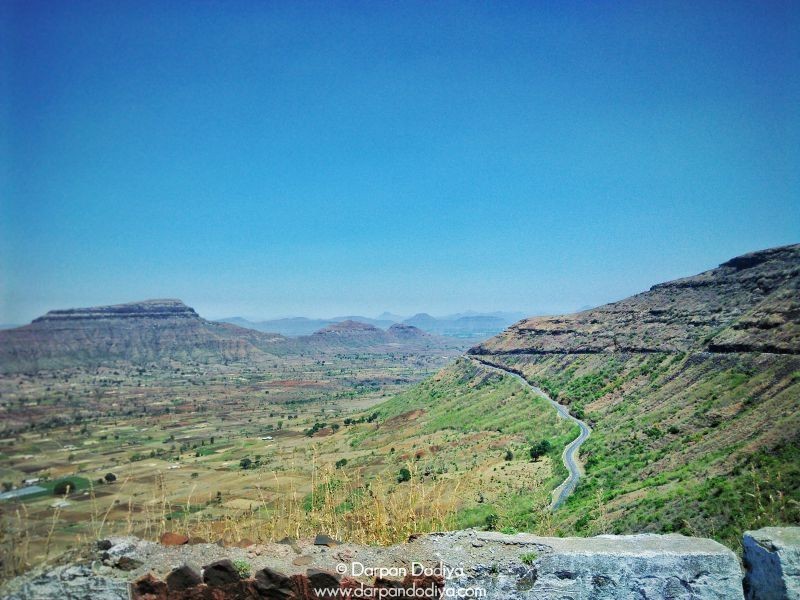 Saptashrungi Temple is two storied shrine with the Devi enshrined in the top floor. The Saptashrungi Devi image is carved in a cave at the base of a sheer scarp rock face. The Saptashrungi Devi is said to be swayambhu (self-manifested) on a rock on the sheer face of a mountain.
Saptashrungi is quite developed pilgrimage and tourism place. Tourism infrastructure is well created and maintained by Shree Saptashrungi Nivasini Devi Trust.
Courtesy: Wikipedia
Kid selling Dupattas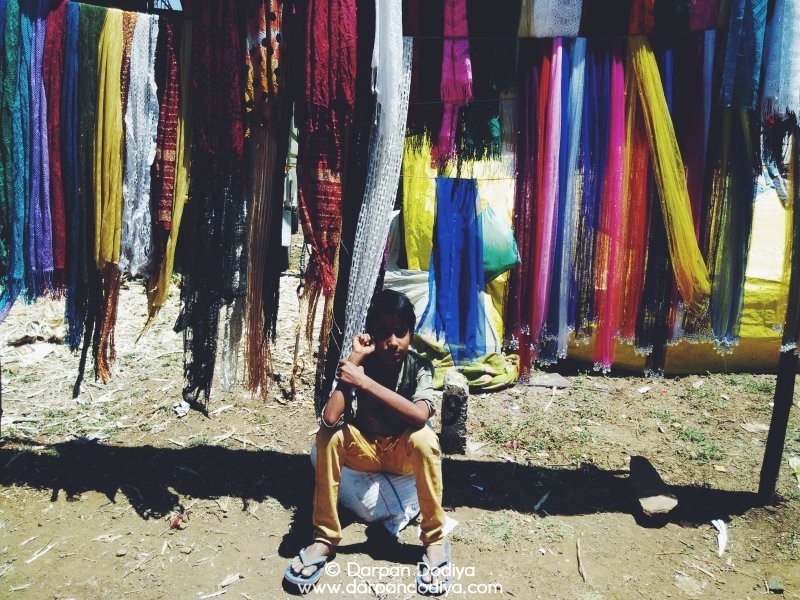 Tale of Saptashrungi Devi & Temple Story
As with the case with many Indian temples and Goddess, Saptashrungi too has quite a few of them. Let's go over them one by one with help of Wikipedia.
Saptashrungi Devi temple is also one among the 51 Shakti Peethas located on the Indian subcontinent and is a location where one of Sati's (first wife of Lord Shiva) limbs, her right arm is reported to have fallen.
When I was taking photos of hills around Saptashrungi, mom pointed me out to a hill, that has a door-like hole. She said, Devi entered to Saptashrungi through that mountain door.
The Goddess had taken the form of Durga (the Mahalakshmi of Devi Mahatmaya) and slew the buffalo-demon Mahishasura, who troubled the universe. After that the Goddess is believed to be settled here. As the Goddess took form here and resided at Saptashrungi, it is considered the original location of the Goddess.
In the epic Ramayana war, when Lakshmana was lying unconscious in the war field, Hanuman came to Saptashrungi hills in search of medicinal herbs to restore his life.
Sage Markandeya, while living in a cave near Saptashrungi is believed to have recited puranas (Hindu scriptures) to entertain the Devi.
A local myth says that a tiger resides in the garbagriaha (sanctum sanctorum) every night and a keeps a watch on the temple but goes away before sunrise.
Another myth is that when a person was trying to destroy a beehive, the Devi appeared before him to prevent the act.
There's one more story of Saptashrungi Mata, linked to Shirdi Sai Baba and his devotees.
A Comment By Dr. Damodar Mandore
EDIT: 12-05-2016
Yesterday, I've received an detailed and insightful comment on this article by Dr. Damodar Mandore.
Adding it here:
"
I too am a fan of Vani and had been visiting here since my childhood during the Chaitrotsava.(This year too I was there).
I would be glad, if at all you could add a bit more about the story of "Parsaram Bala", who is said to be the younger brother of Saptashrungi Devi and his temple is located exactly behind that of Devi. Local story/belief is that, Devi hid him behind her during some emergency situation and thus his statue is behind her and so is the temple. For visiting this temple you have to take the parikrama marg and reach exactly half way, and directionally opposite side of the hill. I had visited there around a decade back or so.
The chaitrotsava was very exciting, thrilling and joyful, in the past days (Though facilities were less, but joy was good in a different perception), where you could see many poor beggars sleeping on beds of thorn in full noon time, under naked sun, some hand emerging out of ground and chanting string of bead and many such adventurous and rare activities. In fact the adventure used to begin right the way while climbing up the hill via the narrow road and two way traffic with some indisciplined and speedy drivers used to take your breath away. But, yes, as mentioned by you, the new facilities have definitely made the trip a safe and smooth ride these days and many new technologies are being roped in for further betterment.
One more thing that I wish to add is a story/belief that during the end of Pournima, a person from a particular family, carries the flag of the temple and after hoisting it secretly in the night time, when he emerges out, all his white clothes are torn. Nobody knows about the whereabouts of this path and the guy.
"
Saptashrungi Temple from ground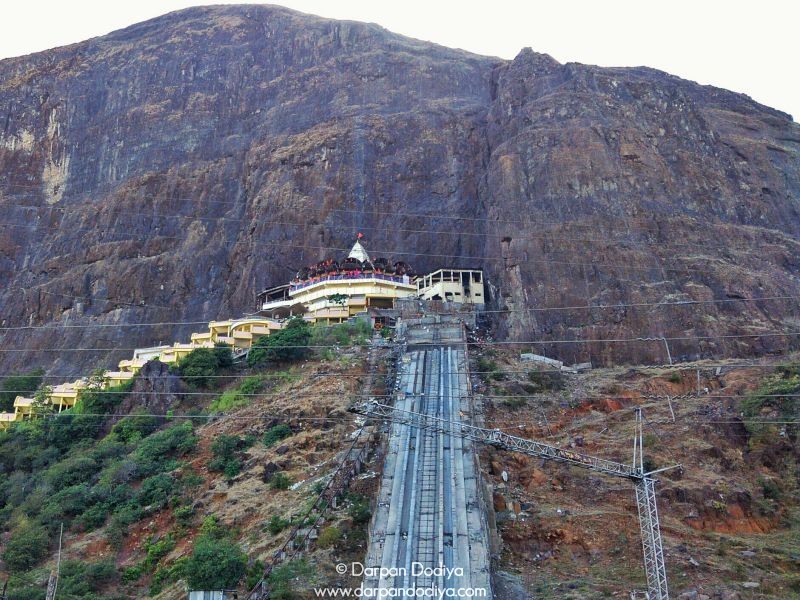 Saptashrungi Devi Is Also Known As…
Sapatashrungi – Goddess of seven hills
Saptashrunga-nivasini – One who resides on Saptashrunga – the seven hills
Saptashrunga-mata – The mother-(goddess) of Saptashrunga
Brahmasvarupini – one who has form of Brahma as the Goddess is reported to have appeared from the kamandalu (water-pot) of the creator-god Brahma.
Last photo I took of temple. Photography isn't allowed inside Mata Temple.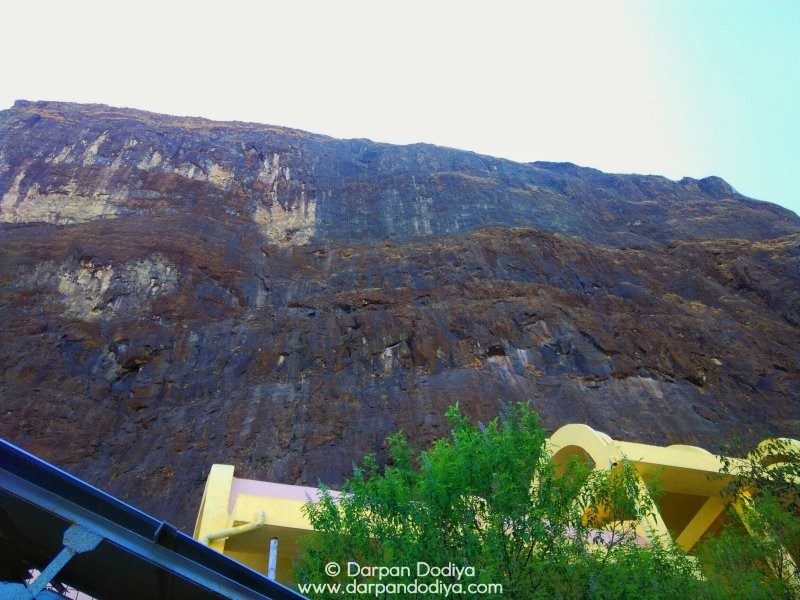 How to Reach Saptashrungi
If you're visiting by own vehicle, there are many ways you can reach to Devi temple. Google Maps would be your best guide.
Distance Matrix:
| | | |
| --- | --- | --- |
| From | To | Distance in km / Time |
| Surat | Sapatashrungi | 200 km / 5 hrs |
| Nasik | Sapatashringi | 70 km / 1.5 hrs |
| Mumbai | Sapatashrungi | 250 km / 5 hrs |
| Saputara | Sapatashrungi | 50 km / 1 hr |
| Vani | Sapatashrungi | 25 km / 45 min |
Awesome views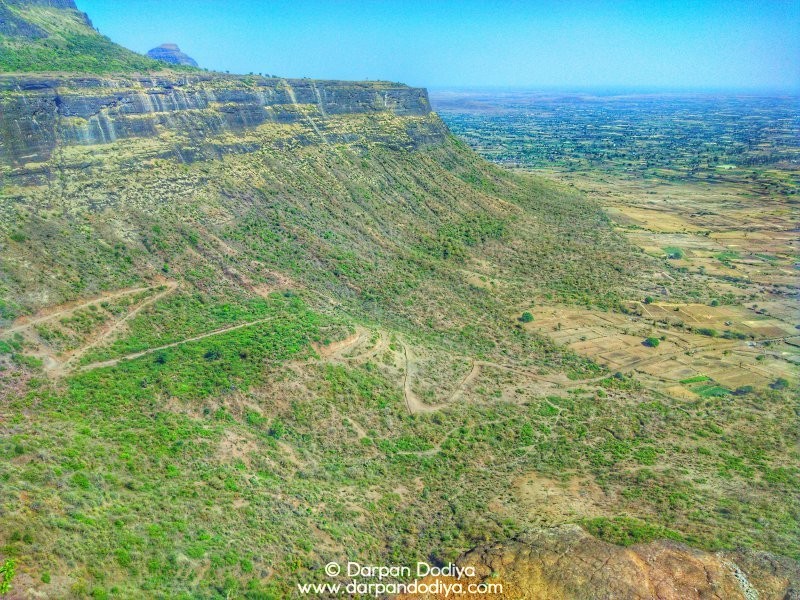 In case of public transportation, plenty of MSRTC buses run to-from Sapatashrungi. Nearest railway station is Nasik Road.
After a fatal bus accident in 2008 which resulted in death of 43 people, security measures have been taken by authorities. The circumlocutory path around the Sapatashrungi hill has now barricades and warning signs.
MSRTC buses are frequent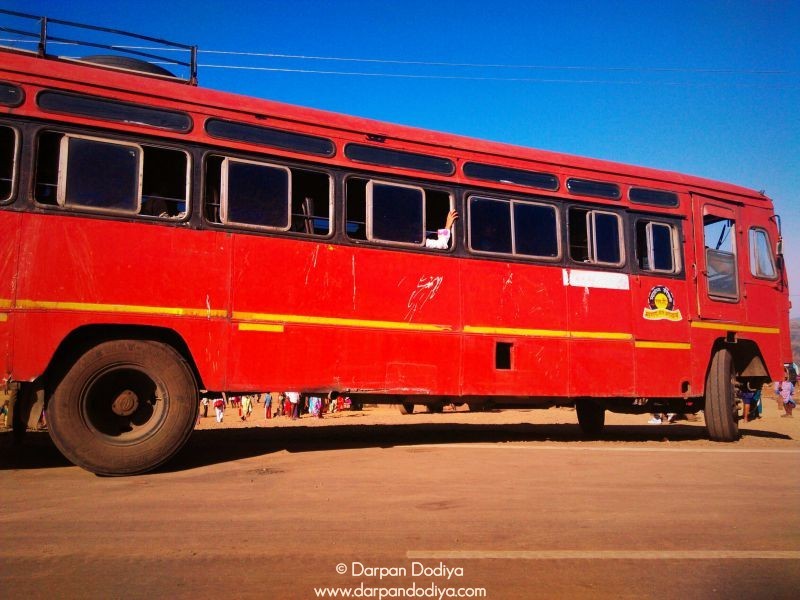 Monsoon.
Though I visited Sapatashrungi in April and enjoyed the cool winds, monsoon should've your preferred time for a trip to Sapatashrungi.
Sapatashrungi has elavation of 1000+ meters. Thus even in summer, sun won't burn you.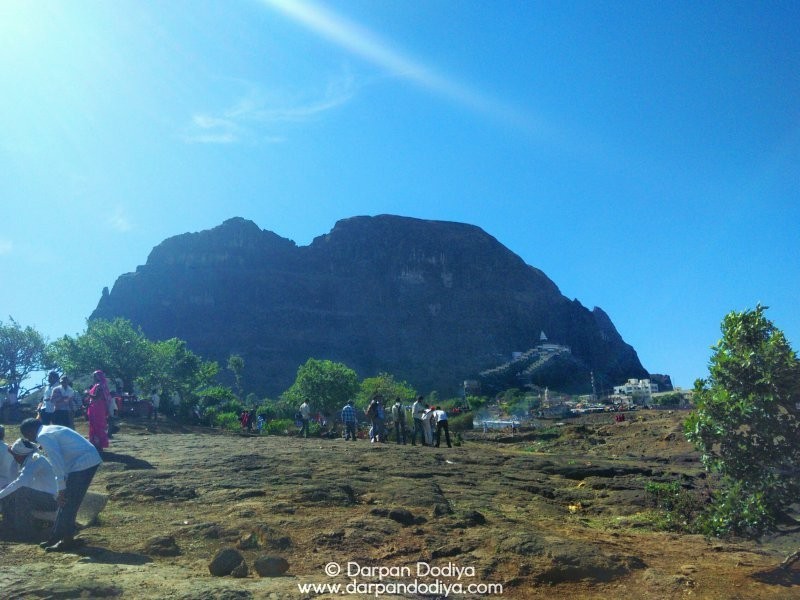 Sapatashrungi Live Darshan
Shree Saptashrungi Nivasini Devi Trust has setup a live streaming service for online darshan on their official website.
Live Darshan at: (Unfortunately, this link is no more online now. It seems like the official Saptashringi site is dead now. :/ )
You can contact Shree Saptashrungi Nivasini Devi Trust at (02592)- 253351
This peak is highest in all seven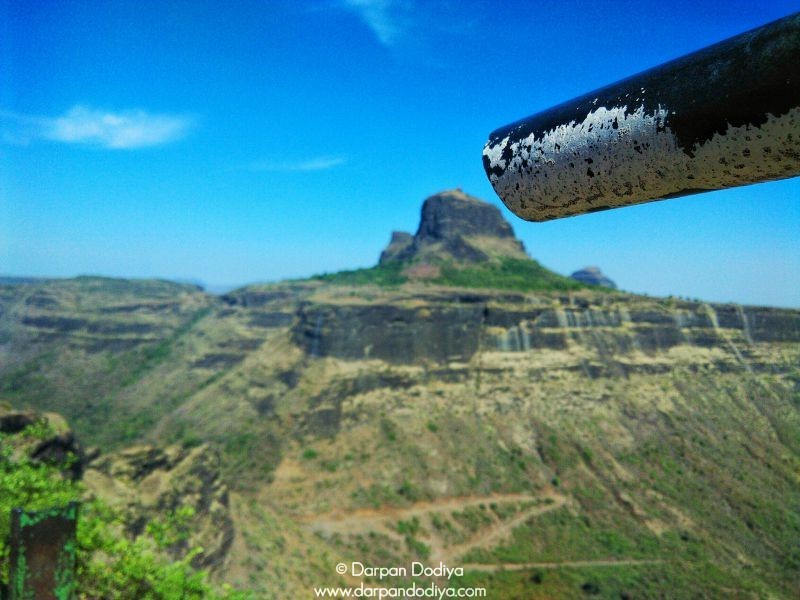 Morning: 06.00 AM
Noon: 12.00 PM
Evening: 07.30 PM
Devotees taking holy dip in water body near Mahadev Temple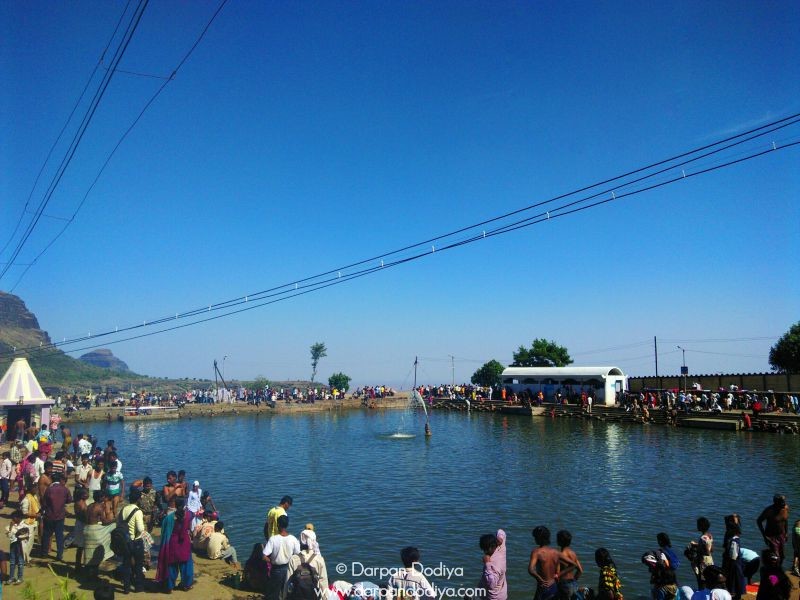 Yearly Festivals / Fixtures
Navratri Festival – Usually in September
Chaitrosav – Usually in April
Purnima – Every Month
During festival time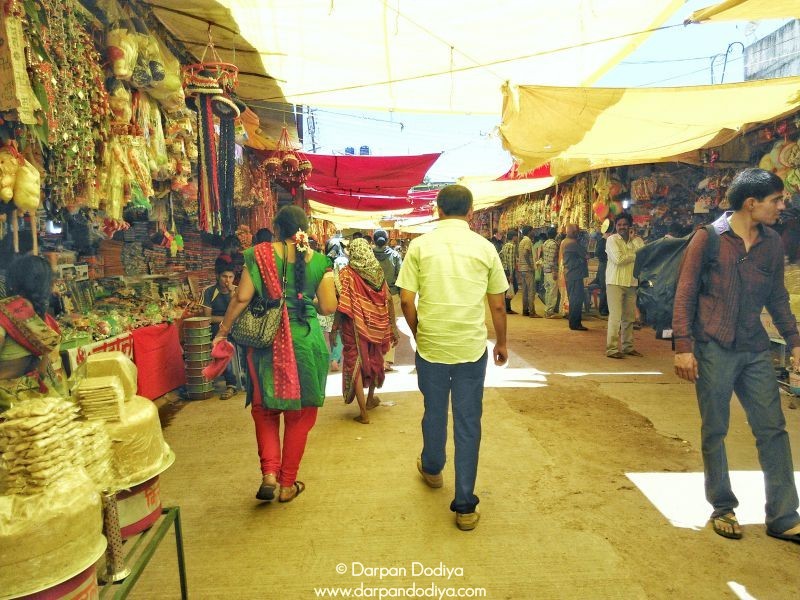 Food, Accommodation and Facilities At Sapatashrungi
While I was wandering in streets of Sapatashrungi, I had seen many restaurants. Food options are in abundance.
For lodging, trust has built Dharmshala with capacity of 190 rooms.
Dharmshala office is open 24 hours. No reservations. Rooms are offered for a day.
As far as I can remember, there's a school, bank, ATM and hospital too was present in Sapatashrungi.
View of downtown from top. As easily noticeable, lack of free space has stopped development of Saptashrungi.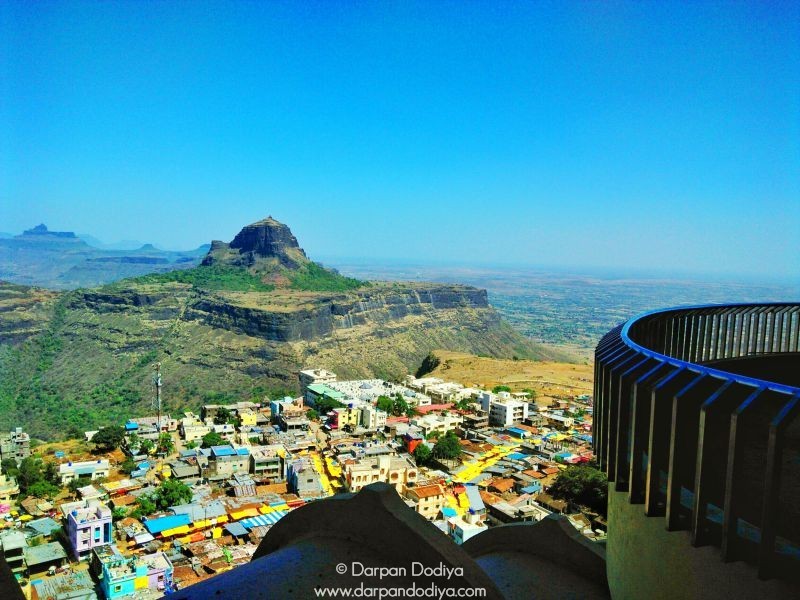 After Darshan of Sapatashrungi Devi, we started our return journey to home via Saputara.
If you're going towards Gujarat, from Nanduri, take route
Nanduri – Abhona – Kanashi – Hatgad – Saputara.
The landscapes are exqusite! I had total fun capturing photos…
Returning…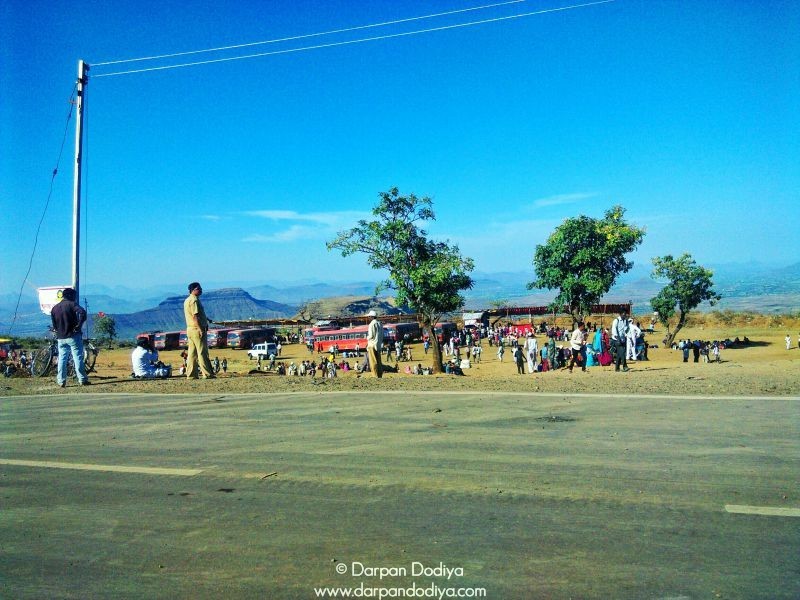 A minimal streetlight photo while waiting for bus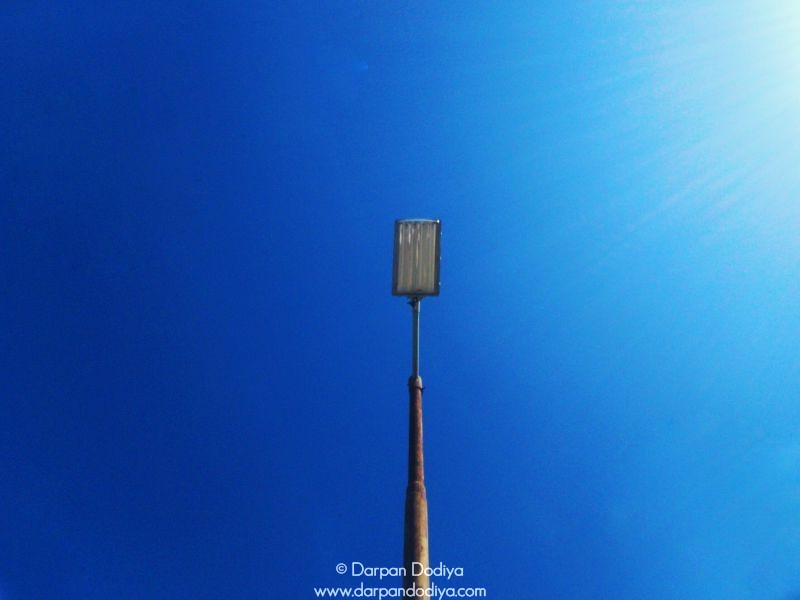 Somewhere near Hatgad. I told you, the landscapes are breathtaking!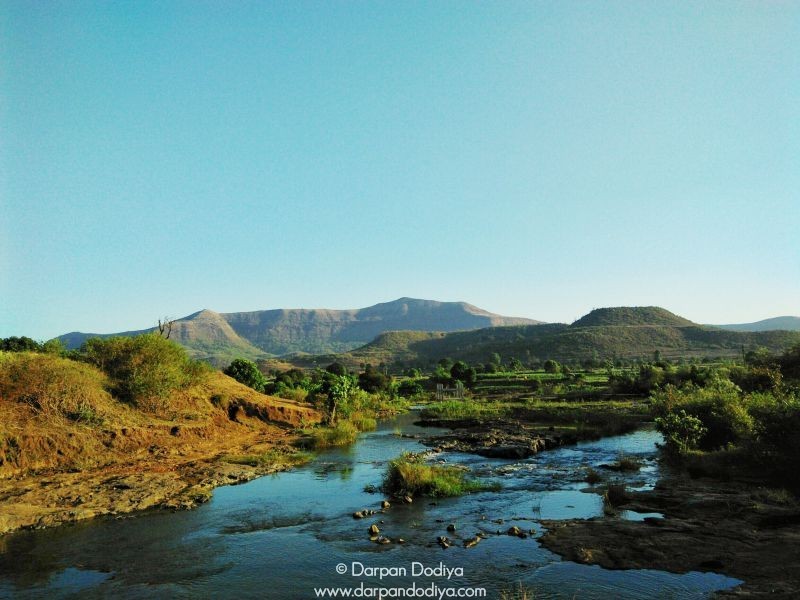 Golden farms!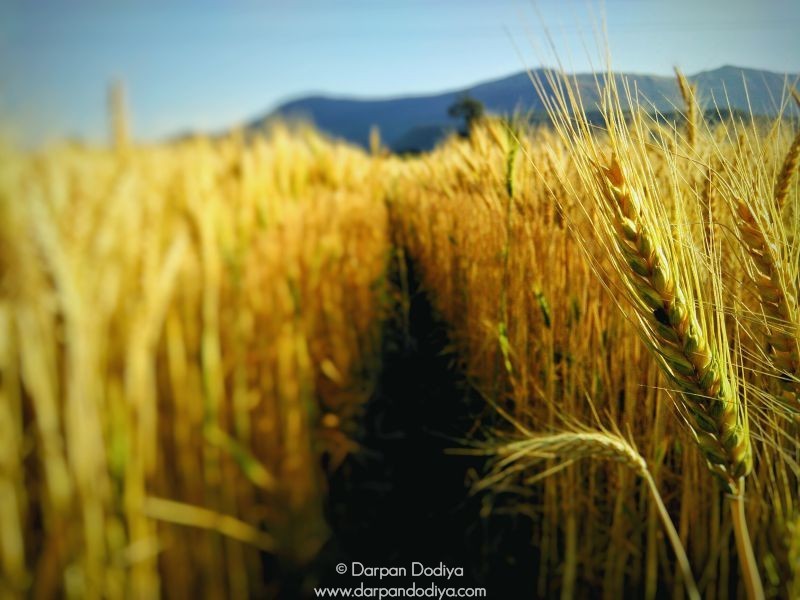 Sooraj Sa Chamkein Hum, School Chalein Hum!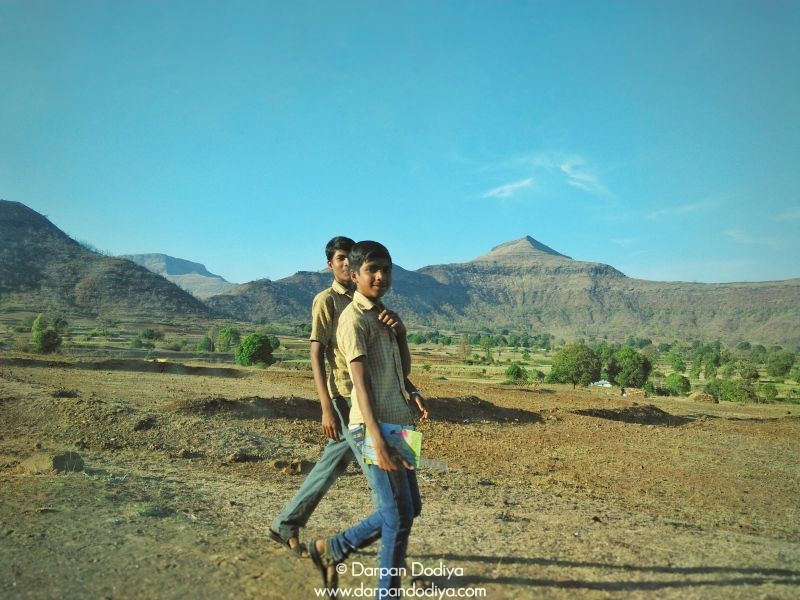 This is one of my favorite photos!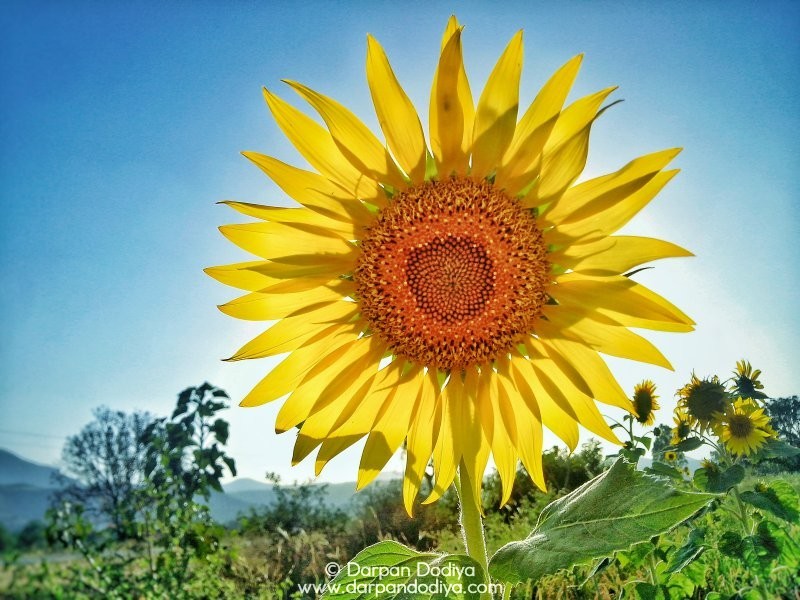 Cheers!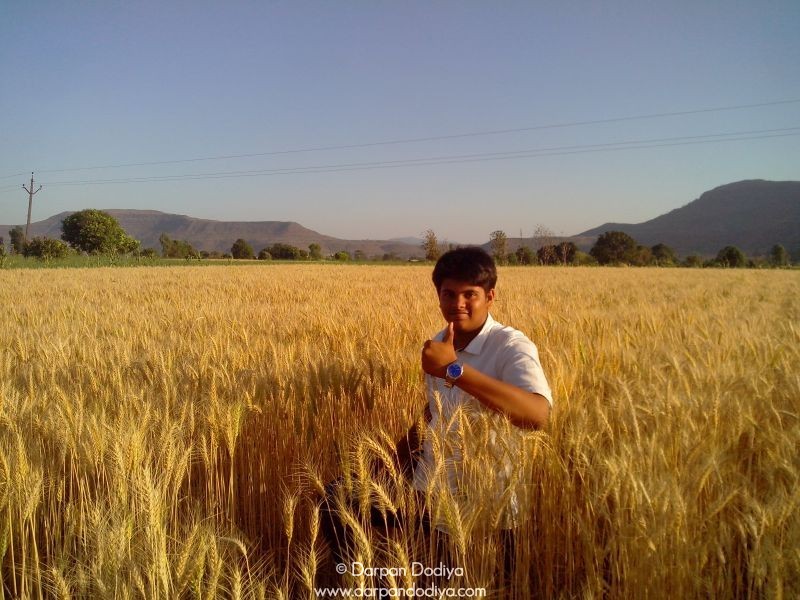 ---
All photos are from April 2015. Taken by Kunj Dodiya and me. From Redmi 1S.