Lothal was a manufacturing hub and a major export port of the ancient Indus Valley civilization. The present day Lothal in Gujarat hosts archaeological remains of a dockyard, warehouse, acropolis, lower town and well. Archaeological Survey of India (ASI) has set up an excellent museum to present high living standards and prosperity of Lothal residents.
In my school time, I have always loved the subject, Social Science (S.S.). In one of the chapters, the writers have mentioned Lothal town as a footnote and that day I added the tourism place to my 'To Explore' list way back. Recently, I and Bhavya made up plan to hunt the place –and the plan was tremendously fruitful.
This article will stand up as a comprehensive tourist guide to Lothal, will offer a visual walk through to the ancient town and will teach you the history by stunning photos of Lothal.
Let's start the journey…
UPDATE: Accomodation in Lothal
Planning tour to Lothal and want to stay there overnight? Great! There's one excellent homestay option, just 5 minutes from Lothal. Local delicious food can also be availed. 🙂
Call +91 94295 64808 for bookings.
The Creation of Travel Plan
We both study Computer Engineering in DDIT, Nadiad. Distance between Lothal and Nadiad is  km (From Ahmedabad – km).  None of us own private vehicle.
"How to reach Lothal by public transportation?" was a pain in our head.
I tried to contact past visitors from TripAdvisor. Their tone was either like "We don't actually know" or "We went there by our own vehicle/cab" or "No chances of public transportation". We were about to dismiss the trip when we were handed information, "Reach the town Bagodara. Lothal is just 20 km from there."
After having a successful internal exam the day before, we were on a high spiritual level. "Let's do it!" -my voice said.
Landing to Lothal – A Vibrant Flight
Most of the Gujarat state transport buses destined to Saurashtra, stop at Bagodara. Thus reaching to Bagodara from Nadiad was a swift process. Saurashtra bound buses are frequent throughout the day.
Now in Bagodara, I asked a local shopkeeper the same question with changed variable values, "How to reach Lothal from Bagodara?" . He informed us to go to Bhurkhi Railway Fatak and pointed out to a nearby truck, which would pass by Bhurkhi.
"But wait, in a truck?" Yes! Why not try a different stuff! The truck part was a jubilant go through.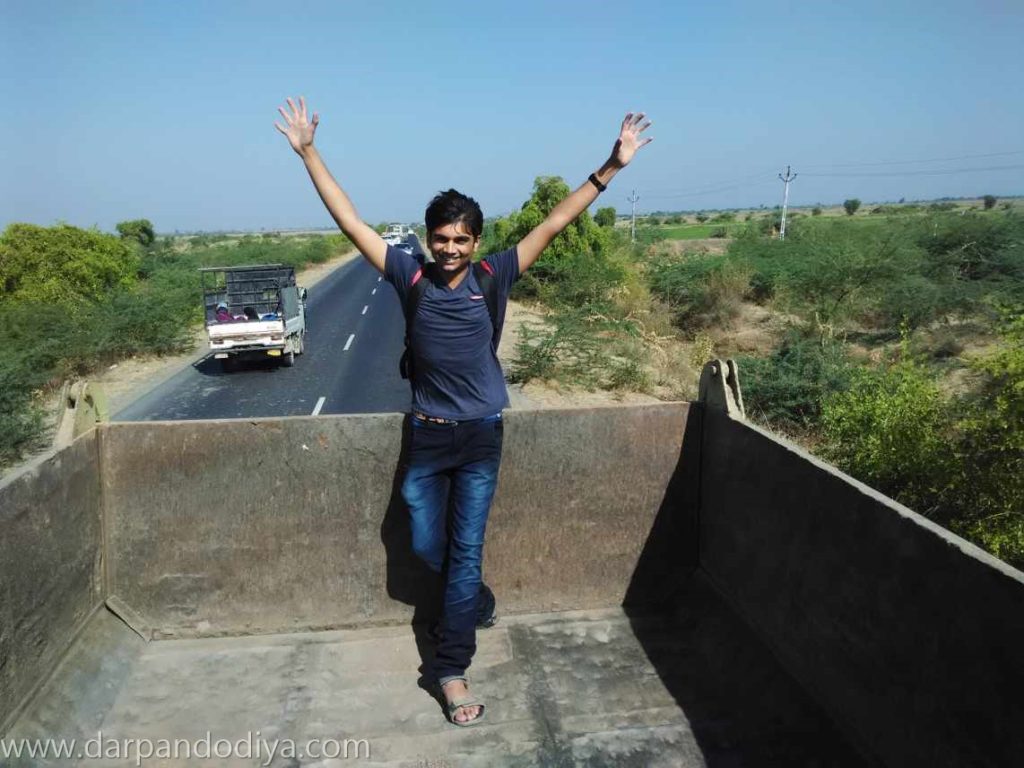 Arriving at Bhurkhi my mind was again pondered in thoughts as to "How to reach Lothal from here?"  We approached to a Chhakdawala destined a few feet from us.
"You want to go Lothal?" He asked.
"Yes" I said.
"Alright. Come on board then."
"So, you will drop us to Lothal?" I sought confirmation.
"In 10 minutes"
Wow. That was quite unexpected. Time to experience Chhakda too!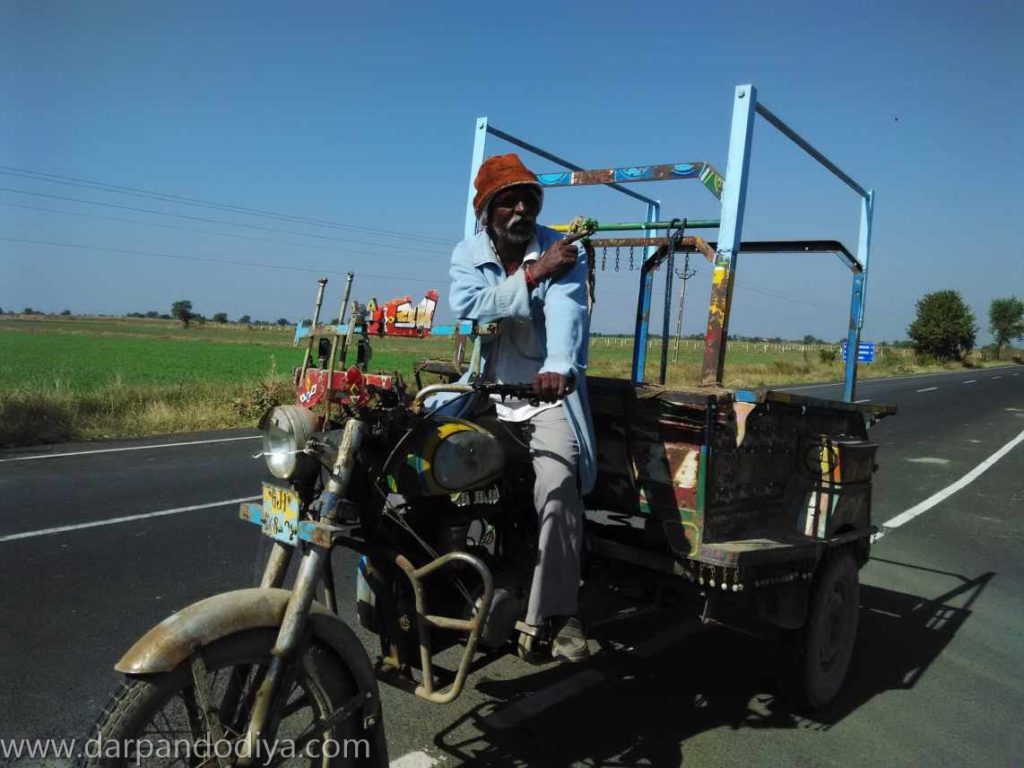 It took us 15 minutes to reach out destined place though! 🙂 Path is important – destination isn't, I recollected.
How to Reach Lothal – The Sum-up
Lothal is situated near the village of Saragwala in the Dholka Taluka of Ahmedabad district in Gujarat state of India.
Distance Matrix
| | | |
| --- | --- | --- |
| From | To | Distance in km |
| Bagodara | Lothal | 20 km |
| Dholka | Lothal | 41 km |
| Ahmedabad | Lothal | 91 km |
| Nadiad | Lothal | 86 km |
| Vadodara | Lothal | 117 km |
| Anand | Lothal | 86 km |
Private Vehicle:
When it comes to excursion from Ahmedabad, Lothal is a best destination. The excavation site is very well-connected by road network. Like other Gujarat roads,  roads to Lothal are classy all the way up to the tourism site. Google Maps is all you need to navigate your way through.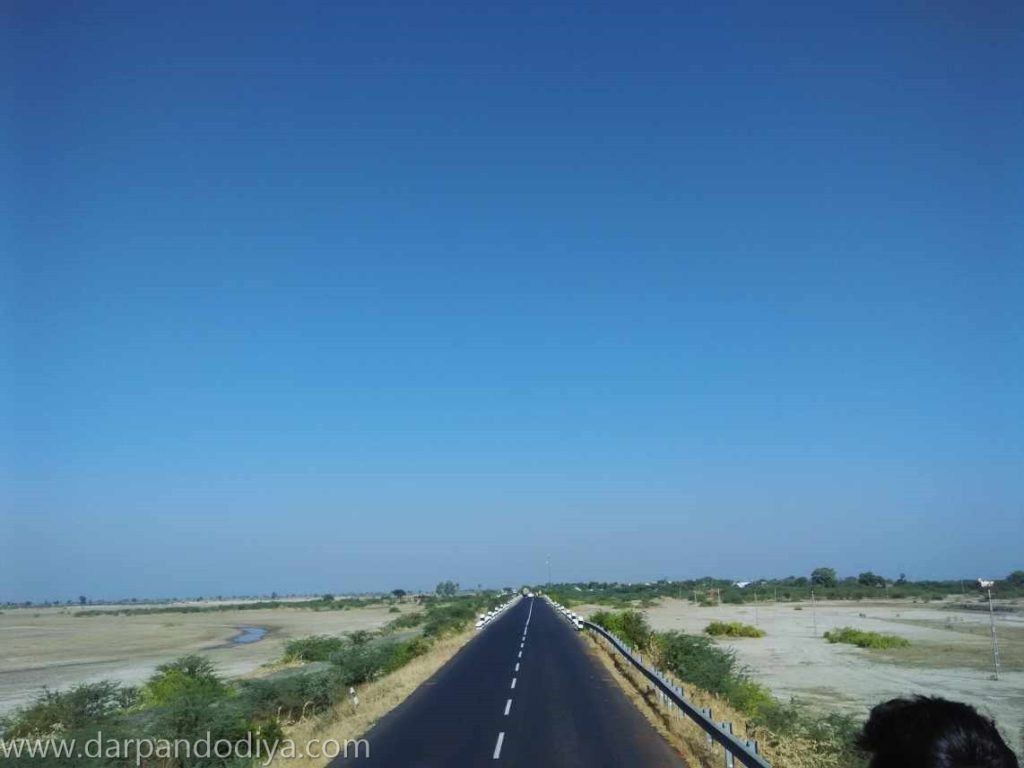 Train:
Board Bhavnagar bound train and drop off at Bhurkhi station. You can find a Chhakda from there.
Here's a list of available trains from Ahmedabad to Bhurkhi:
Bus:
Get in a bus that's going to Saurastra and get off at Bagodara. From here, reach to Arnej or Bhurkhi Fatak. Vehicles to Lothal are available from both the villages.
The Essentials of Ancient Lothal – History, Civilization and Facts
Before the sight-seeing, let's spare a couple of minutes to understand Lothal's history and important keywords.
The meaning of Lothal (a combination of Loth and Thal) in Gujarati is "the mound of the dead".  Lothal was excavated from 1955 to 1960 by the Archaeological Survey of India (ASI). Dholavira is the second similar site found in Gujarat.
Lothal was a vital and thriving trade centre in ancient times, with its trade of beads, gems and valuable ornaments reaching the far corners of West Asia and Africa. The techniques and tools they pioneered for bead-making and in metallurgy have stood the test of time for over 4000 years.
The archaeologists have found a mound, a township, a marketplace, and the dock. This implies that the Lothal city planners and architecturers had a great vision. Due to the ever blooming business, residents of Lothal would have enjoyed a decent lifestyle.
---
Lothal Map 
An artist's visualization of Lothal civilization and history. It also depicts the map of Lothal.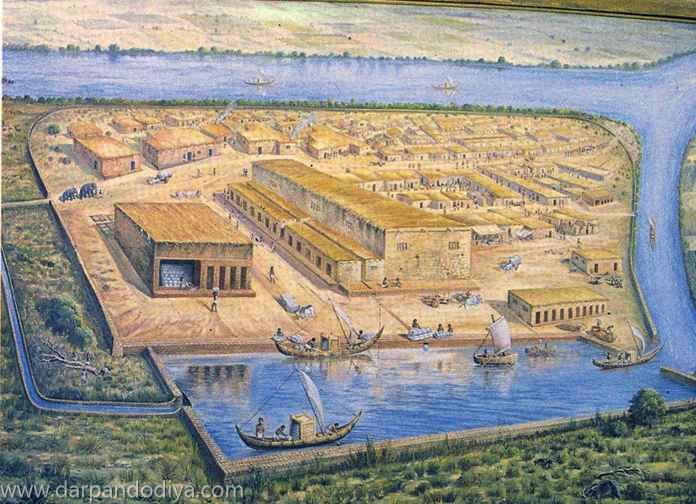 That's enough for the basics. Time to roam around the real site..
Lothal Archaeological Museum
The museum was set up in 1976 by Archaeological Survey of India to display the artifacts recovered from the excavation. The Museum has three galleries, detailed map and a scaled model of Lothal.
There are also introductory write-ups, amazing facts and history about the site. Out of the 5089 objects unearthed during the excavation, 800 objects are on display in the museum.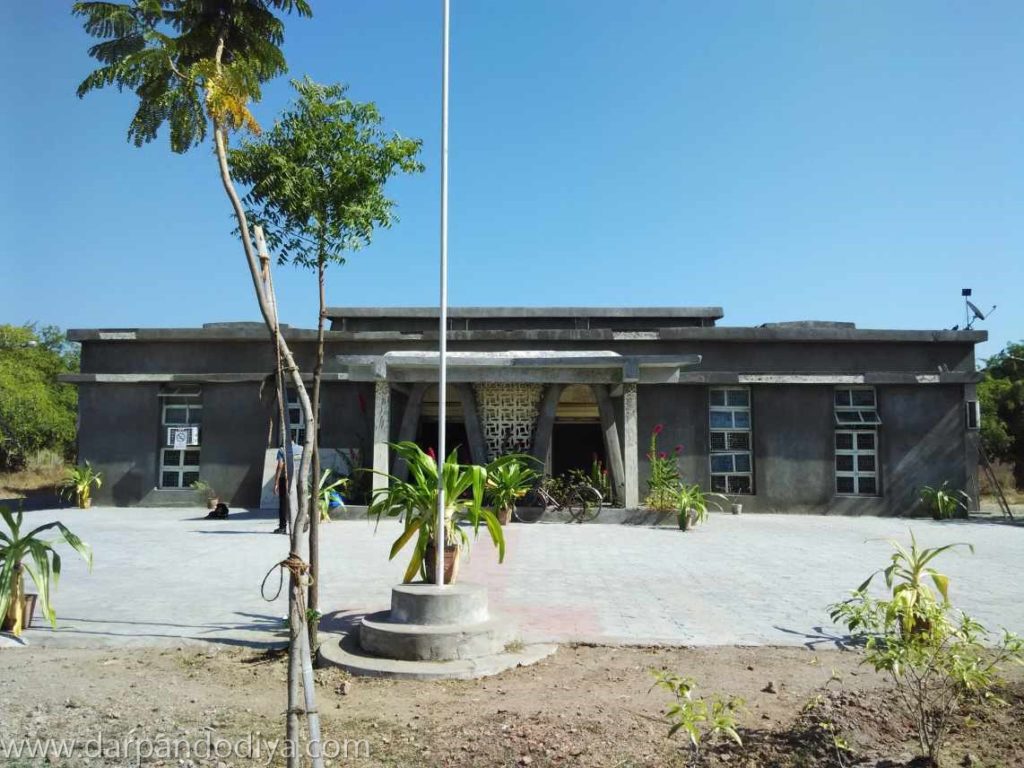 The museum has a small reference library and a publication counter for selling publications of the Archaeological Monuments. Alas, they don't actually sell.
The place is maintained keenly and offers all you want to know about the context. Photography is strictly prohibited so I tried to draw some of the items in my small diary. The museum also has a large display to show a documentary of civilization, history, tourism of Lothal.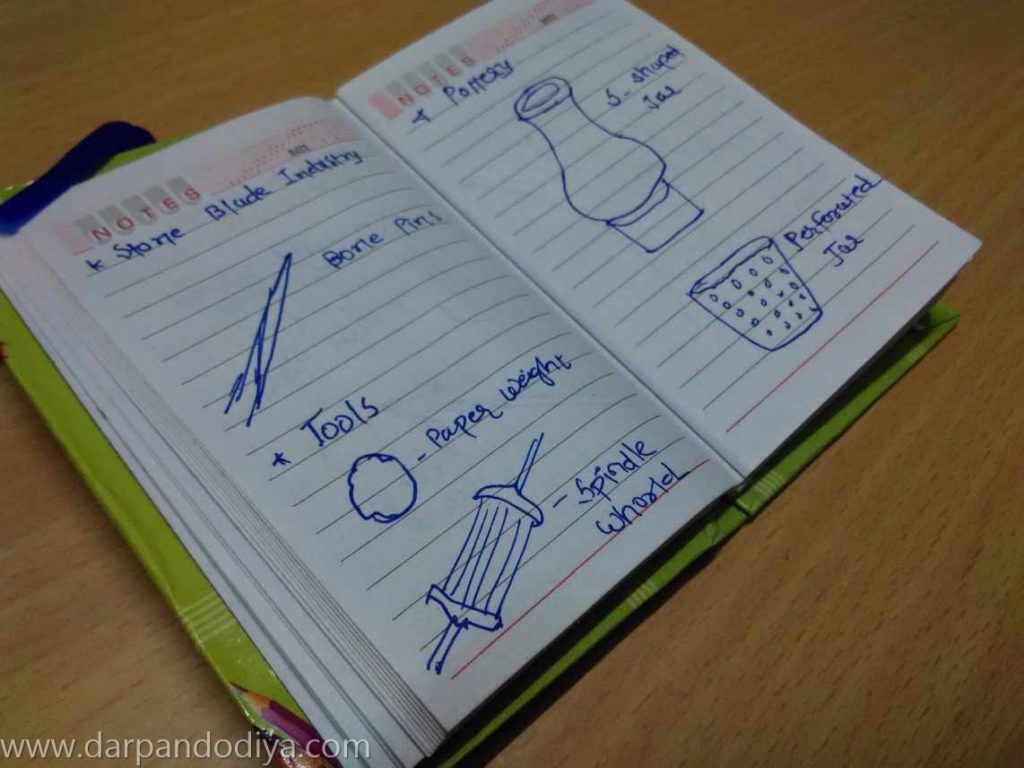 Timings of Lothal Museum
Opening Hours : 10.00 am to 5.00 pm (FRIDAY CLOSED)
Entrance Fee: Rs. 5/- per head.
They also give brochure upon request.
The Campus of Lothal – Food & Accommodation 
You may read on the internet that Lothal has one canteen. No, it's an obsolete information. There's absolutely no food stall.
We didn't think about the food crisis. We had Chana Dal to feed ourselves.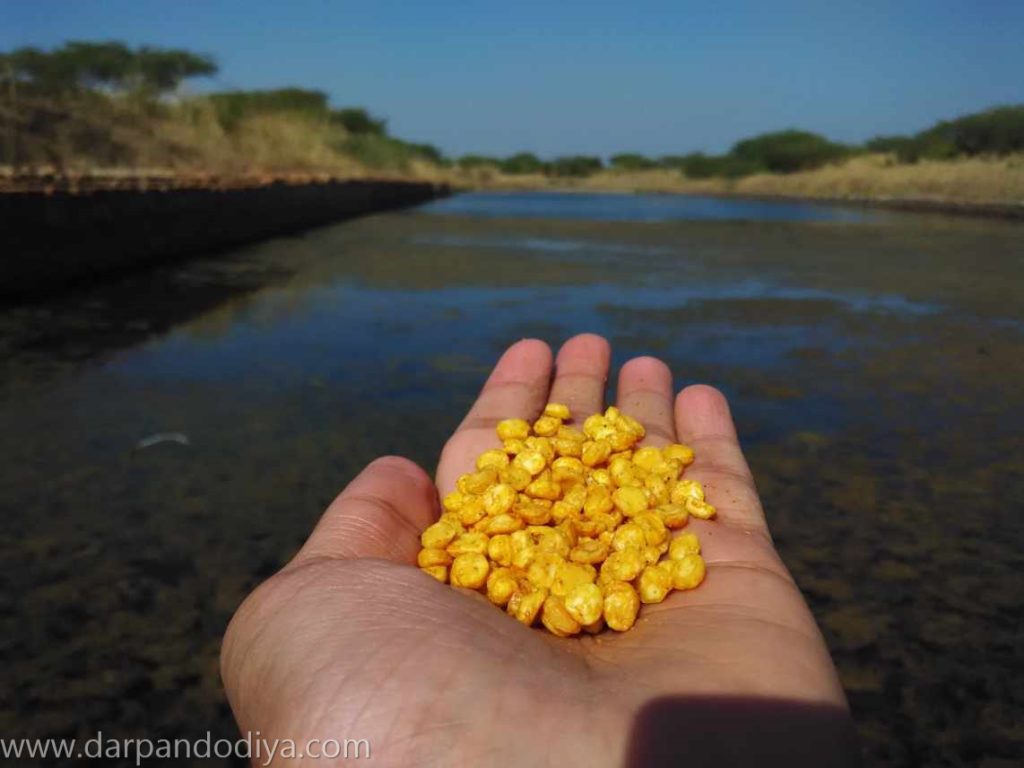 The administration has set up of a shed to cook food in the parking area. It's like a handy platform for school and group trips. A football field sized green garden surrounds the museum acting as an excellent natural rest room. (I almost felt asleep resting below the tree!)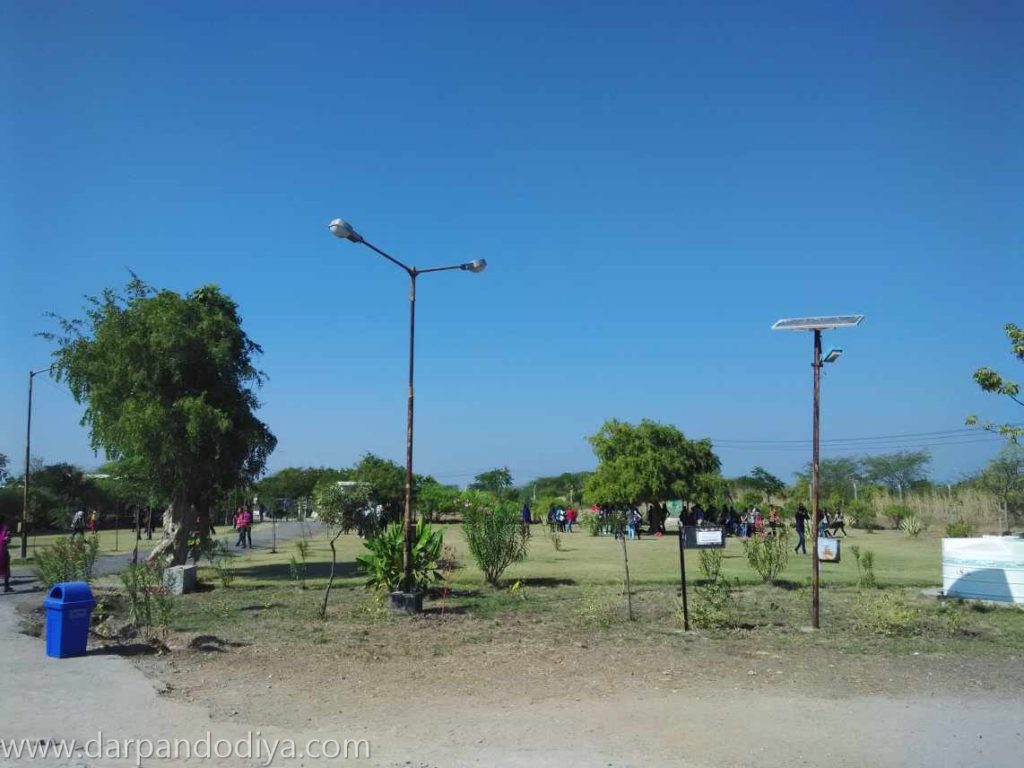 Accommodation is not required. The place can be explored in 3-4 hours.
Excavation Site – A Walk Through
Tourists visit Lothal to see this – the remains of now-ruined Lothal town. Without a guide, you'd be seeing the stones only and have no idea about the implication of the bricked structure. Nevertheless, we did a thorough search about the site and had no problems figuring out the significance of the structure.
The well is built of radial bricks, 2.4 metres in diameter and 6.7 metres deep. It had an immaculate network of underground drains, silting chambers and cesspools, and inspection chambers for solid waste.
The dockyard was located away from the main current to avoid deposition of silt. The dock, with a canal opening to allow water to flow into the river, thereby maintaining a stable water level. Dockyard and warehouse were one of the best architectural constructs of the Indus valley civilization era.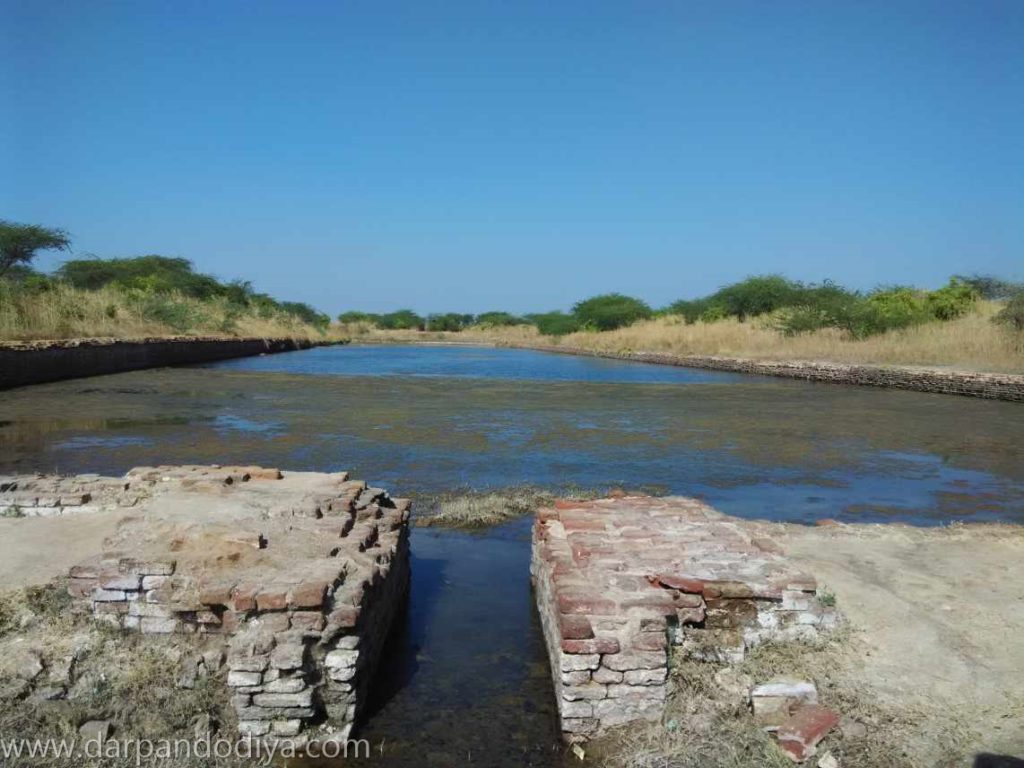 Speculation suggests that owing to the comparatively small dimensions of the main city, Lothal was not a large settlement at all, and its "dockyard" was perhaps an irrigation tank. ASI asserts the opposite. Dockyard is maintained poorly. Water stinks.
Lothal engineers accorded high priority to the creation of a dockyard and a warehouse to serve the purposes of naval trade. The warehouse was built close to the acropolis on a 3.5-metre-high podium of mud bricks. The rulers could thus supervise the activity on the dock and warehouse simultaneously.
Kitchen of upper town with pot furnace.
The rooms of the upper town were obviously built for the upper classes. They had private brick baths and a remarkable network of drains and cesspools.
The bead factory had ten living rooms and a large workplace courtyard. Lothal's beads had huge demand.
Near the warehouse, also on a high plinth, is the upper town or acropolis which spans 128 by 61 meters and has extensive drainage systems.
An elaborate sanitary and drainage system, a hallmark of ancient Indus cities, is in evidence everywhere at Lothal.
From the plinth of the acropolis, it is a short distance to the lower town. The lower town contains a commercial and residential area. The arterial streets running from north to south were flanked by shops, merchant dwellings and artisan's workshops.
Visit only if you're interested in history. You'll hate Lothal as a travel destination otherwise.
Take printout of this article. It'll work as guide and help you to identify block structure.
Don't forget to include food in your checklist.
No good for kids. A minimum age of 12 is required to understand all the jargons. Children may easily get bored in this case.
3-4 hours are sufficient to explore Lothal.
Public transportation is available.
The Real Kathiyawadi Food – Taste = Delicious | Mind = Blown
Having spent 4 mind boggling hours in Lothal, we headed back. Our foot steps were heading towards the Bagodara bus station and then we spotted a Kathiyawadi Lodge near the station. Stomach had been craving for food so we decided to give it a dose of traditional food.
The hotel system was surprisingly different than a mediocre hotel.
For instance, instead of distributing buttermilk in a glass, they smashed a pot full of it on the table (2 liter) and told us to consume it at our will! Then, there were 10 different supplementary items like onions, fried chilies, masala carrots and what not. Add a true form of self service to the top. That is, everything would be on your table, sabji, roti, rice, dal – eveything. Eat as much as you want!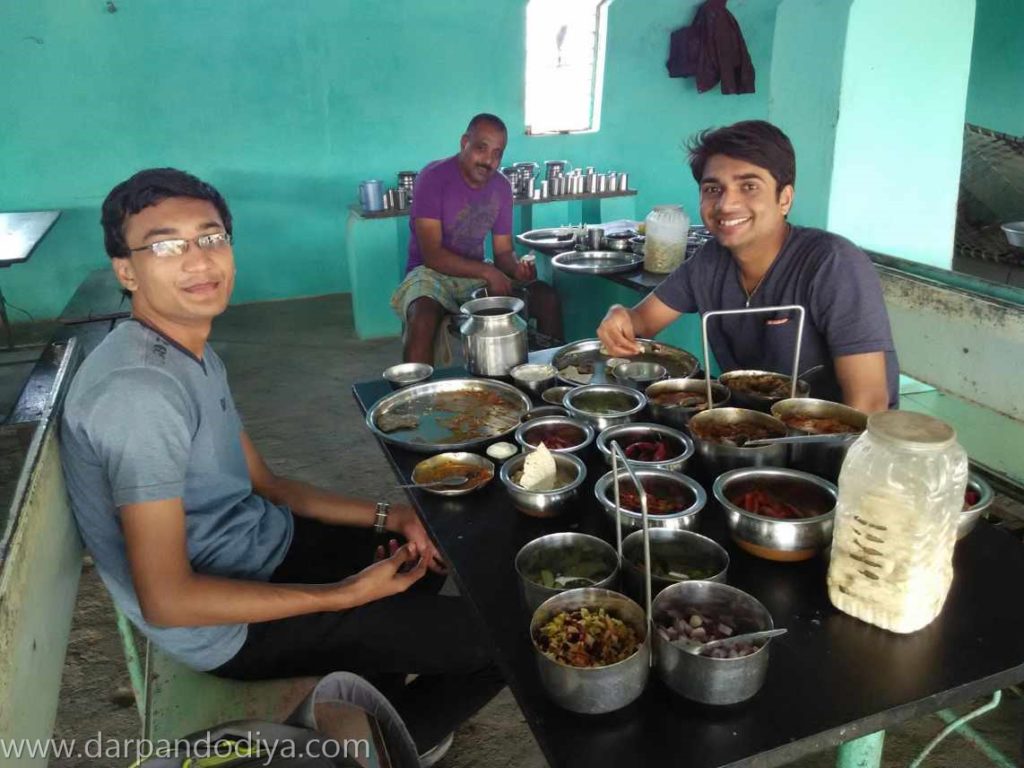 Food and the concept, both made my day. A perfect way to conclude the trip!
---
Thanks for reading! Share this post to light up our great Indian civilization. Contribute your thoughts in the comments.
[Images have been watermarked as one of my article
Don hill station
 was heavily plagiarized couple of months ago.  Not for reproduction.]
Good day!