Wilson Hill Station and Shankar Waterfall stand in an impenetrable forest area near Dharampur in the Valsad district of Gujarat.
Shankar Fall is close to the famous Wilson Hills, a hill station situated in the Pangarbari Wildlife Sanctuary. I had a chance to plan an excursion to Wilson Hills lately. You are missing a good day in your life if you haven't been at places like Shankar Waterfall and Wilson Hills.
Let me plan a breath to share experience to Wilson Hill Station.

Enjoy a cinematic drone video of Wilson Hills shot by Kunj Dodiya.
Accommodation [Update]:
Looking for accommodation at Wilson Hills? A homestay option is available now at Wilson Hill Station. Call/message on +91 94295 64808.
Click here for more details.
Major Reform [Update 24-06-2016]:
I've published this article back in September 2014. At that time, I was a beginner, stepping into blogging world.
Since then,  a lot has been changed. From my writing to content presentation skills.
I'm reformatting and updating this article to match up with latest information and good presentation. Cheers!
Location of Wilson Hills Dharampur
Wilson Hill Station is located in the forest locality of the Sahyadri mountain range in a village called Vaghval.
Shankar waterfall is just 6 km away from the famous hill station.
Wilson hill station is 32 kilometers away from Dharampur and about 62 km away from Valsad, the district headquarter.
Dharampur is a well-known town for its rich Adivasi (Tribal) culture. It is said that, years ago King Mohanrai built his fort in Dharampur and announced Dharampur as a State. One of the most potent reasons why King Mohanrai chose Dharampur is the evergreen hilly area and absolute natural beauty of Dharampur.
Dharampur region has host of tourist places like,
Wilson Hills,
Barumal Temple (13th Jyotirlinga of Lord Shiva),
Mohangadh Fort,
Sahyadri Mountain Range,
Kaparada,
Shankar Fall,
Shirmad Rajchandra Ashram.
Entry gate to Dharampur town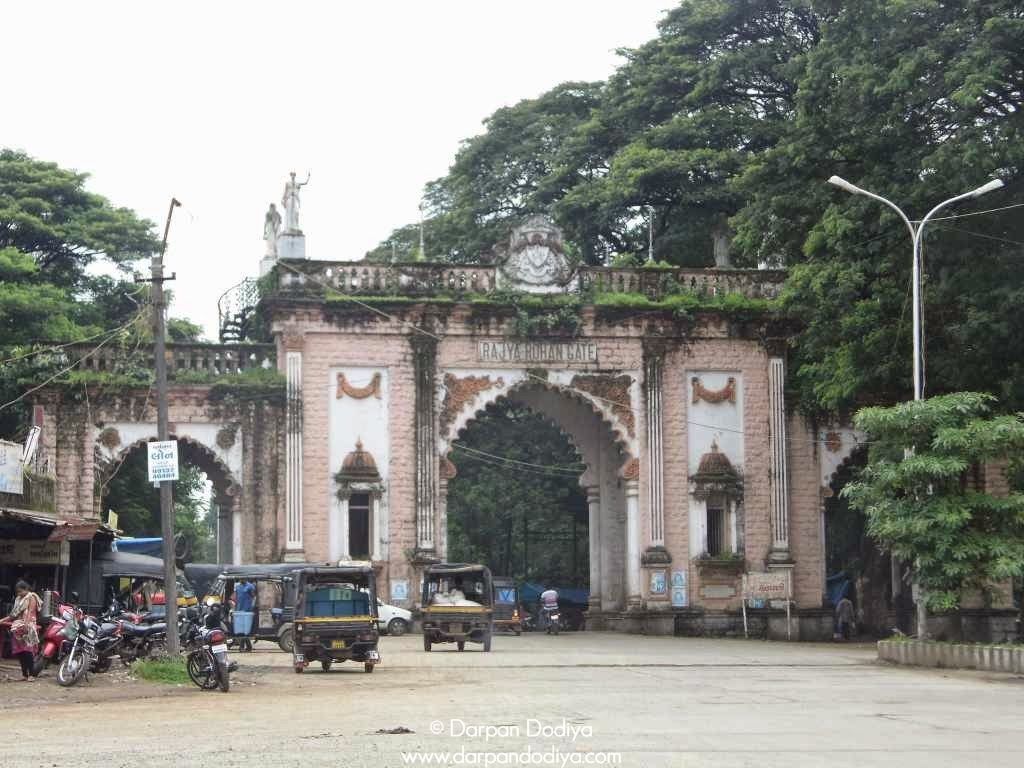 Wilson hill station has arrangement of smooth tar roads till the end.
If you're considering public transport, state run GSRTC bus goes straight up to Wilson Hills also.
In my opinion, use of own vehicle is the best way to explore the Dharampur area.
The nearest Railway station is Valsad. State transport buses are frequent between Dharampur and Valsad.
You will find yourself driving 30-40 minutes to get to Wilson Hills from Dharampur town.
CNG pump is present at Dharampur, Vansda and Valsad.
Roads are decent. You'll have fun driving on zig-zag stretch of 5 km.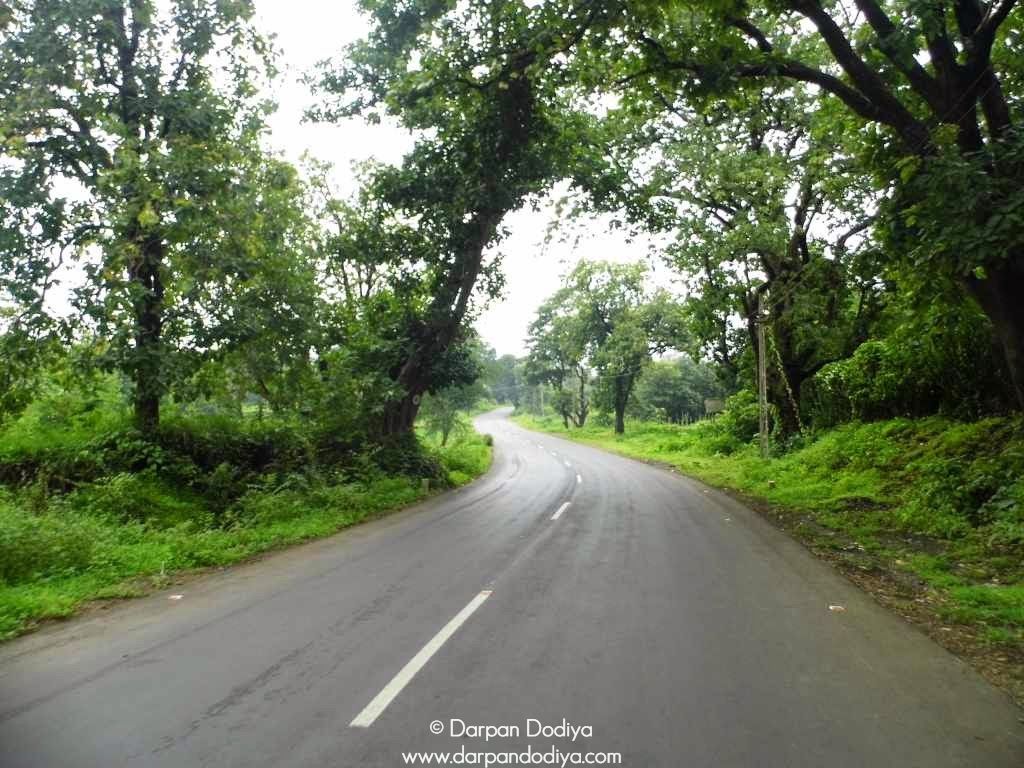 | | | |
| --- | --- | --- |
| From | To | Distance in km / Time in hr |
| Surat | Wilson Hills | 125 km / 2.30 hr |
| Valsad | Wilson Hills | 60 km / 1.30 hr |
| Dharampur | Wilson Hills | 30 km / 45 min |
| Mumbai | Wilson Hills | |
| Vadodara | Wilson Hills | 250 km / 5 hr |
| Ahmedabad | Wilson Hills | 375 km / 6.30 hr |
| Saputara | Wilson Hills | 70 km / 2 hr |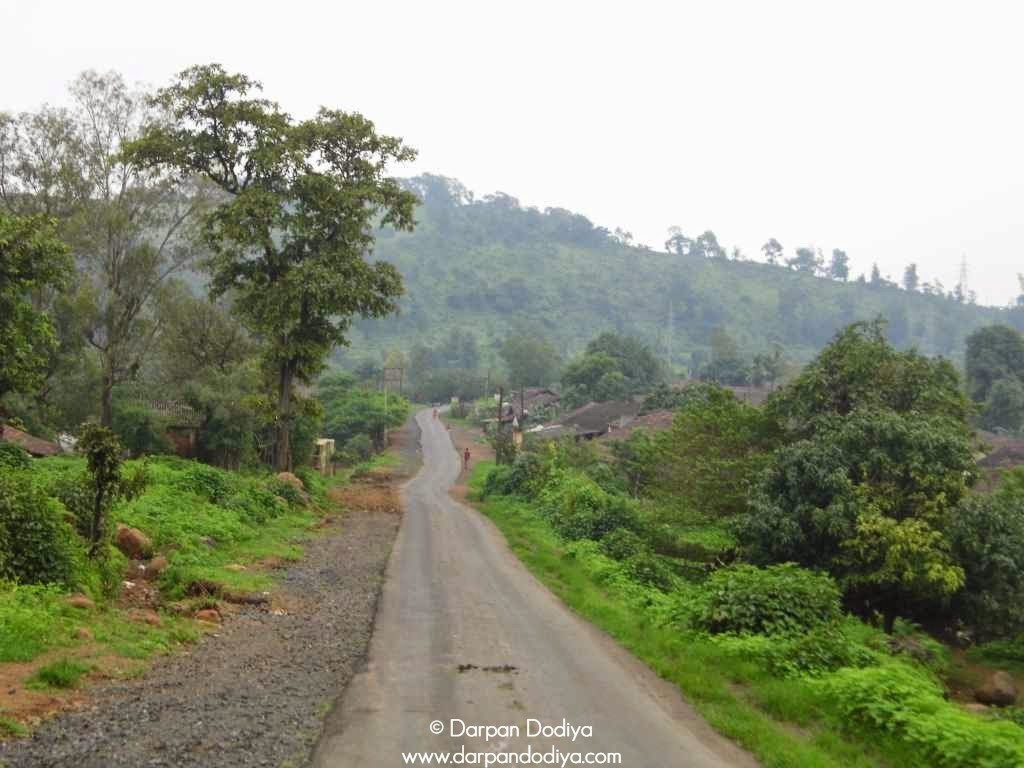 Attractions – What to See
Wilson hills had helping hand of government, so you'll find some viewpoints and rest huts. Whereas, Shankar falls are as they are. There were few benches earlier, but last time when I went there, I couldn't find trace of any! 😛
Best time to visit: Monsoon. (Mid June to September end.)
You may find following things wonderful:
Water crashing from the height of about 150 feet
Scenic landscapes and dense greenery
Work and life culture of Adivasis
Tall trees protecting the shores of the river
Monsoon is undoubtedly the best time to visit.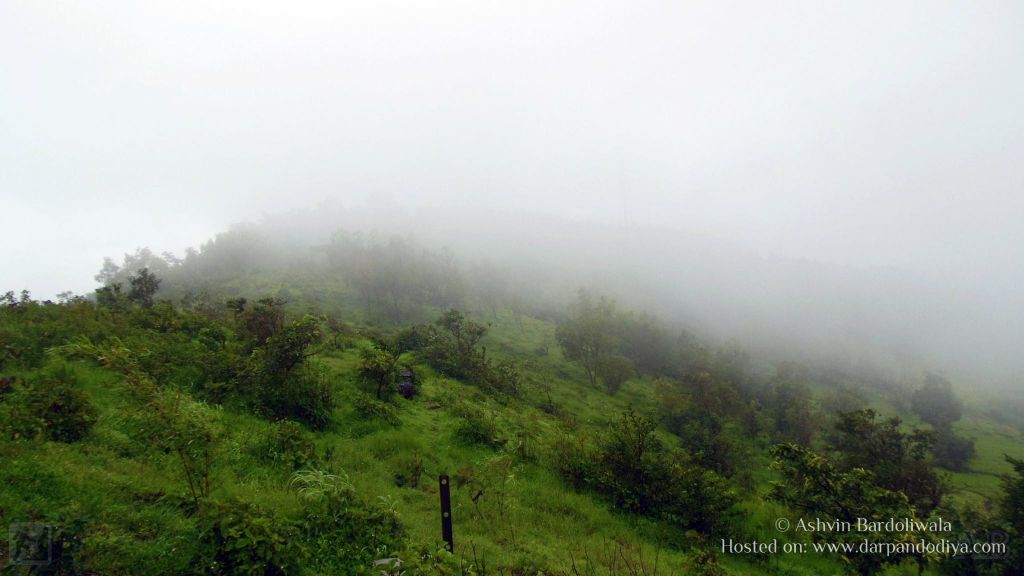 Homestay Accommodation at Wilson Hill Station
Wilson Hills area now has one homestay option as well.
Also, delicious local (Adivasi) food can be enjoyed. You'll be exposed to local culture and their lifestyle as well during your course of stay.
Call/message on +91 94295 64808 for pricing, bookings and more details.
Typical local house.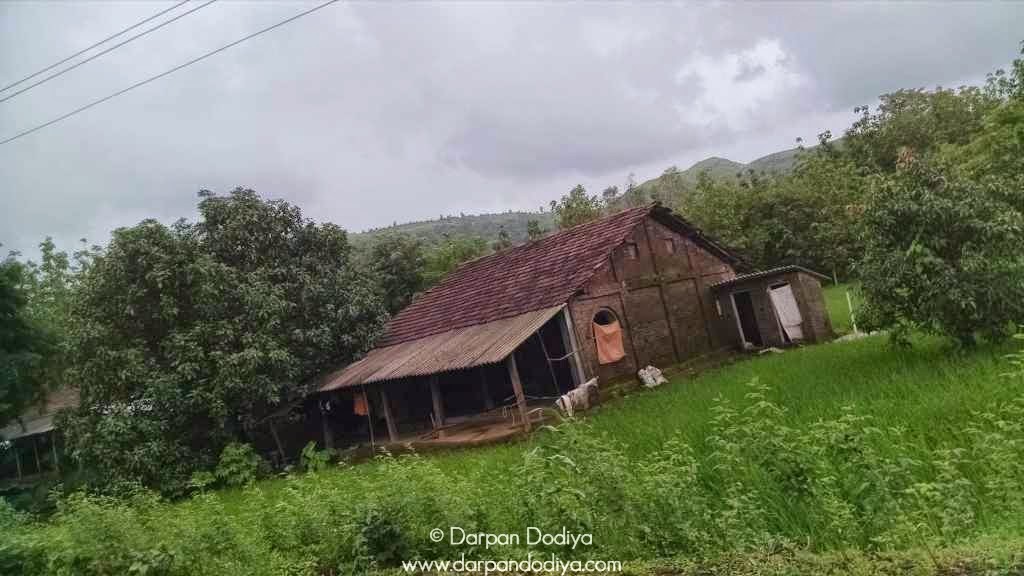 No food at Shankar Fall.
Wilson Hills has one restaurant on the top. You can curb hunger there.
Based on my personal experience, the food wasn't upto the mark. It's better to take own food there and crunch it sitting amongst clouds.
Barumal

Shiva Temple
Fort of Mohangadh
Shrimad Rajchandra Ashram

Dharampur

City
Shankar Waterfalls – 6 km from Wilson Hill Station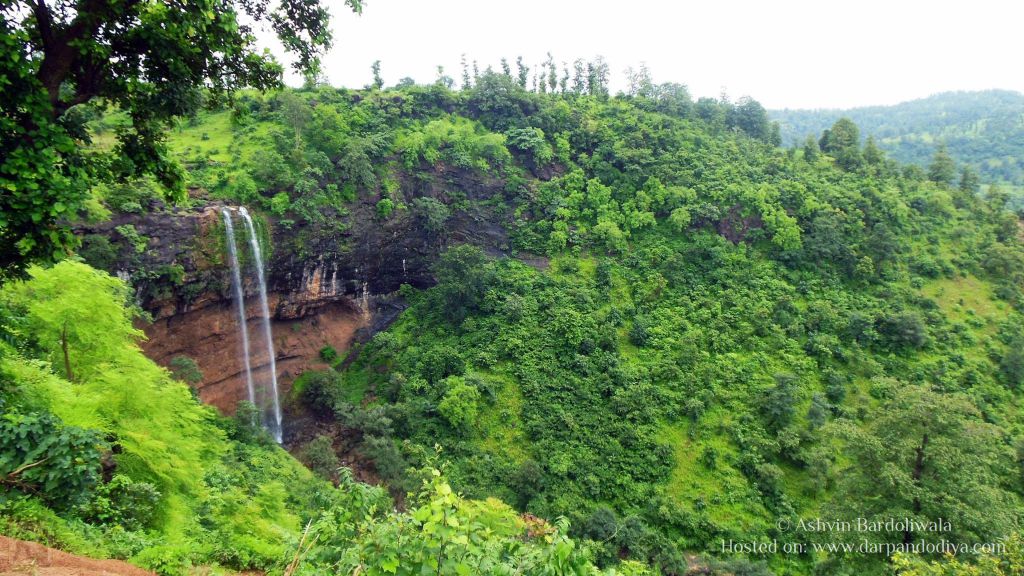 Barumal, 10 minutes from Dharampur is actually not just a Shiva temple. It has a wide spread campus hosting a guest house, pretty good canteen, girls' school cum hostel, podium, walk-through gallery and of course, a huge temple.
Why am I mentioning this temple? Food!
If you fail to find any food in either Wilson Hills or Shankar Falls, Barumal temple can be fill up your empty stomach. It has a canteen.
Barumal temple falls on the Wilson Hill – Dharampur road, 5 km from Dharampur.
Stop your vehicle for a moment to capture the smiles of cute children en-route to Fall.
Dharampur area is tribal, undeveloped area. People in this area are financially not well-off.
I urge you to donate those kids Old clothes, books, toys, whatever you were thinking to dump in your bin.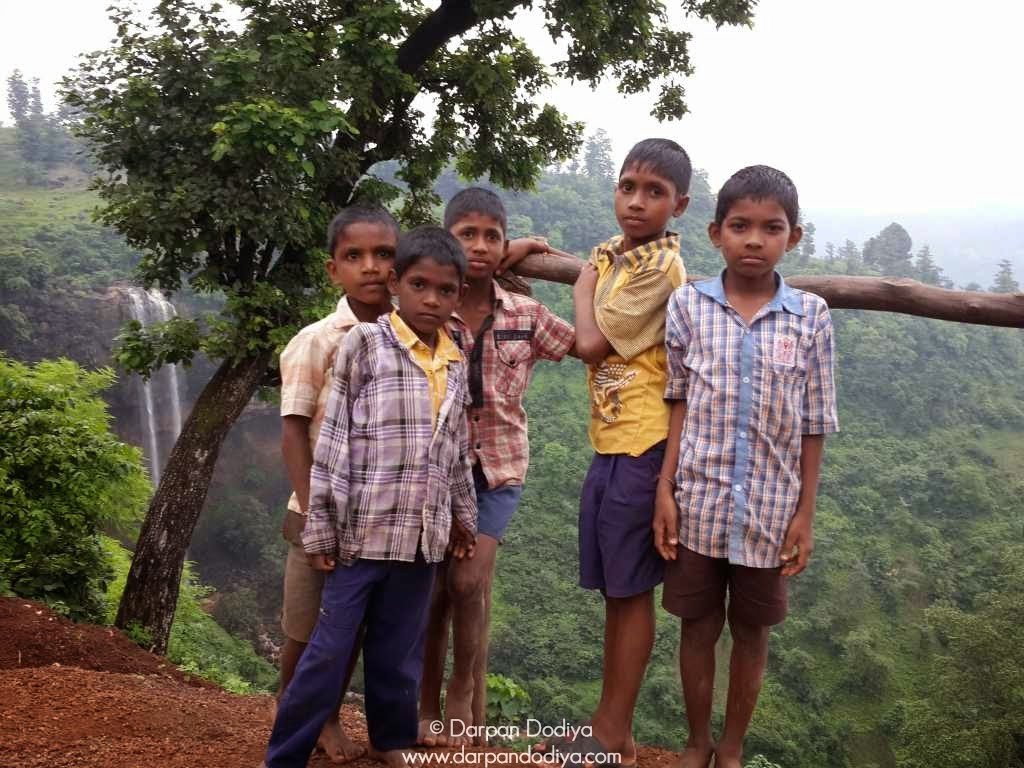 Visit this dedicated post to see more photos: [Photos] [Monsoon] Wilson Hills Dharampur And Shankar Dhodh Waterfalls In Monsoon
My last travel guide of Don Village, Ahwa has received tremendous response from passionate adventurers of South Gujarat. And that has inspired me to write more. Will continue this initiative..
I thank Rahul Thakor for his inputs on this article.
Read this article, List of Hill Stations In/Near Gujarat for more information.