Waghai Botanical Garden, Dang, spread over 24 hectares is the largest garden in Gujarat. Waghai Botanical Garden is on the Waghai – Saputara road, 2 km from Waghai town.
Nearly one lac tourists visit Waghai Botanical Garden every year. Though, a point to be considered is, most of the visitors visit Waghai Botanical Garden as their 'rest point' for tour to/from Saputara.
Related: Places to Visit on Saputara Trip
Personally, I like these gardens. Being a Mathematics student, biology isn't much of interest. Though, not for the sake of biology but for peace, serenity and nature, I love this place.
Front garden. Image: Sangram M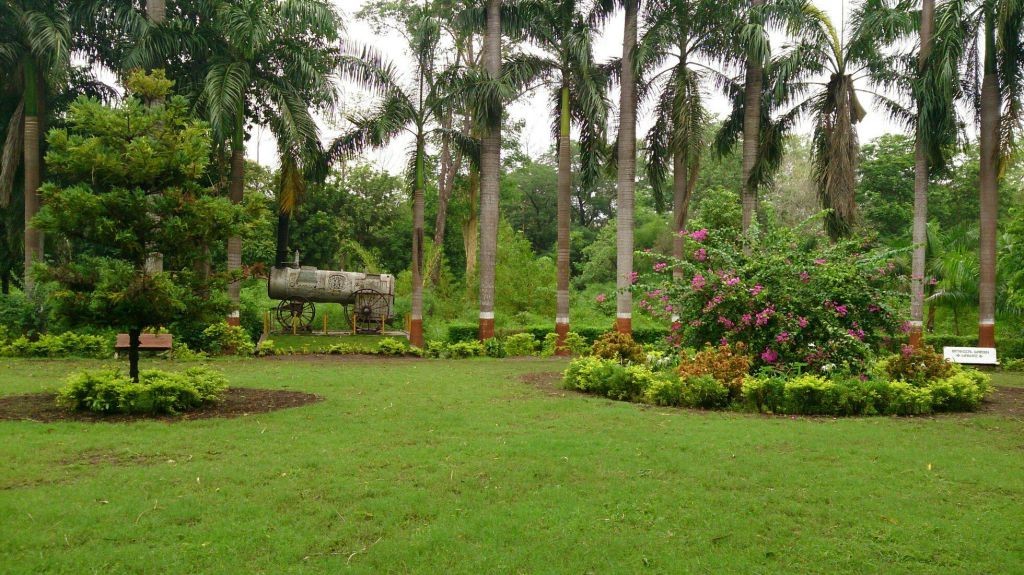 Facts and Figures of Waghai Botanical Garden
Established in 1966, it's been maintained decently
It has 1400 plant species and 1077 genera representing 100 families
8000 Herbarium sheets of 1000 species
It has varieties of bamboos. Some of them have interesting names too,
Beer Bottle Bamboo
Golden Bamboo
Chinese Bamboo
It has a vintage coal steam engine. The engine is placed nearby entrance to the garden.
All the plants are equipped with detailed descriptor plate. The details include, normal name, scientific name and additional data describing the specimen.
Image: KhatriRocks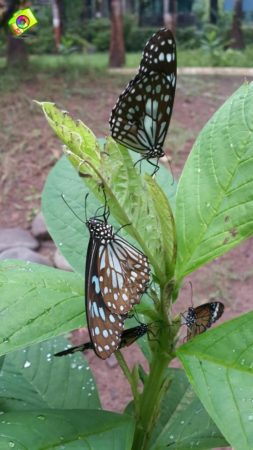 Canvas of Waghai Botanical Garden
Waghai Garden is divided by roads and united by avenues 🙂
Avenues are named after the plants present in there. e.g. Ashok Road, Neem Road
The Garden is divided into several plots representing different forest types such as evergreen, moist deciduous, dry deciduous, scrub and thorn, arid zone
It has separate plots like taxonomy plot, medicinal plot, bamboo plot, palm plot, Dangs plot, orchid plot and rose plot
Source: http://pandyadhaval.blogspot.in
If you're a biology student, you must visit Waghai Botanical Garden.
Rest hut. Image: Gujarat Tourism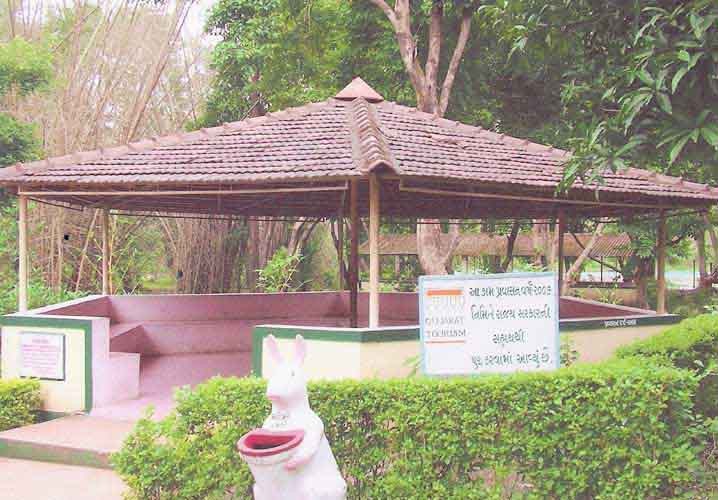 ---
Facilities at Waghai Botanical Garden
Ample parking space
Drinking water
Sanitation
Library (Open on request)
Interpretation center (Open on request)
Meeting hall
Canteen (Tea and snacks)
Research center
Rest house
Rest huts
And a lot of gardens…
And a lot of greenery…
And generally less crowded…
And a lot of walkways… (Yeah, romantic ones! 🙂 )
It's a great place for photography too. A lot of pre wedding shootings happen here.
Old steam engine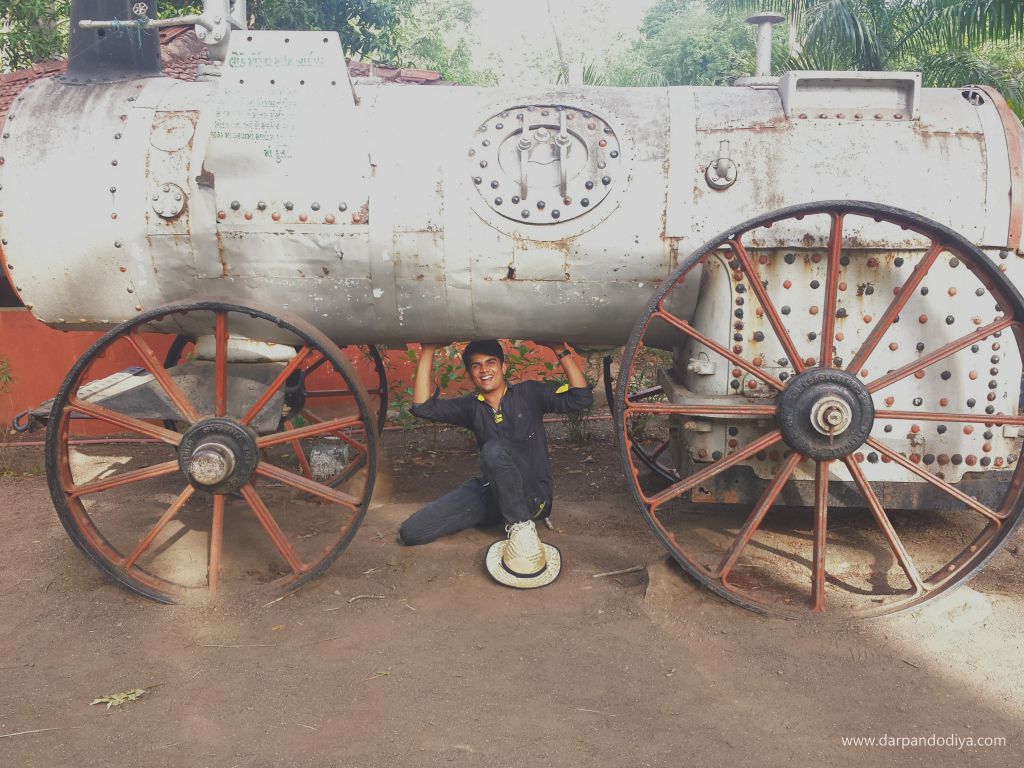 Waghai Botanical Garden is open all days a week.
Entry – Exit Time: 8 AM – 6 PM
Entry Fee: None. Free entry. No parking fees when I visited last. (December 2015)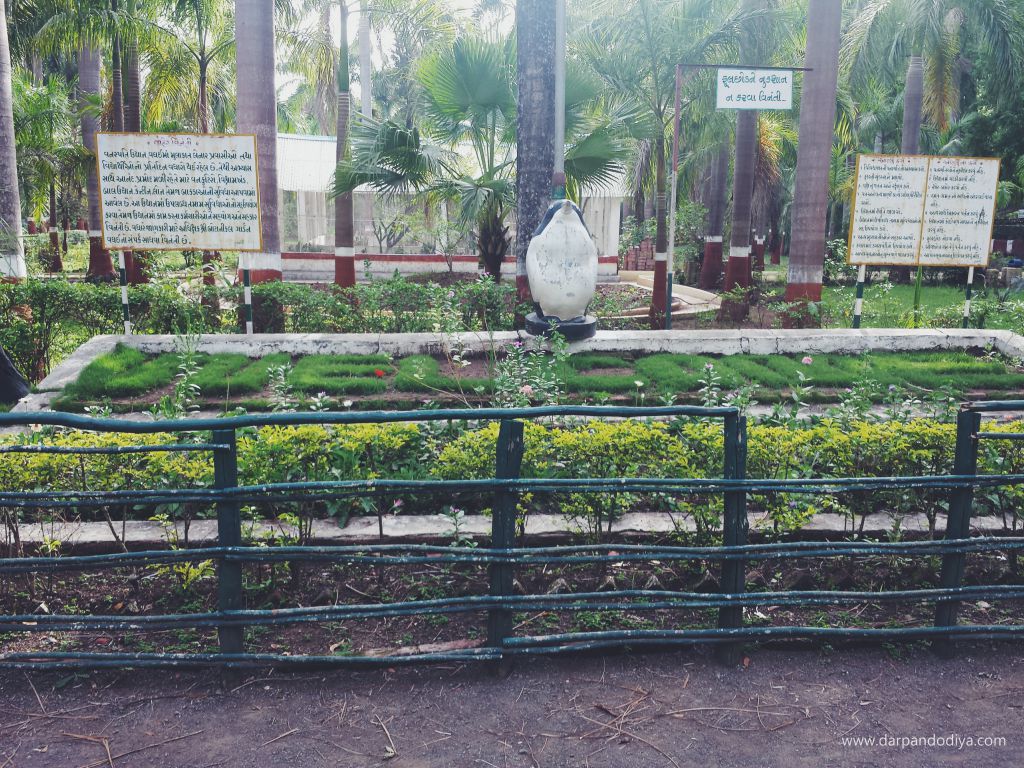 Waghai Botanical Garden is accessible via public transportation. Most of the tourist places in Dangs doesn't have public transportation facility.
Catch a bus to Saputara and drop down at Waghai Botanical Garden. GSRTC buses are frequent and even local jeeps are frequent.
One more mode of travel you can try out is: Bilimora Waghai Narrow Gauge train. The train is like a toy train, with 4 coaches and top speed of 40 kmph! See photo.
The train departs from Bilimora at 10 AM and reaches Waghai around 1.30 PM. Slow but fun!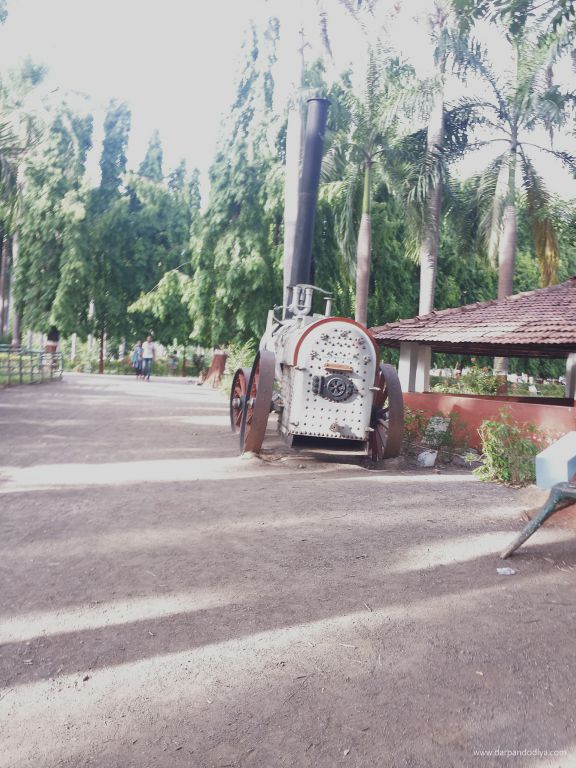 Distance Matrix
| | | |
| --- | --- | --- |
| From | To | Distance in km / Time in hr |
| Surat | Waghai Botanical Garden | 110 km / 2 hr |
| Ahmedabad | Waghai Botanical Garden | 350 km / 6 hr |
| Mumbai | Waghai Botanical Garden | 300 km / 5 hr |
| Saputara | Waghai Botanical Garden | 50 km / 1 hr |
| Nasik | Waghai Botanical Garden | 130 km / 3 hr |
Waghai Botanical Garden as exclusive one day tour destination is a bit of odd combination. It's best enjoyable when clubbed with other places in Dang or Vansda.
---
Planning Dang tour? Check out: List of Tourism Spots in Dang