The Koshmal Village Story.
One day, we were out in Dangs. We were wandering lavishly on the roads with no place in mind.
My brother, Kunj then suggested that we go to a village, Koshmal. It was a remote village in Dangs. And supposedly, it was known to have the highest waterfall of Gujarat.
Why not? So we set out to reach there…
On the way to Koshmal (Also known as Kushmal.) Met this little puppy on the road, cute piece right?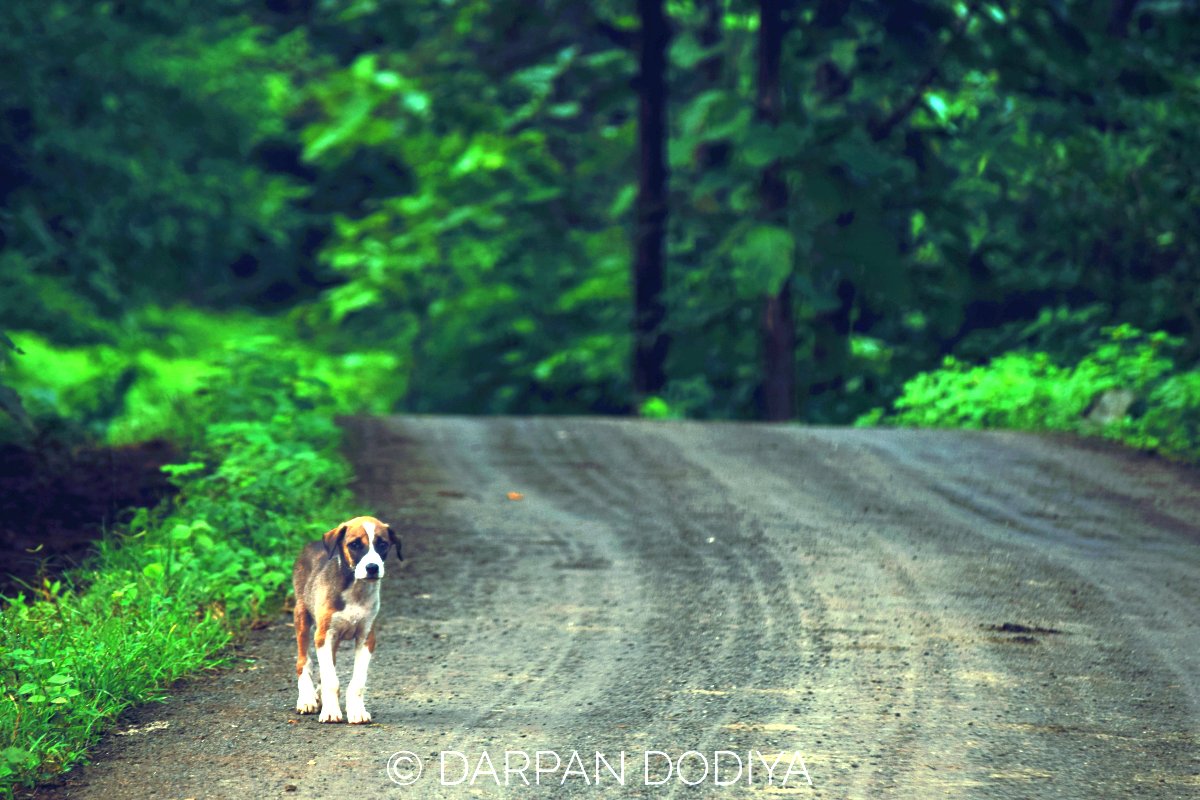 ---
Story to be continued. Due to lack of time, I'm pausing the post here. Will update soon whenever I get free time.
So I've finally updated this post after reading comments. Enjoy! (11th August, 2017)
---
Koshmal from Bird's Eye View [Drone Shots]
My young brother, Kunj Dodiya, recently visited the place again and has published a joyous video of Koshmal Waterfalls and surrounding area. Link to video or watch it below.
Koshmal (Kusmal) History In Nutshell
First off, I'd like to put some aliases of this place on the table. It is known as:
Koshmal (કોશમલ)
Kushmal (કુશમલ)
Kusmal (કુસ્મલ)
Koshmad (કોશમદ)
All refer to the same place. For exact location of this place, please scroll down to the location section.
The waterfall located at this village is known as Bhigu Dhodh amongst local people.
There's also a story related with this mountain. In Mr.Keyur Konkani's words,
"Raxasi Bird Egg & Ram Laxman came and resolve this area's problem."
Yes its vague. If you happen to be at Koshmal and get to know the history more, please comment here.
This view is magnificent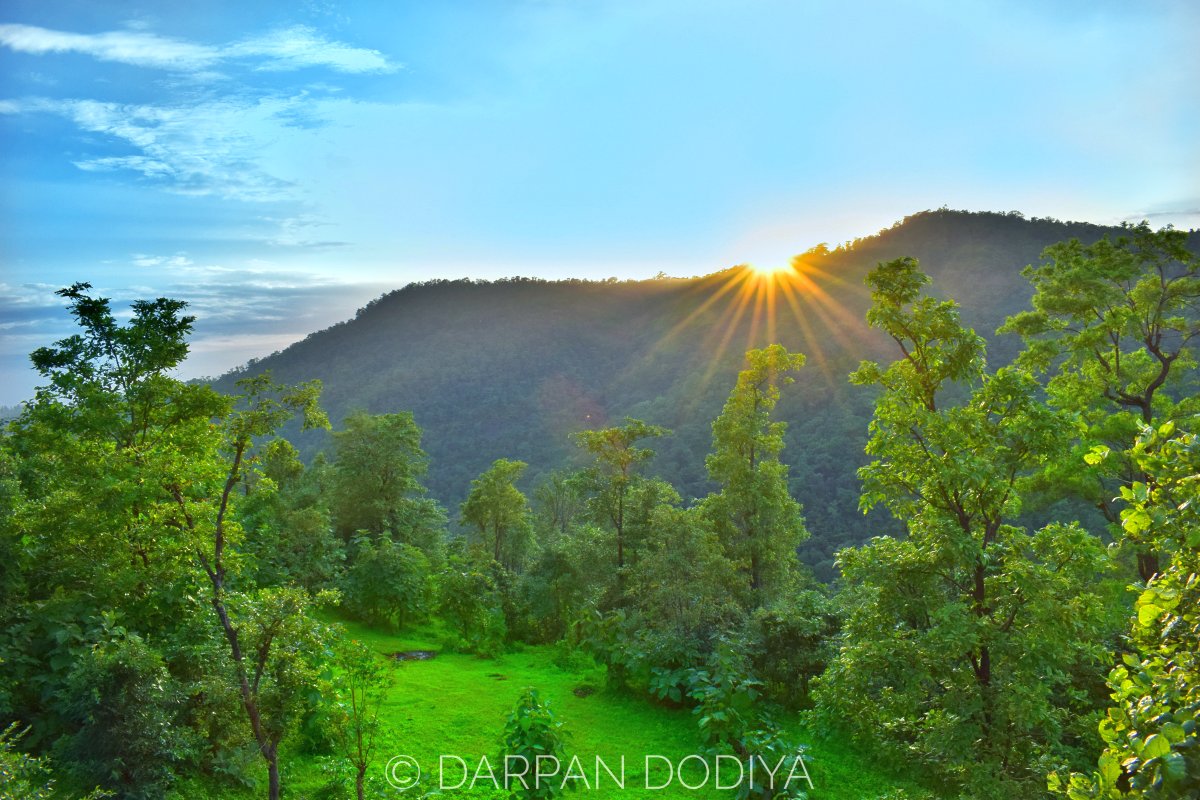 Location Information and How to Reach
Koshmal is tricky to reach. As Mayur commented in comments, you may end up heading nowhere.
I certainly don't want your trip to end up as treasure hunt! 😛
Please find Custom Map with detailed directions and waypoints to the village:
Directions above start from Point A: Waghai Town and end at E: Koshmal village.
Attention Please
To illustrate the directions in old style:
Reach Waghai if coming from Vansda
Pass through Waghai town and head towards Bhenskatri on SH 171
After 5-8 mins of driving, Dungarda village will be sight. Cross the bridge on the river.
Take right turn after crossing the river
Continue straight now on. No turns needed
After about 20 mins of ascend, you'll reach to the village.
If you're coming from Bhenskatri, reach till Dungarda village, and take left turn. (Of course, don't cross the river.)
Please note that there could be other ways as well, above route is the route that I had taken.
Roads are top-notch, no need to worry.
Roads are smooth all the way to Koshmal.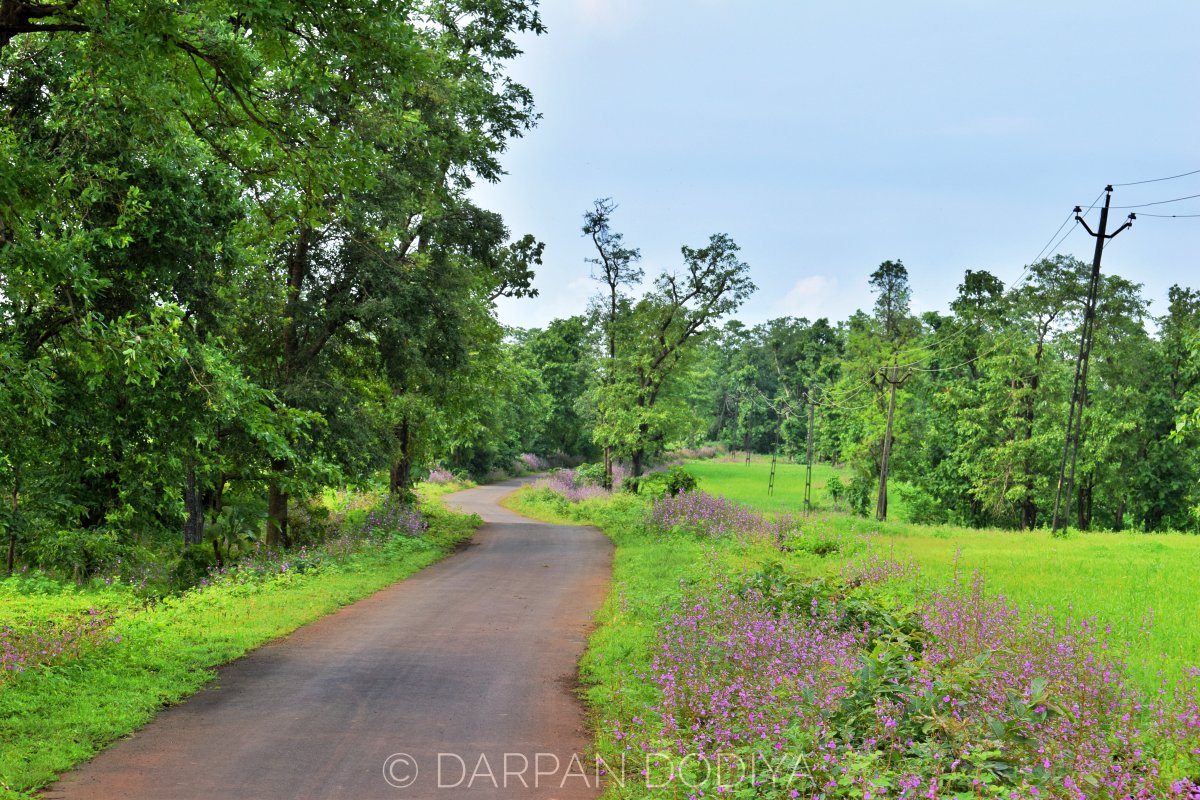 About The Waterfall Location
Regret to say that I don't have exact coordinates of the fall. You'll need to ask any local villager for the entry point of trail.
It's a 30 minutes walk from main road to the waterfall.
Take Help of Locals
When I reached to the village, I met with Janu Dada. He was en route to his rice fields and I asked him if he could lead us to the waterfall.
Our on-the-spot guide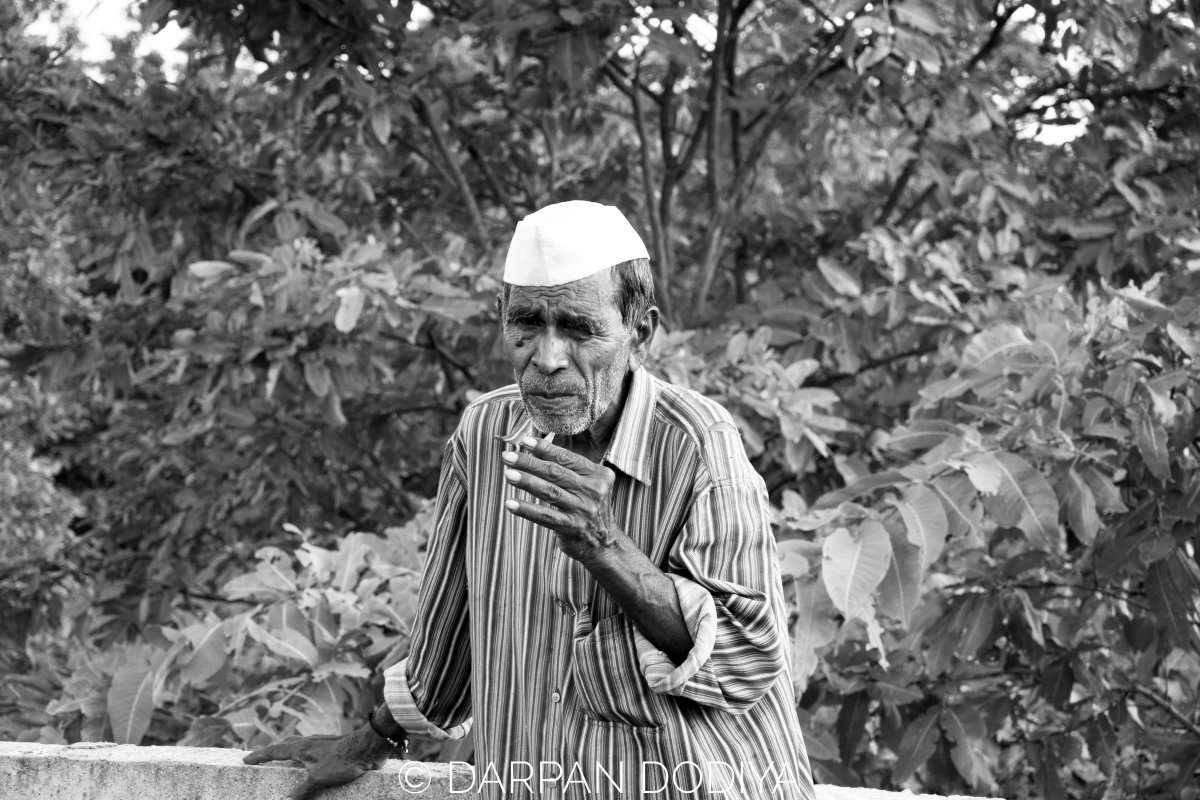 He happily agreed to.
My recommendation is take any local with you. Even though there's clear trail to the waterfalls, it is highly possible that you won't be able to make it to the falls alone.
Offer them some amount to guide you. The locals are very poor and this can be helpful income for them.
Distance Matrix
| | | |
| --- | --- | --- |
| From | To | Distance in km / Approx. time in hr |
| Waghai | Koshmal | 20 km / 45 mins |
| Surat | Koshmal | 120 km / 2 hours 30 mins |
| Valsad | Kushmal | 100 km / 2 hours |
| Vansda | Koshmal | 35 km / 1 hour |
| Saputara | Koshmal | 71 km // 2 hours |
Monsoon, hands down.
July first week to September last week.
You'll be amazed by the greenery and serenity this place offers.
We stopped at Koshmal Valley for this view. Rays piercing through monsoon clouds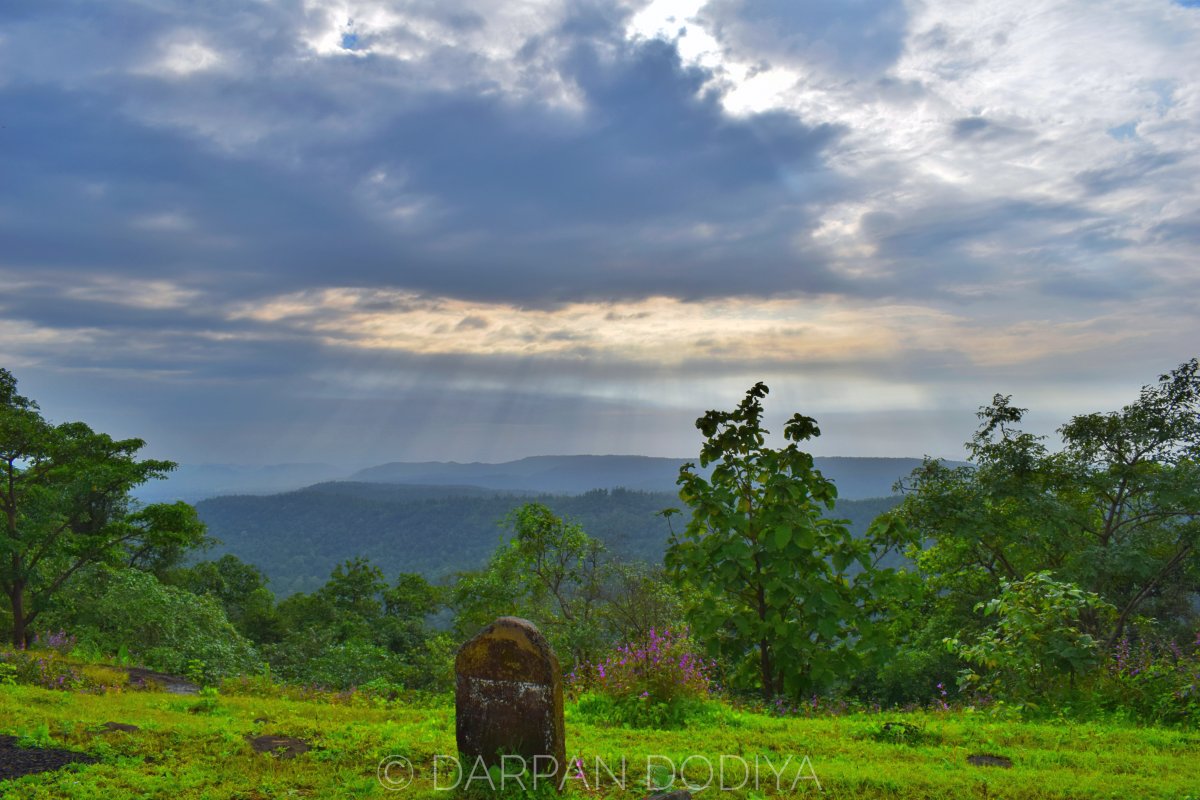 Now, please note than Koshmal, isn't a tourist place. 
Koshmal is a typical Dang village (Undoubtedly with nature's beauty). It's not commercialized. Don't expect any hotels or any other tourist facilities.
I, for one like serene places without any touch of modern civilization. I found Koshmal to be an excellent place for my taste and that's the reason sharing it here. If you're like me then pack your bags without a second thought. 🙂
The village, from here trail to waterfall starts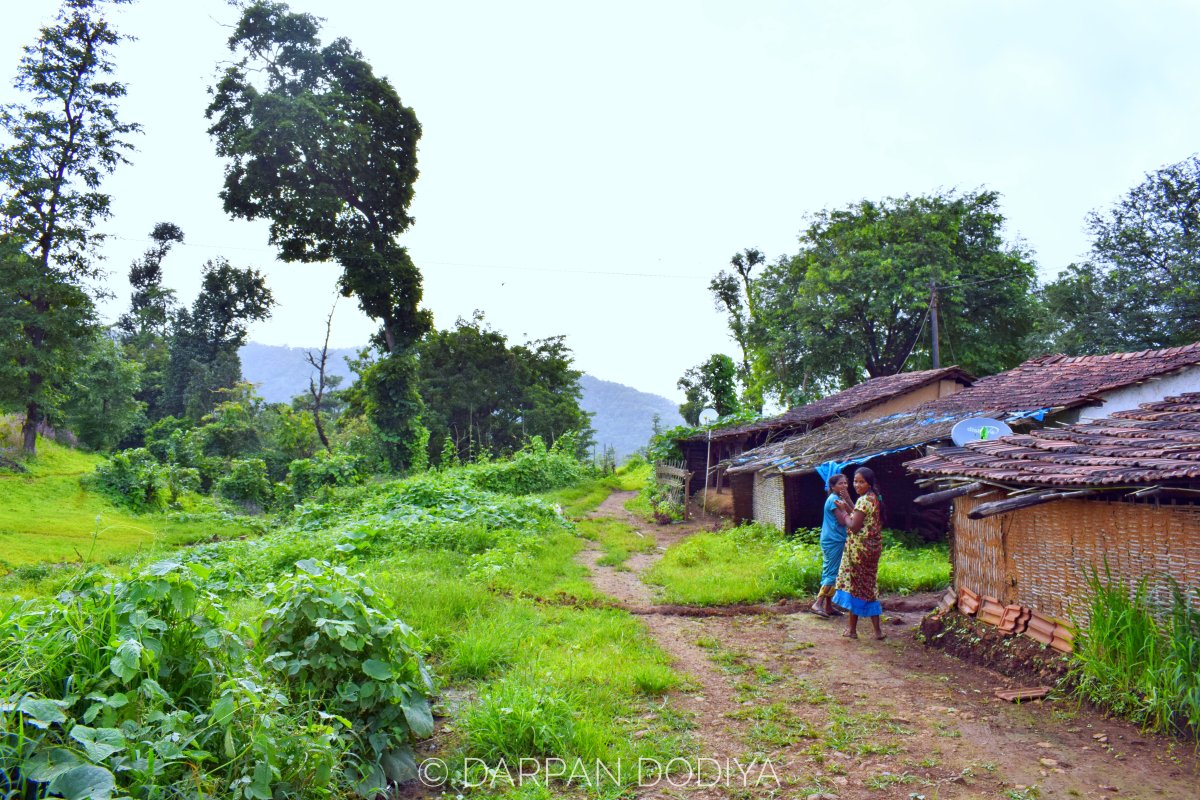 Coming back on what to see part:
Vast mountain range
Lush green landscapes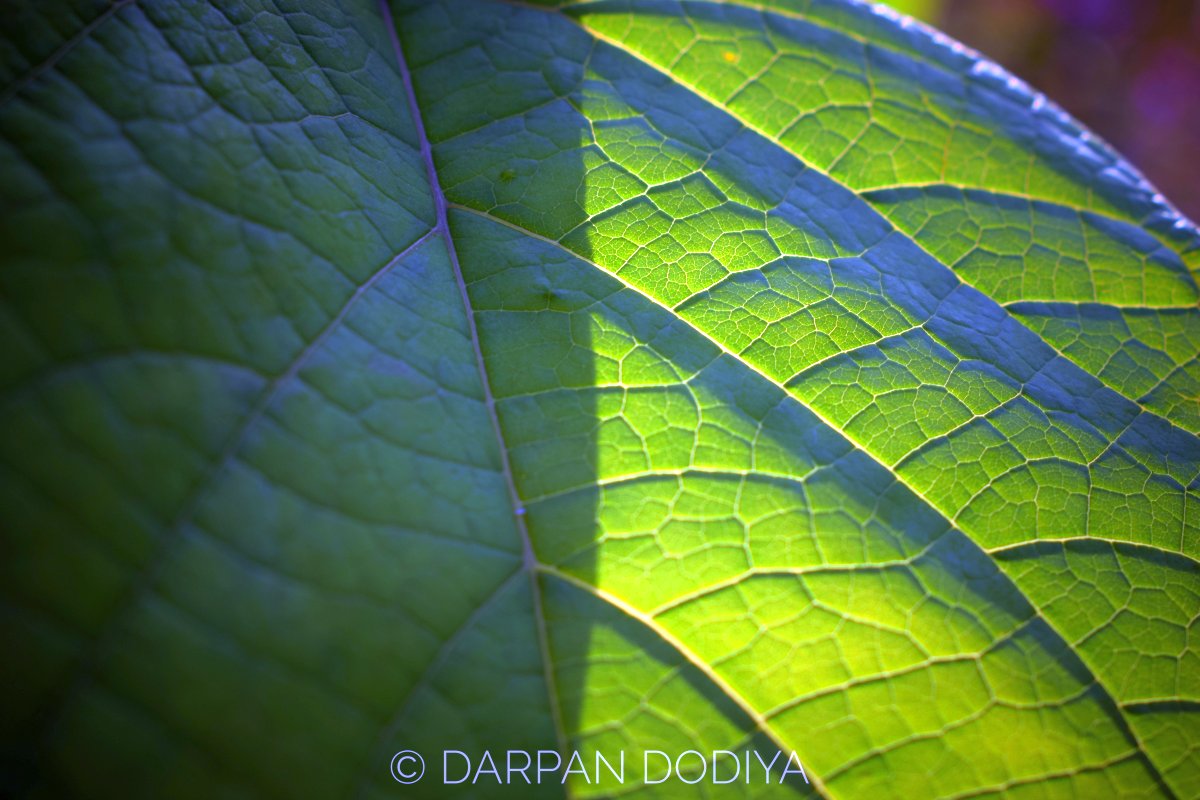 Surreal sunset (If the sky is clear)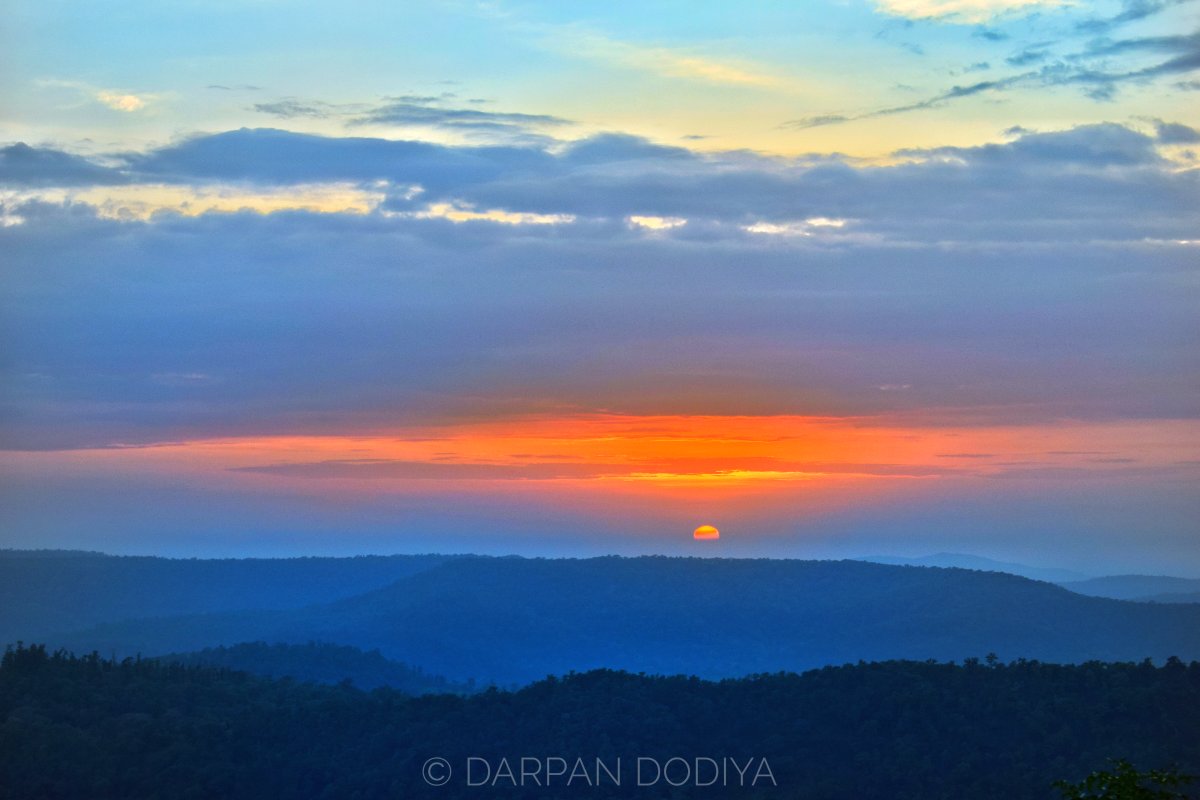 Shiv Temple (On the way to Koshmal)
Ram Mandir (Also on the way to Koshmal)
Rice fields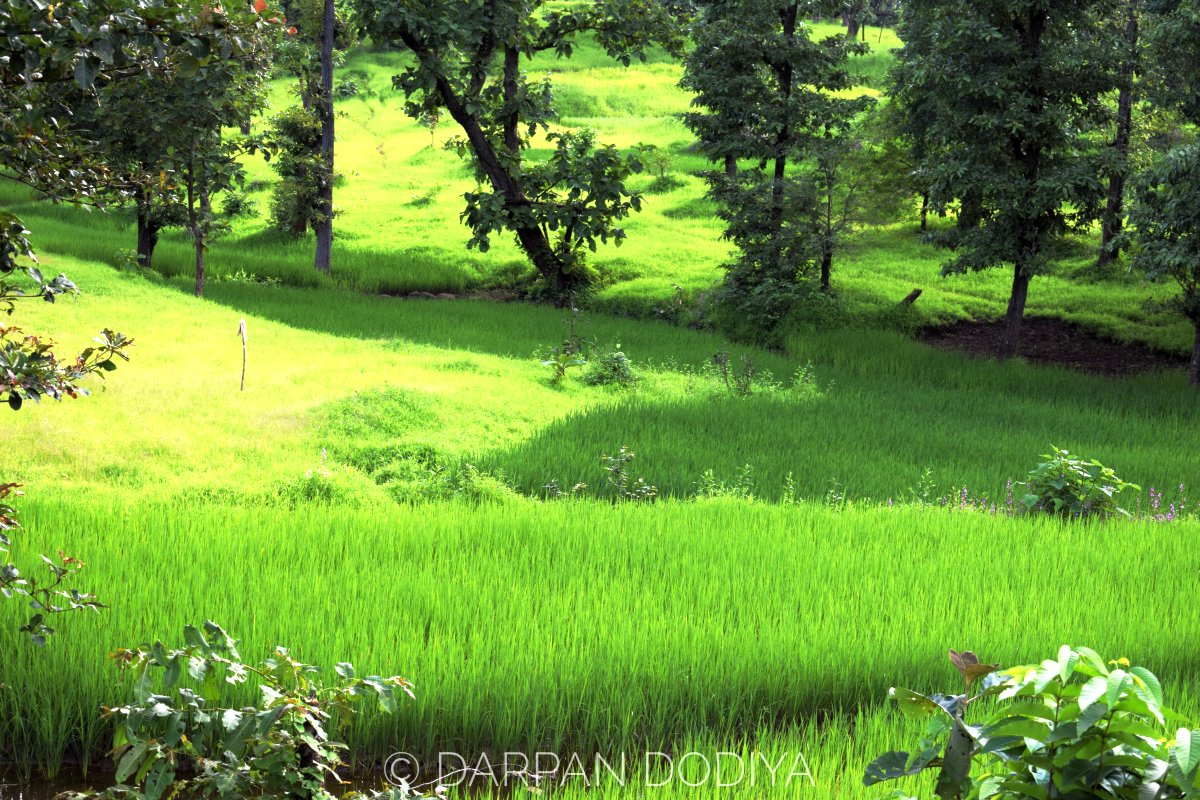 Adivasi lifestyle
And of course, the waterfall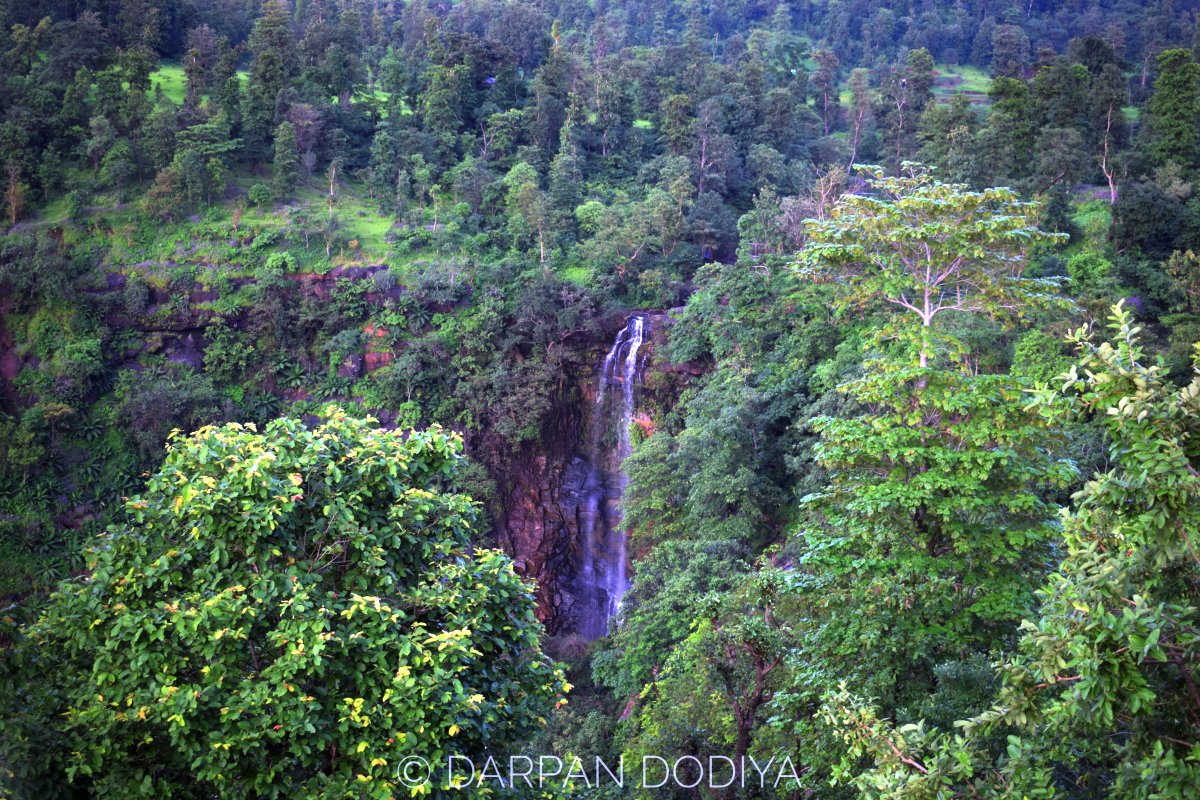 Mayadevi Temple
Bhenskatri (A small town)
Girafalls (The most popular waterfall of Gujarat)
Take food with you. As I mentioned earlier, this place is just a village and has no tourist setup.
Same goes for the accommodation.
You can stay at Padamdungari Campsite or Kilad Campsite.
An exhaustive list: Places to stay in Dang
A view point setup by North Dang Forest Department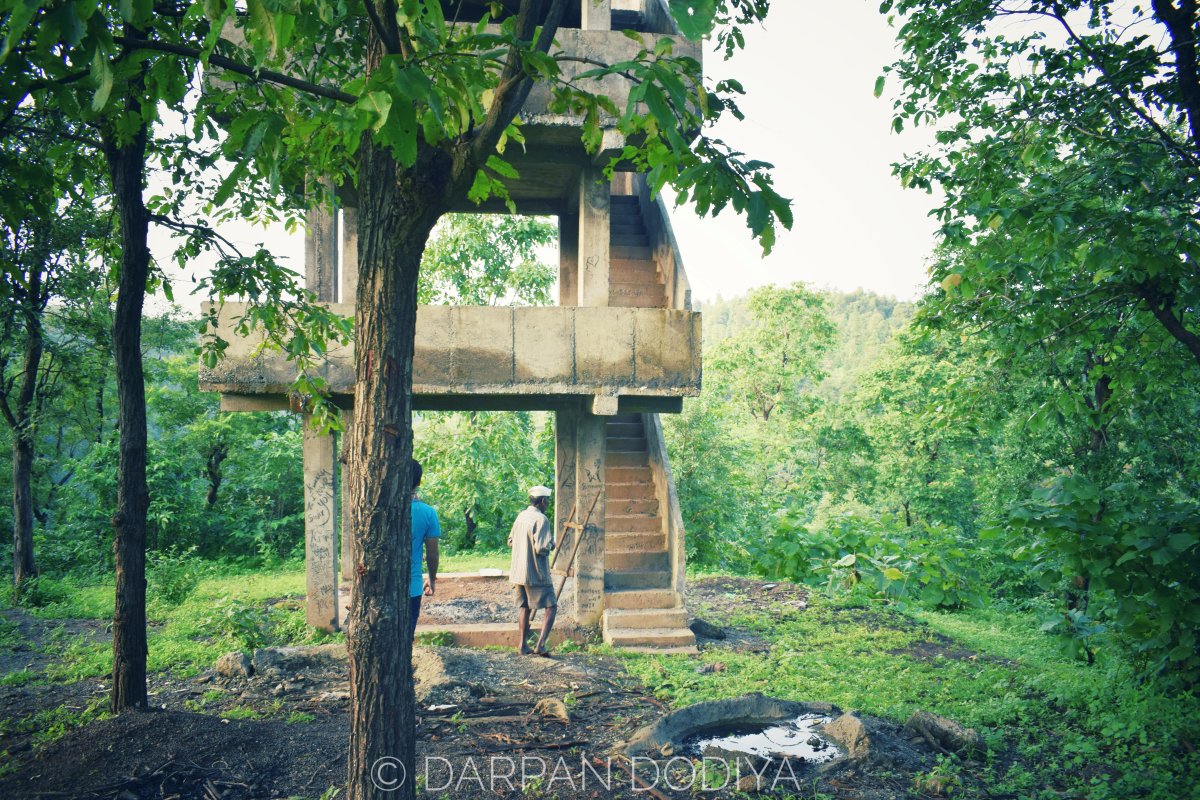 About the Waterfall & Trekking
The waterfall, to me, indeed appeared to be the highest waterfall I have ever seen in Gujarat.
Janu Dada, my (psuedo) guide that day told me that reaching to base of waterfall is possible. (My brother, Kunj Dodiya had been to there. His experience was breathtaking.)
As the sun was about to set when we were there, we didn't attempt it. But looking at the geography of the place, I thought that to be one hell of a trekking experience.
Check Dam built near waterfall.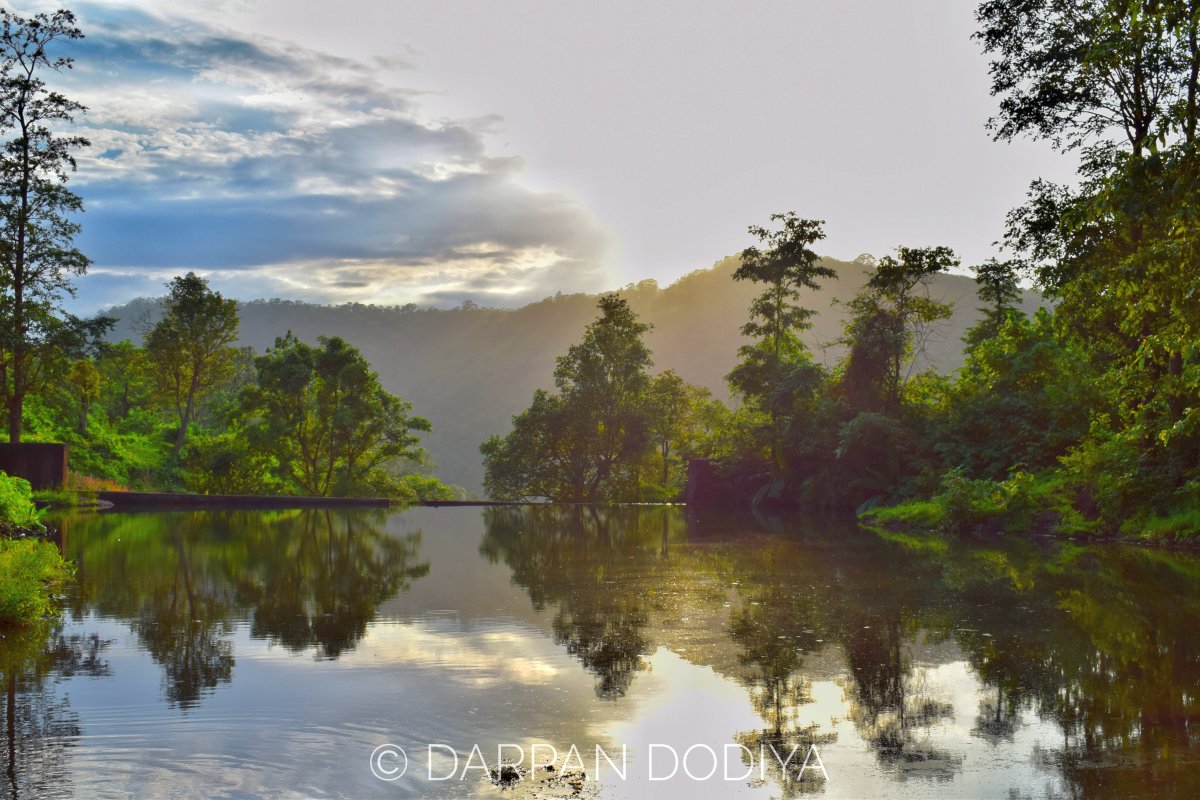 Go to this place only if you like nature in its purest form
Get out of the place before sunset
Try to reach to the base of waterfall, it'll be an extravagant trek
The place can be covered in 2-3 hours (+3 if going to base)
Take one local along with you
Please don't litter the place. Don't be smartass like this artist.
Some people are just morons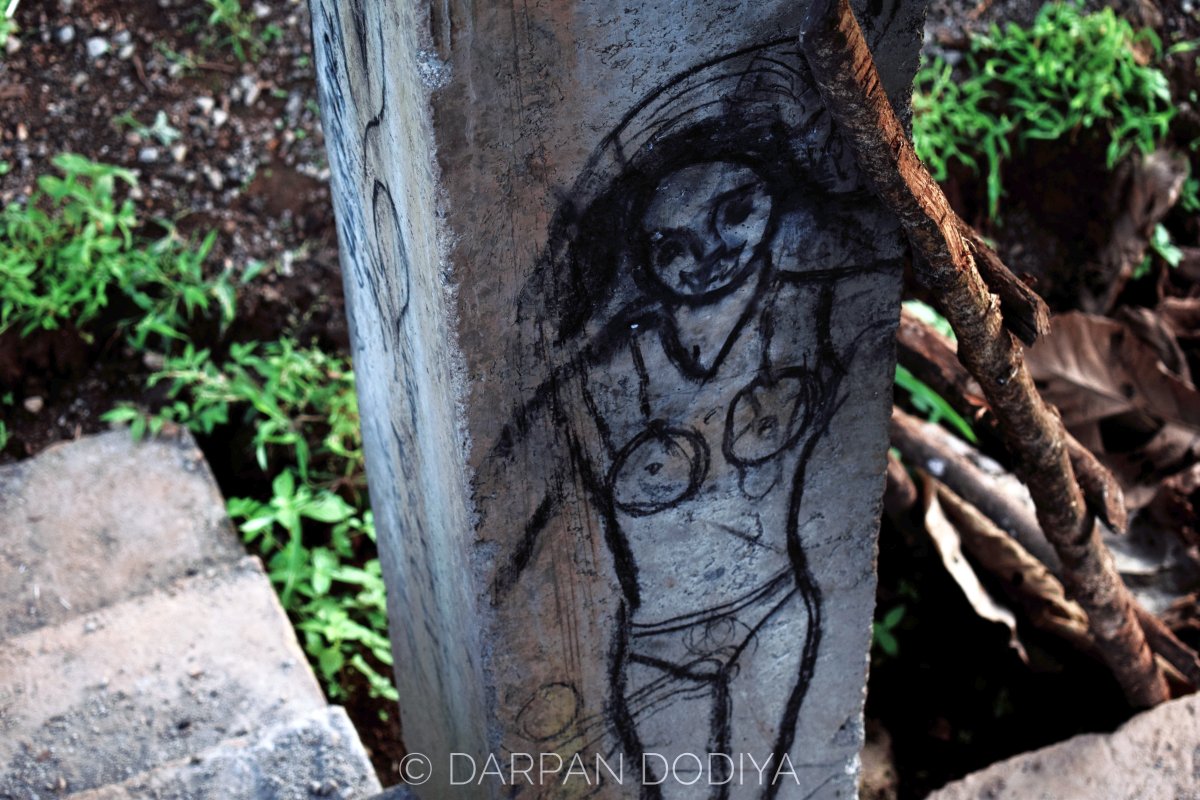 The village people live in extreme poverty. If you're well off financially, take old clothes, toys etc with you and donate to them. The gift will make their day and their honest smile will make your day. 🙂
Donate if possible. This photo is from a trip to Kalam Dungar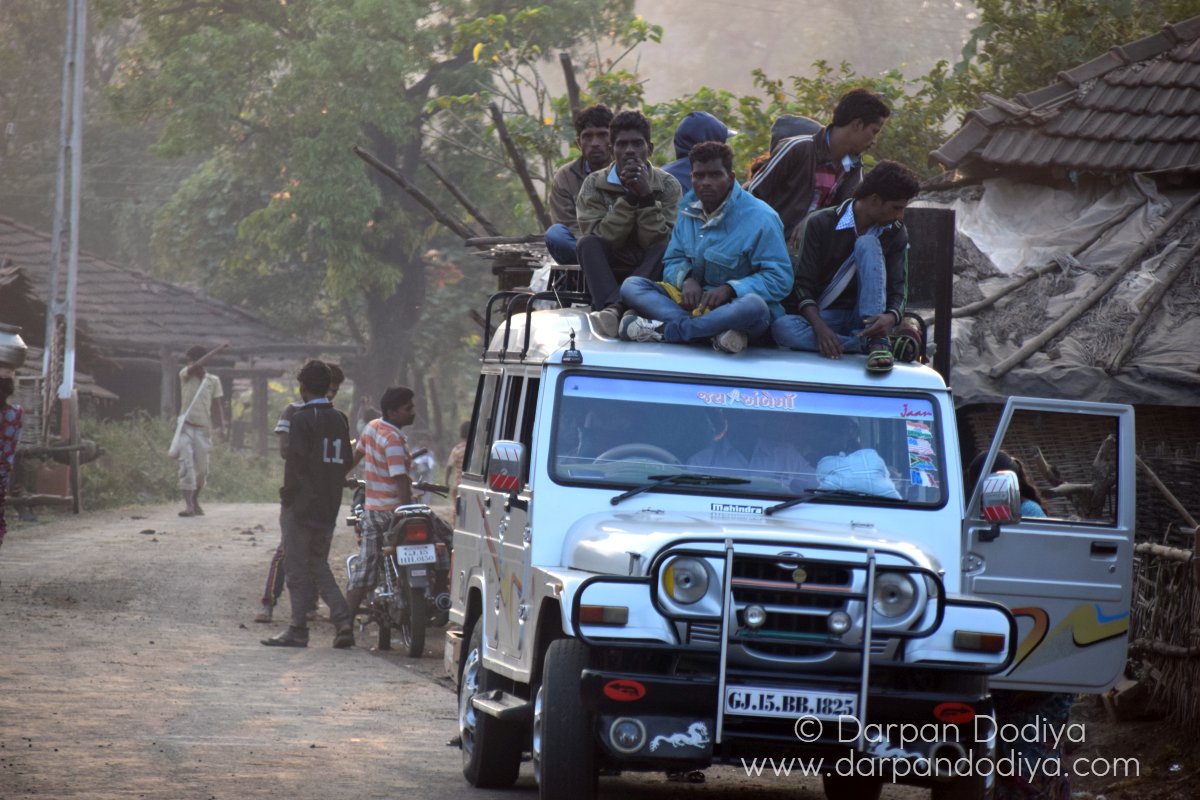 Some More Visual Poetries
The falls from close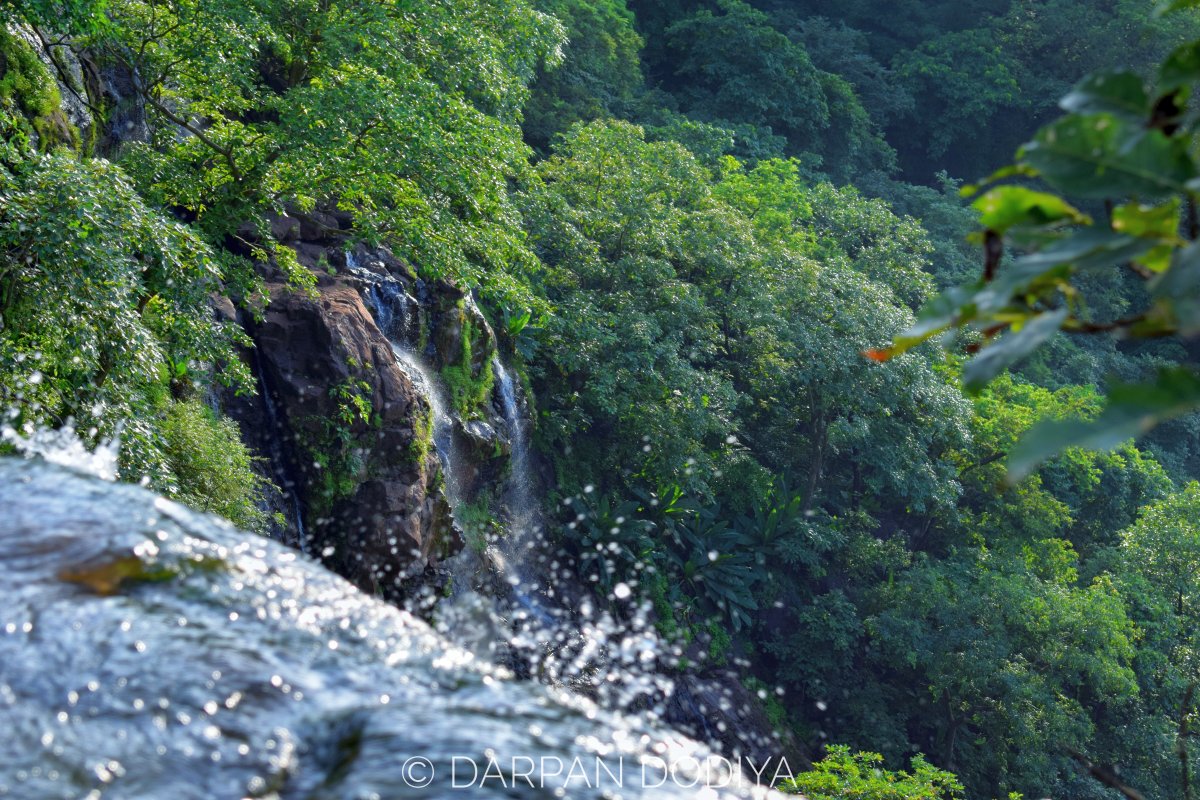 A few feet before water crashes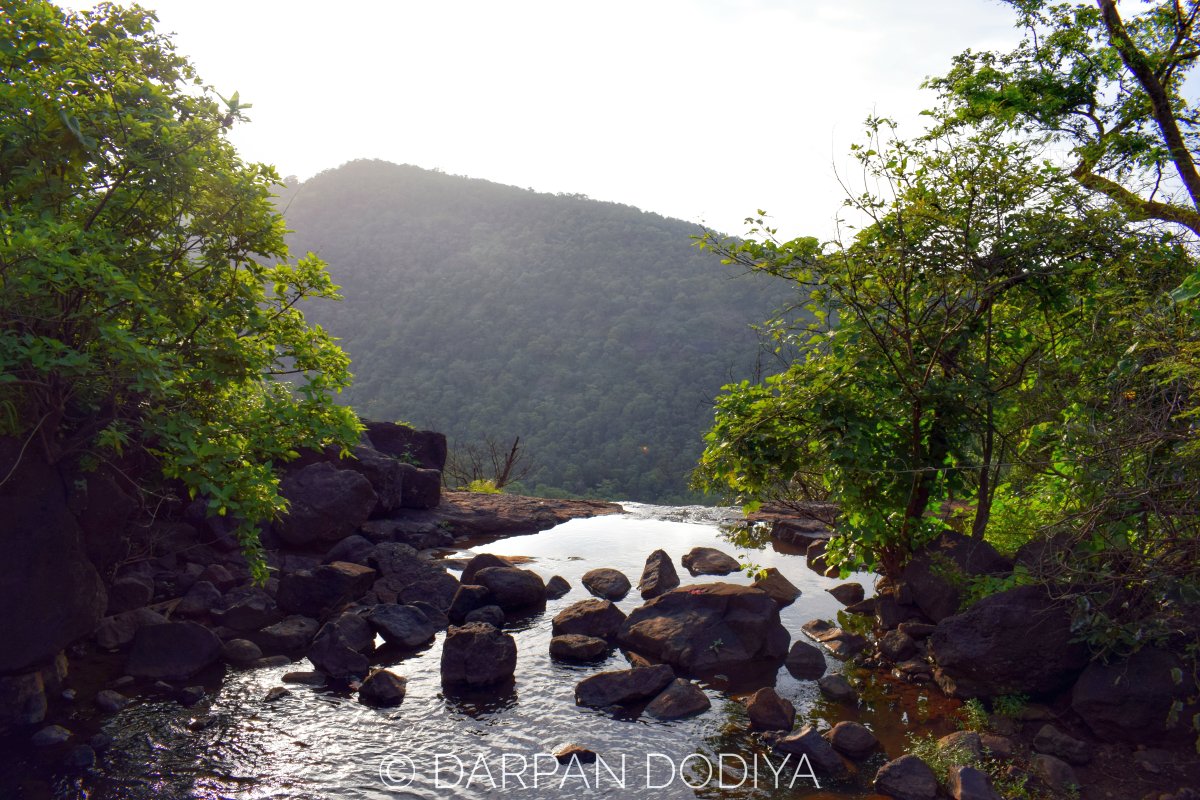 Protection railing put by forest department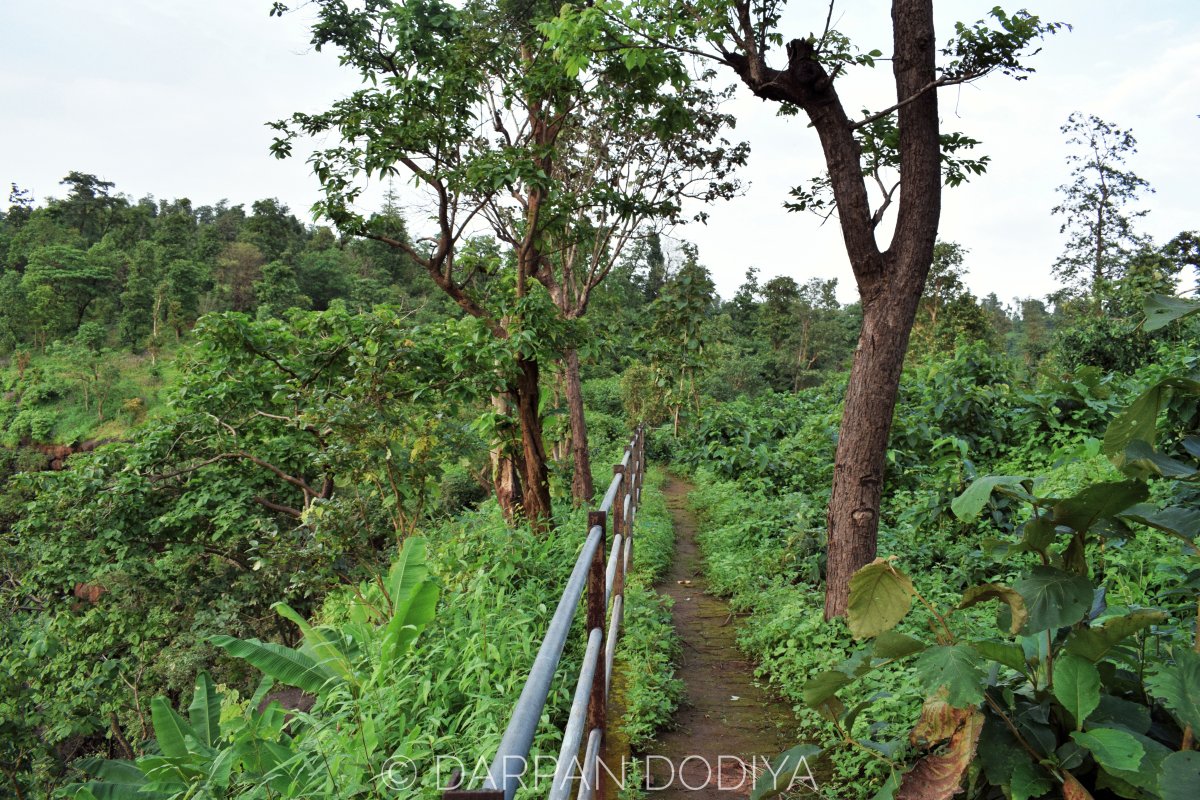 Getting lost somewhere..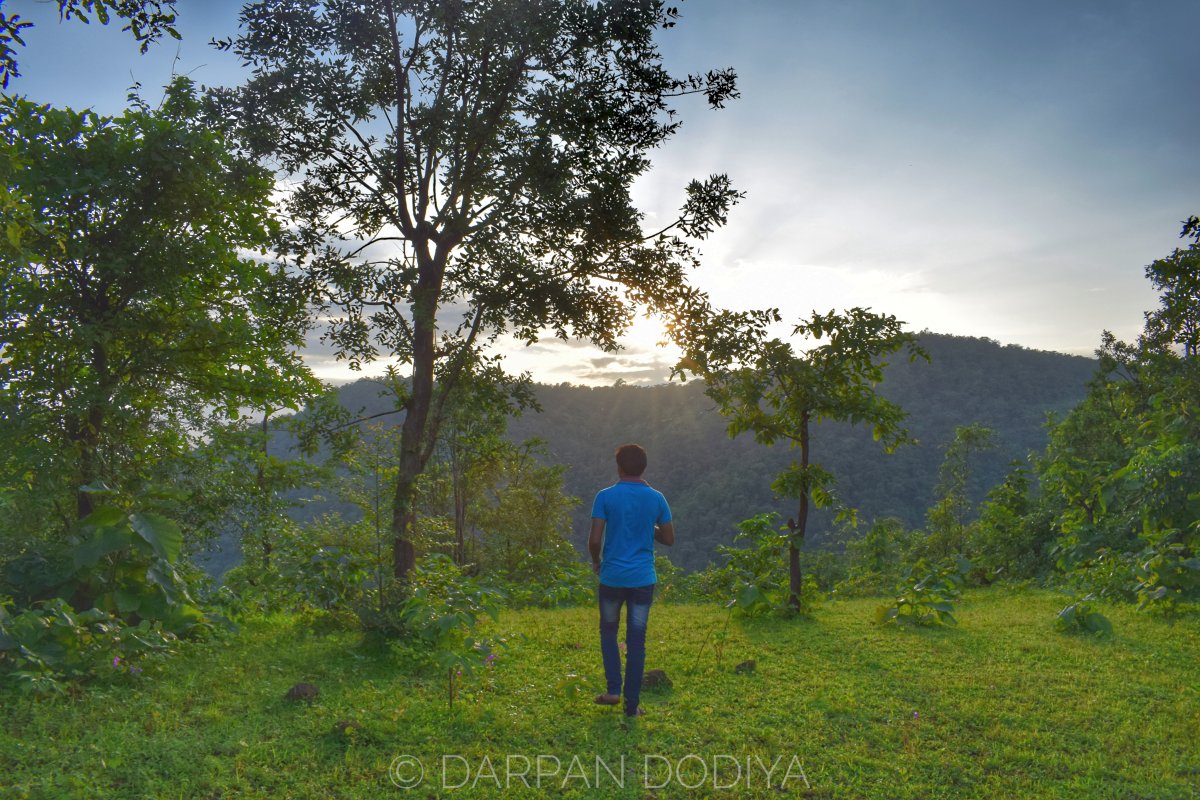 No fence needed. This is to mark boundaries.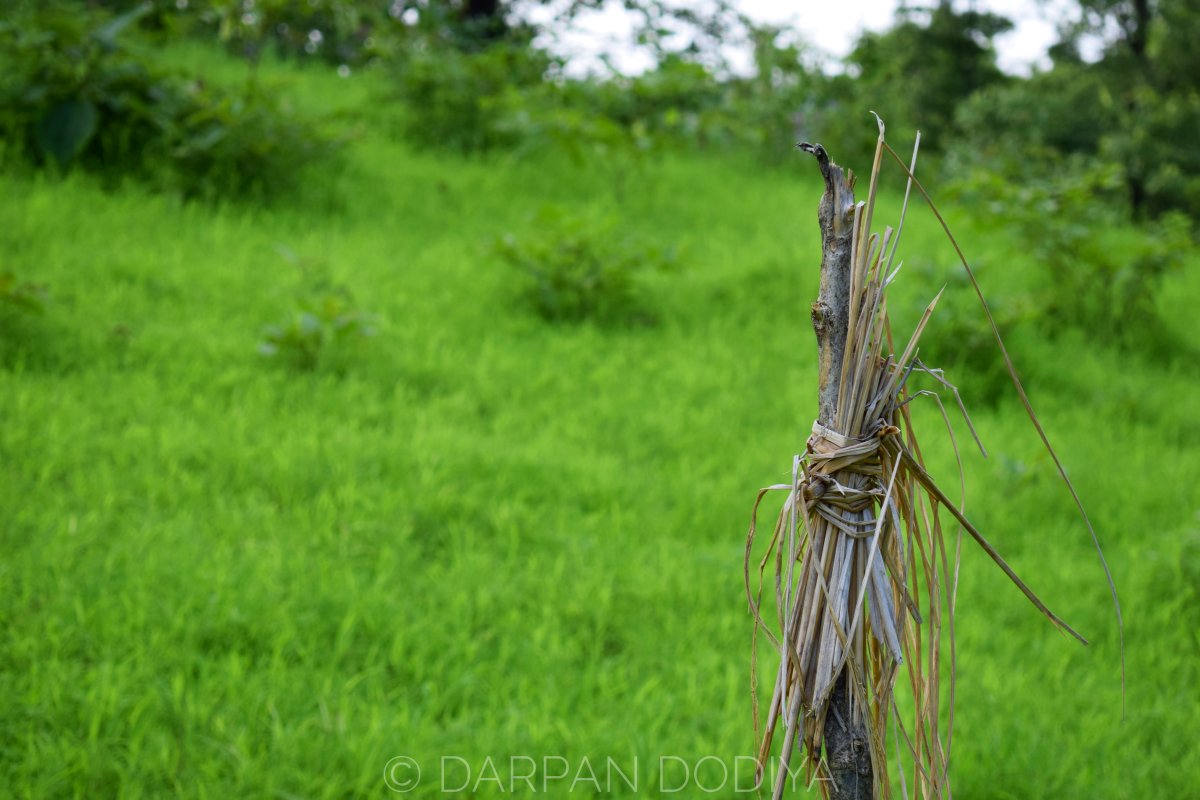 Kunj. Many of the photos are taken by him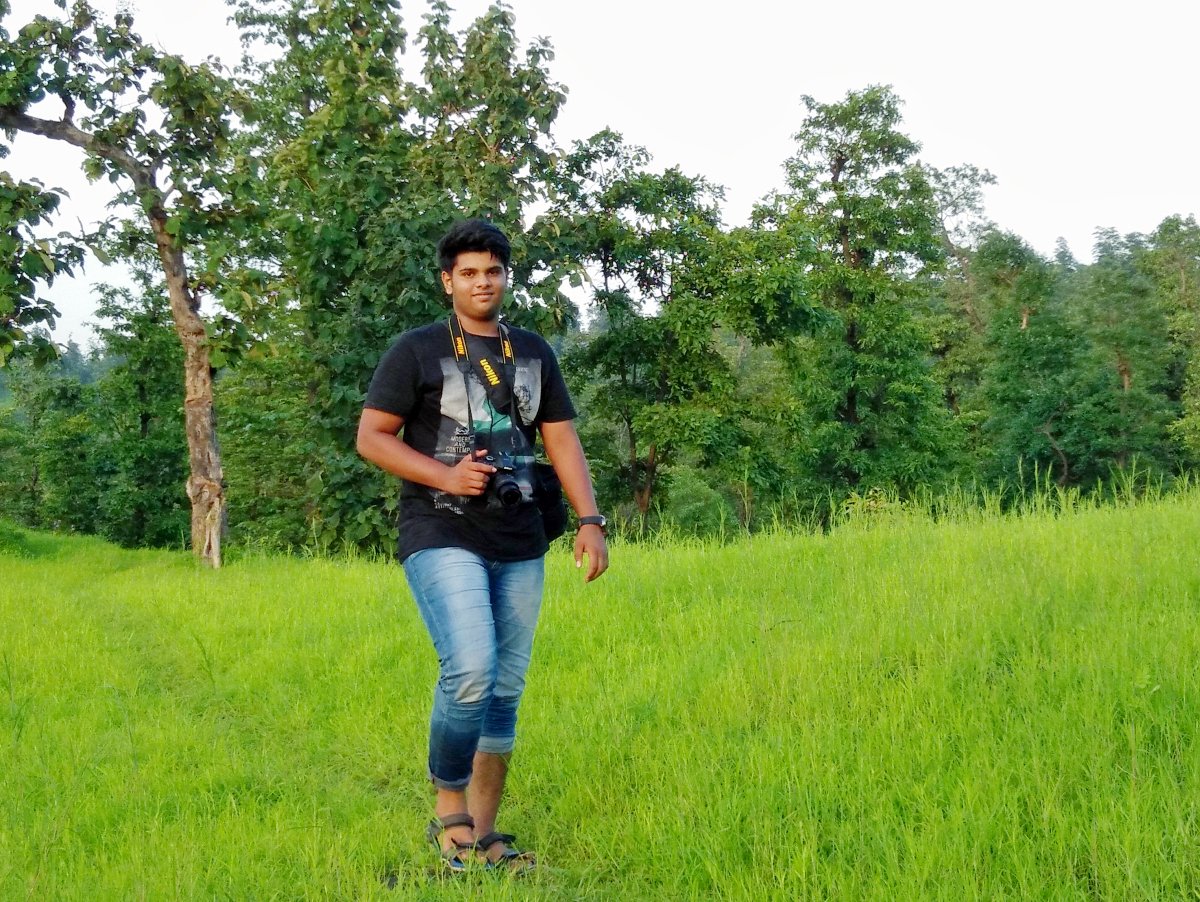 I hope I've covered everything that you need to know to plan a trip to Koshmal.
If you liked this post, please share it with your circles or drop a comment down. I will be happy to hear your feedback.
Photos by either me or Kunj Dodiya. Taken on OnePlus X & Nikon D5300.