Polo Monument and Vijaynagar forests is a scenic weekend destination from Ahmedabad. The lush green forests, ancient structures and quiet ambience all adds up for a relaxing trip.
Polo Forest, Abhapur was part of our 2 day trip to Idar.
Throughout 6th semester of B. Tech, Computer Engineering, DDIT, Nadiad, I never missed a chance to go on trip. Most of the trips were, however, of 1 day. Depart in morning and return by night.
After end of 3rd internal exam, I had a window of 2 days. Why not Polo Forest & Idar then? And there we were…
---
Update:
As this article is so loooong, listing down links to navigate quickly: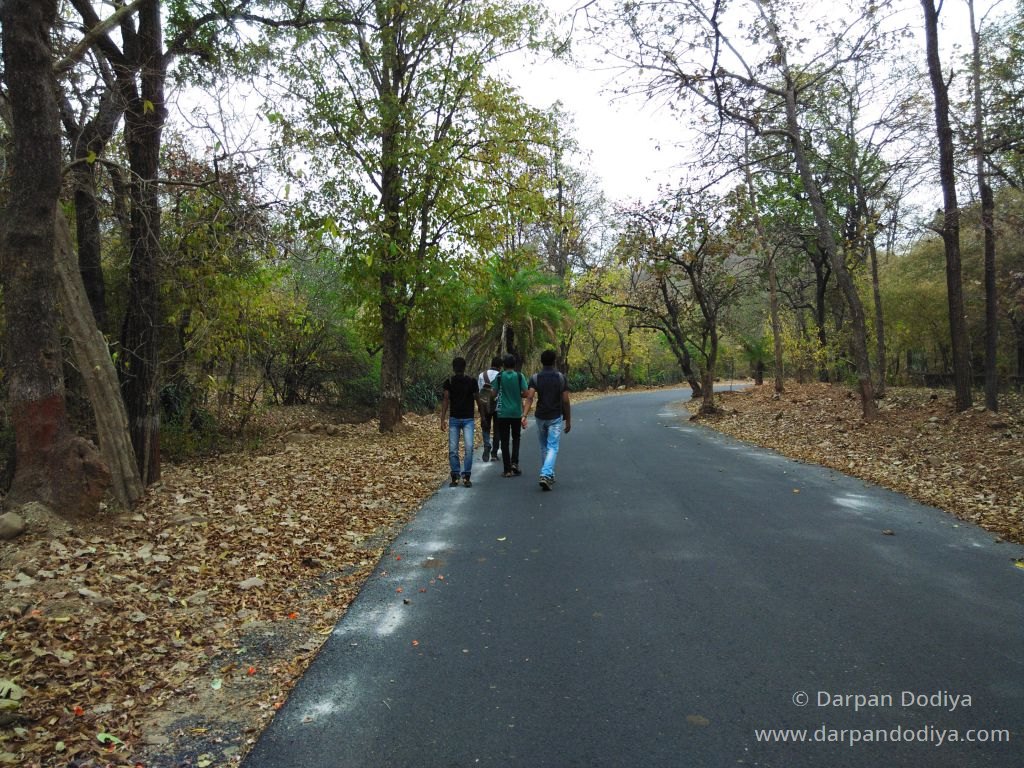 We were five. All travel freaks. Adaptable to any condition.
Bhavya Gandhi: Real follower of Mahatma Gandhi's principles 🙂
Pramod Mali: From the great land of Kutch
Rahul Thakor: (Unknown) Writer ;). Here's exploring "I" within me.
Smit Patel: (Nature) Lover 😉 and photographer.
Me: I'd tag myself as Batman. 😉
Pramod – Rahul – Darpan – Smit – Bhavya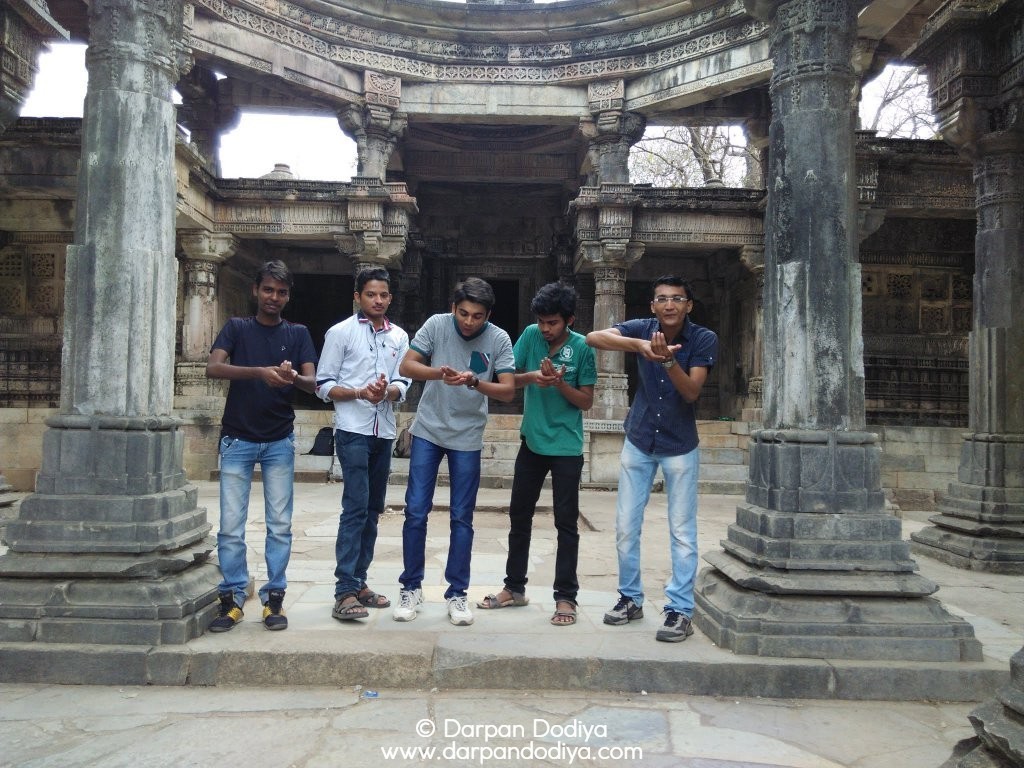 There was no plan as such!
As I mentioned earlier, We didn't plan for anything.
"Chalo, Polo Forest baaju farta aviye! Raat pade e pahela paccha avta rahisu.."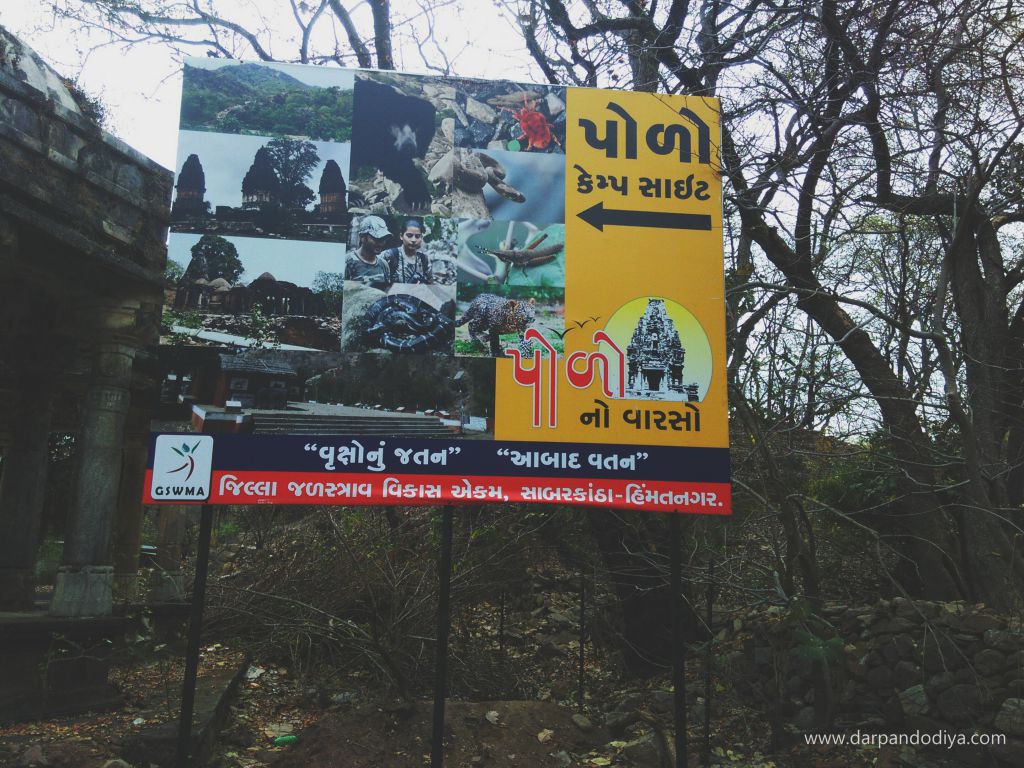 We stayed night at Idar and decided to leave for Polo forests in morning. Upon asking locals, we were informed that jeeps are available from Idar to Vijaynagar.
Polo campsite is few km before Vijaynagar.
As we didn't make any plans, this is what we had as breakfast.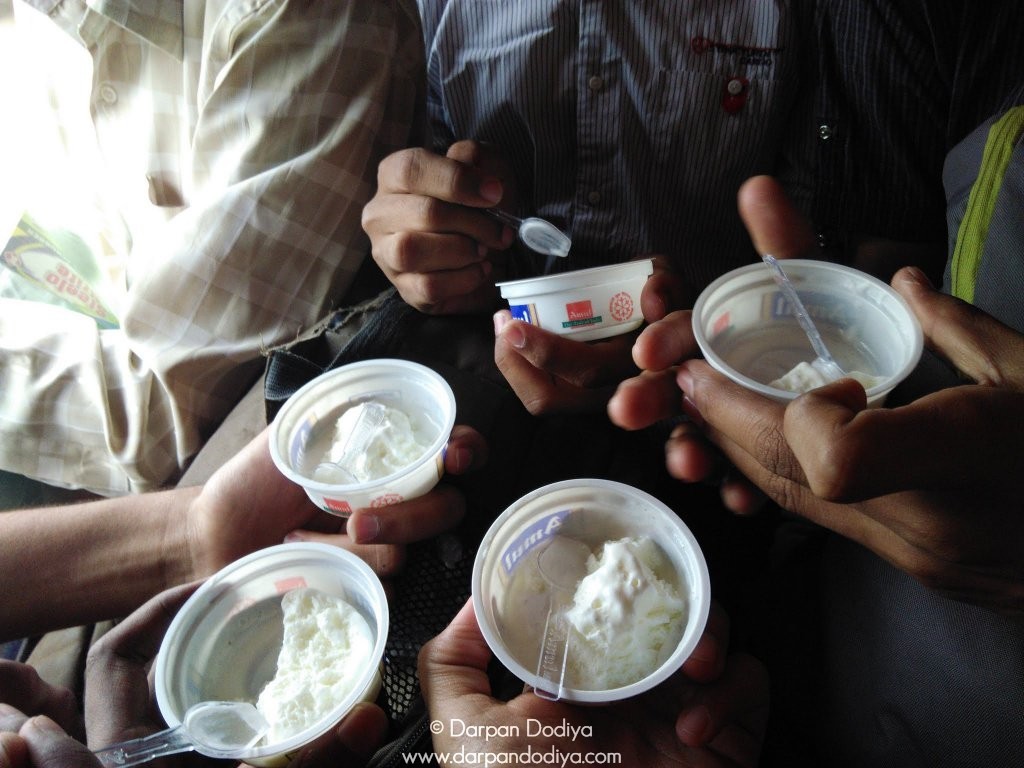 Yeah, Amul Ice cream as breakfast. We had no choice. It was tasty though. 🙂
We jumped into one of those jeeps leading to Vijaynagar. Journey from Idar to Polo forest takes around an hour.
The road to Vijaynagar was quite scenic.
Jeep will drop you here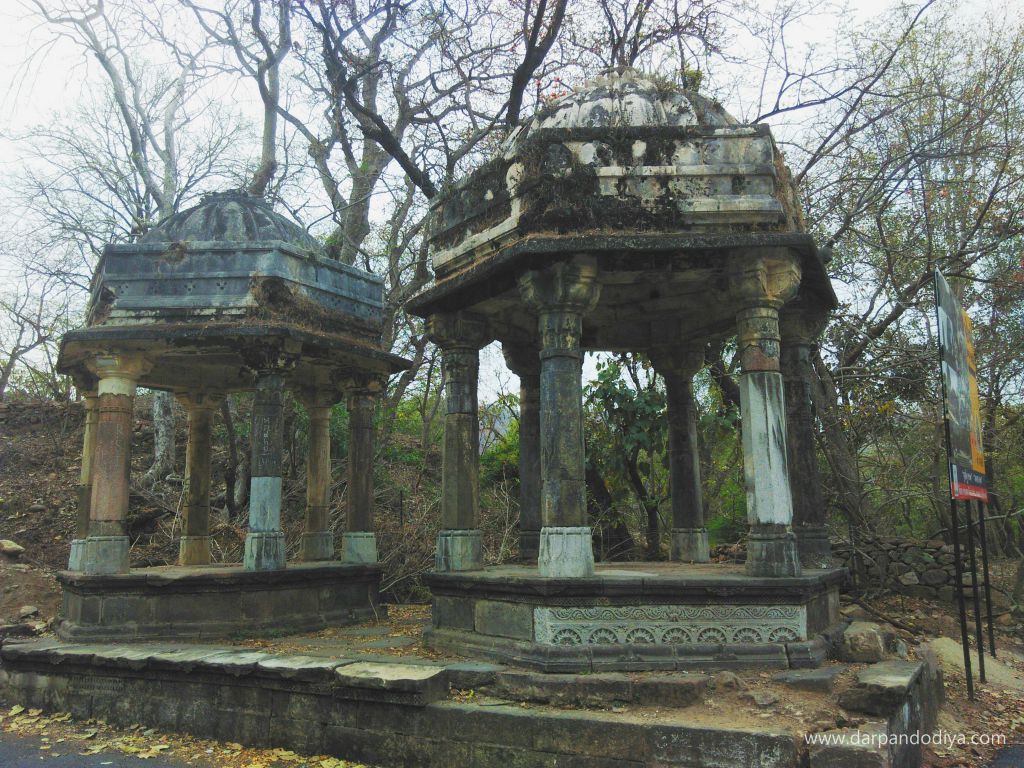 Driver halted jeep and informed us that Polo campsite has arrived.
We spent few minutes getting acquainted to area. Then we looked into each other's blank faces, with the same burning question in mind: "Okay, so we are here at Polo forest. What next?"
No one of us had any answer.
No one was there nearby. We looked around Polo campsite, we failed to find any human being inside the campsite.
Though, a dog was there to welcome us!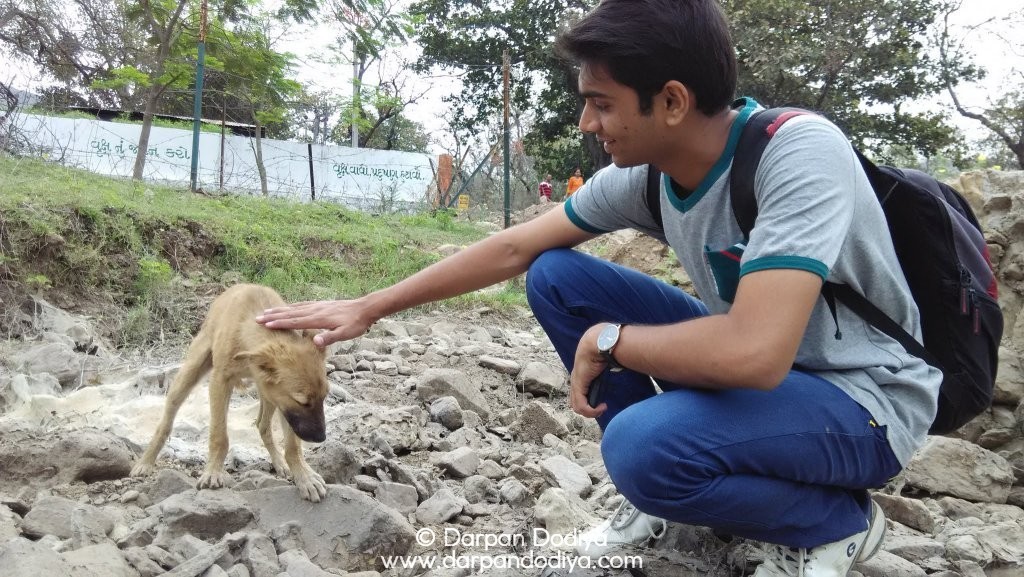 Avoid Summer & Take Guide
We visited Polo forest and Idar in April. When Sun gets in full mood to burn everything on earth.
However, surprisingly, compared to Idar area, temperature of Polo forest area was bearable. Around 28-30 degree
Celsius. The atmosphere was pleasant too.
Personally, I suggest you to visit these forests in monsoon or post monsoon season.
See how the place changes between seasons.
During monsoon. Photo – Gujarat Tourism

Doctors recommend eating carrot to improve eye sight. I recommend observing greenery of Polo forest during monsoon to improve the same! 🙂
Talking about guide, it's always a good idea to take one along with you. I heard good words about guide known as, Dalsukh. Catch him!
During summer it's all yellowish brown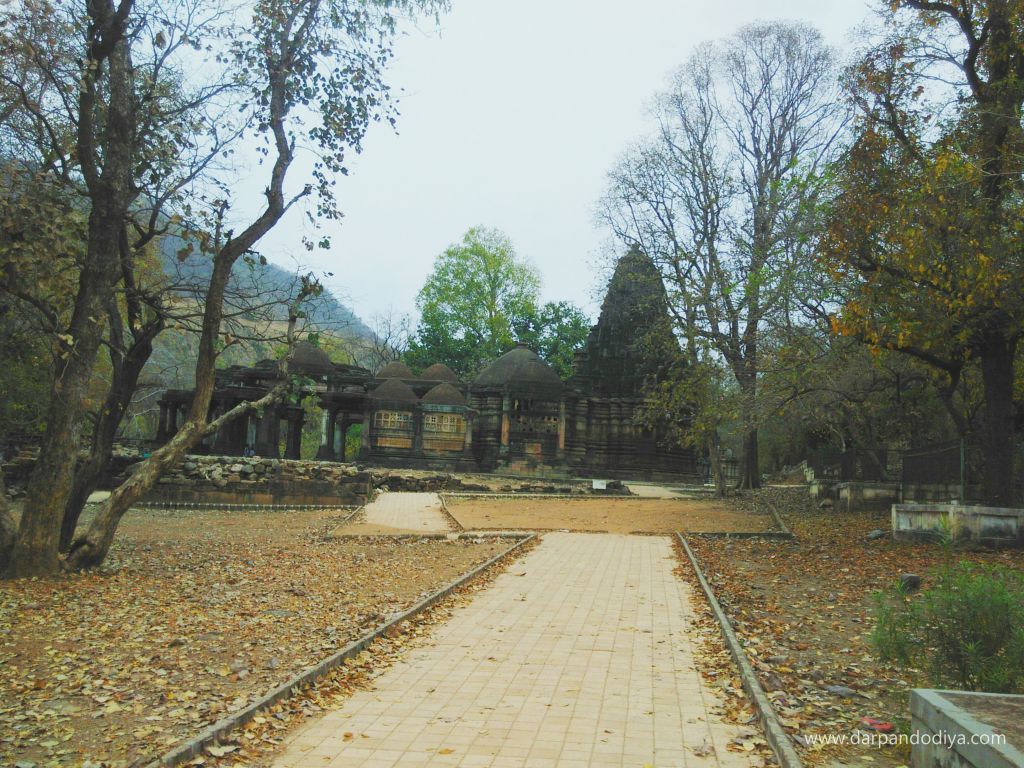 After wandering here and there for a while, we found a trail leading to hill. All we needed was something to start upon. We started trekking…
The trek wasn't difficult. It needs no heroic physical fitness.
Trek is picturesque. You'll climb hill. Descend to base again. You'll cross a stream.
Stream, it had no water when we visited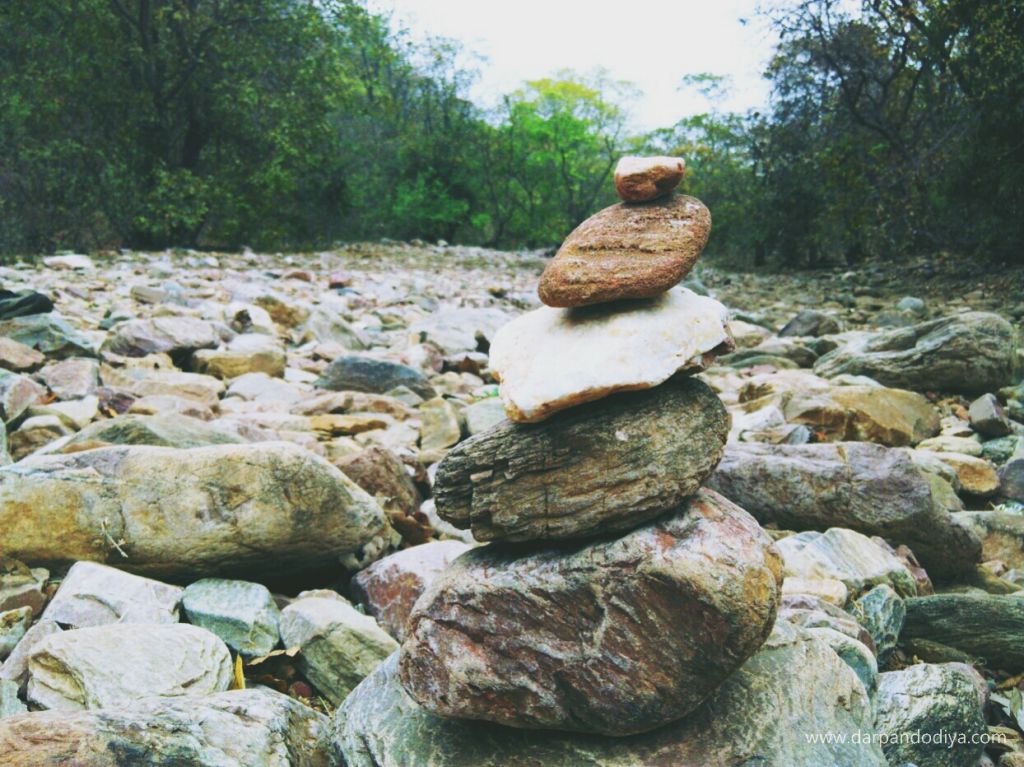 And if you go in off season, you'll be the only person doing all these! There'll be no one around you.
Crossing the river, we saw an ancient temple from distance. Moving ahead…
Jain Temples at Polo Forest
The Jain Temples are believed to be built in 15th Century. Along with Jain Temples, one Shiva temple and one step well is also present nearby.
The monument is said to be protected by government, though, personally I feel that government should put more efforts for maintenance.
One thing that freaks me when I see such historical places is, names carved on monument by visitors. You know, the typical, Sanjay Loves Lila, kind of writings.
If you're reading this, please don't do it at any historical site! If we, the visitors show respect to the place, then we could certainly blame government for its negligence.
Polo forest has many scenes to offer for photography. Along with forest and hills, it also has Harnav river in its offerings. Not to forget ancient temples and Harnav Dam site.
I mean, everything a photographer needs!
We called it a day with more than 3000 photos in our gallery! (No DSLRs 😀 , just phones)
We spent a couple of hours at temple. Next stop we chose was Harnav dam site.
One can walk for an hour and reach to Harnav site from the Jain monuments.
You can follow: Our journey of Harnav here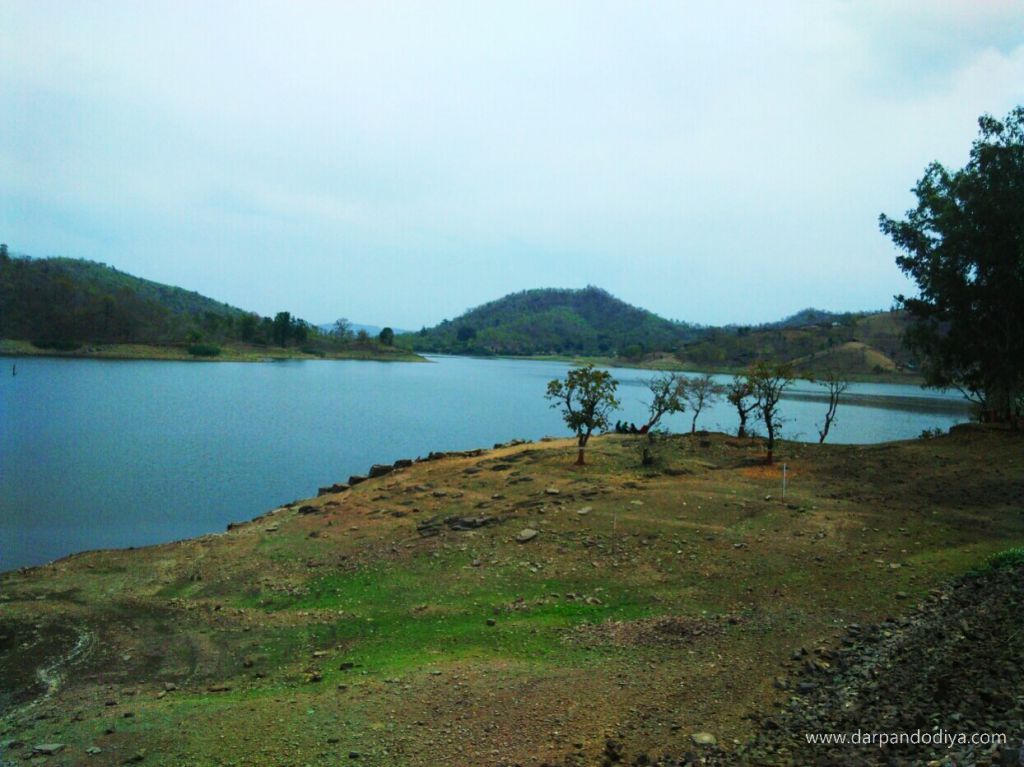 About Polo Monument and Vijaynagar Forest
Sounds fascinating till now? I'd list down details that can help you if you're planning to visit Polo Forest, Idar / Vijaynagar area.
Polo, was once a gateway to Rajasthan. It was a hiding place for rulers, concealed from enemies, citizens and angry wives.
The name, Polo, is derived from pol, the Marwari word for "gate," signifying its status as a gateway between Gujarat and Rajasthan.
View of surroundings from Jain monument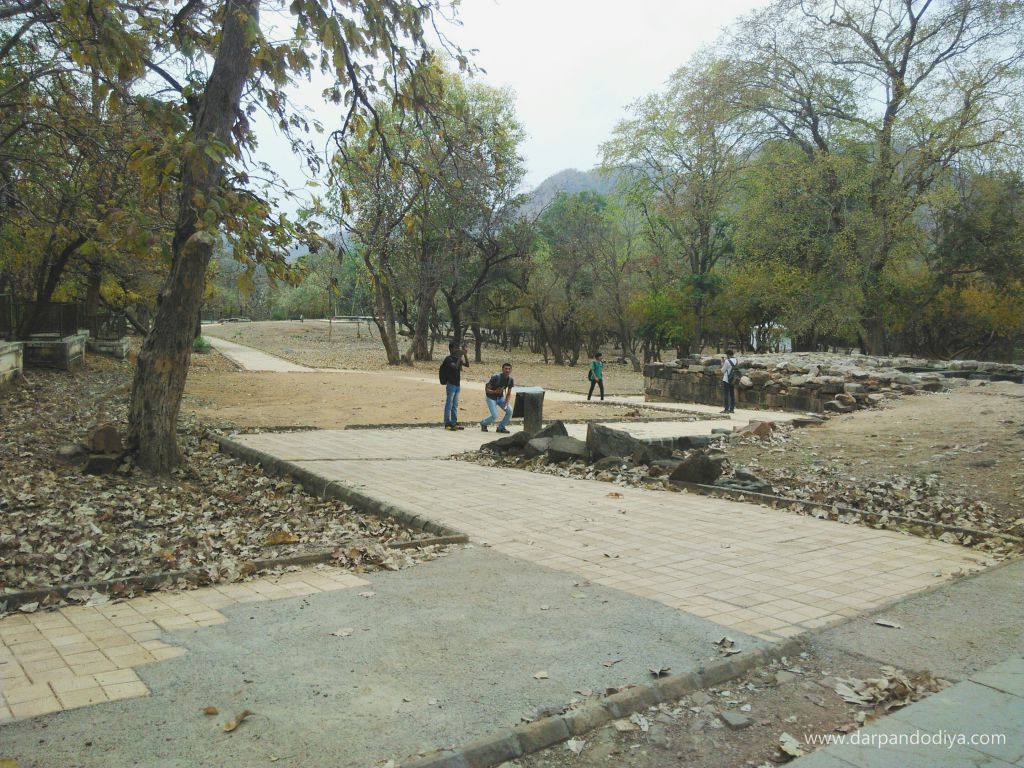 Officially, there are more than 450 species of medicinal plants, around 275 of birds, 30 of mammals, and 32 of reptiles.
During winter, all manner of migratory birds occupy the forest; during the rainy season there are wetland birds. Good site for bird watching!
Forest department has set up a nature education camp site in the forests.
The Polo Camp site is located in Vijayanagar taluka of Sabarkantha districts and is near to Vanaj Forest area, Harnav River and Damsite.
A point to note, as it's government entity, you may face hard time arranging accommodation and food.
Apart from the places I mentioned above, there's no hotel or restaurant in the Polo forest area. And that's good in my opinion. Any tourist place is best enjoyable as long as it remains free from commercialization.
Polo campsite serves food, if you tell them in advance.
If I talk about us, we had this. We thought that we would get something to eat at Polo…but life isn't fair always!
Amul to save us again..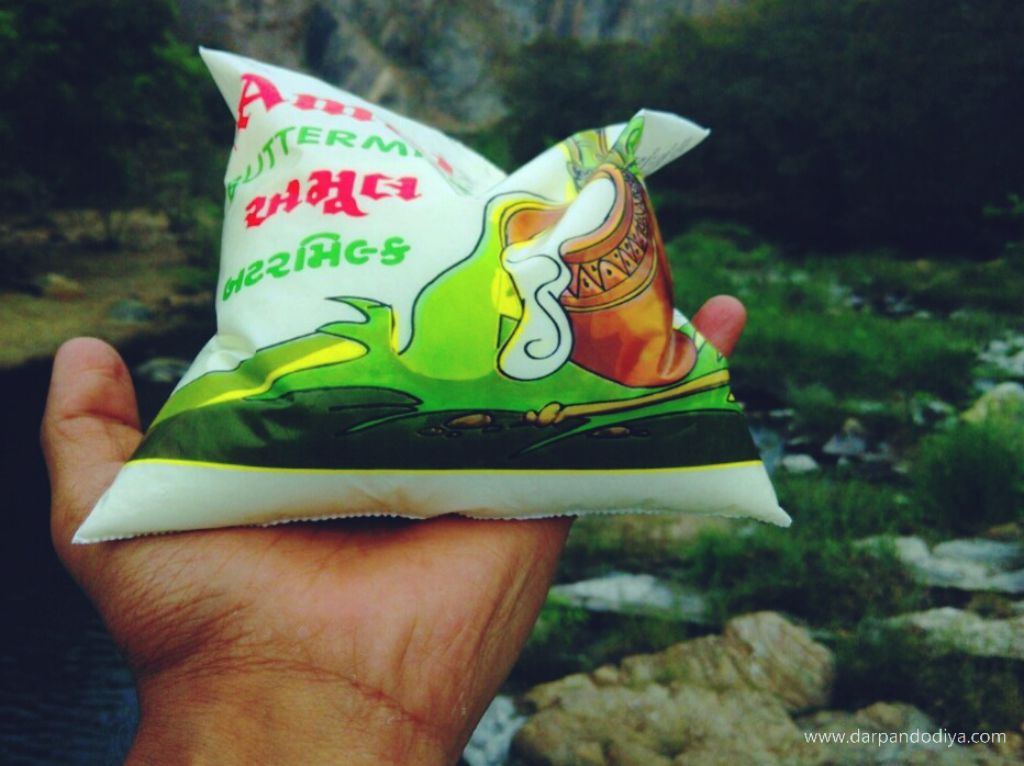 If you're coming from private vehicle, then there's nothing better than Google Maps.
Distance Matrix
| | | |
| --- | --- | --- |
| From | To | Distance in km / Approx. time in hr |
| Ahmedabad | Polo Forest | 150 km / 3 hr |
| Idar | Polo Forest | 35 km / 45 min |
| Himmatnagar | Polo Forest | 60 km / 1 hr 30 mins |
| Vadodara | Polo Forest | 250 km / 4 hr 30 mins |
| Rajkot | Polo Forest | 370 km / 6 hr 30 mins |
| Surat | Polo Forest | 400 km / 7 hr |
| Mumbai | Polo Forest | 670 km / 11 hr |
Public Transportation:
Reach to Idar via bus. State transport has many buses.
From Idar to Vijaynagar, jeeps are frequent. Polo forest falls on the way to Vijaynagar.
Be sure to leave Polo forest before late evening, as you might not get any jeeps.
Via Train:
Not at all viable option.
Via Air:
Great option! I heard rumors that Mukesh Ambani's son (Yes! The big one that we often see during IPL) once visited Polo forest in helicopter. You might want to try it out! 😀 😀
A view from window inside Jain temple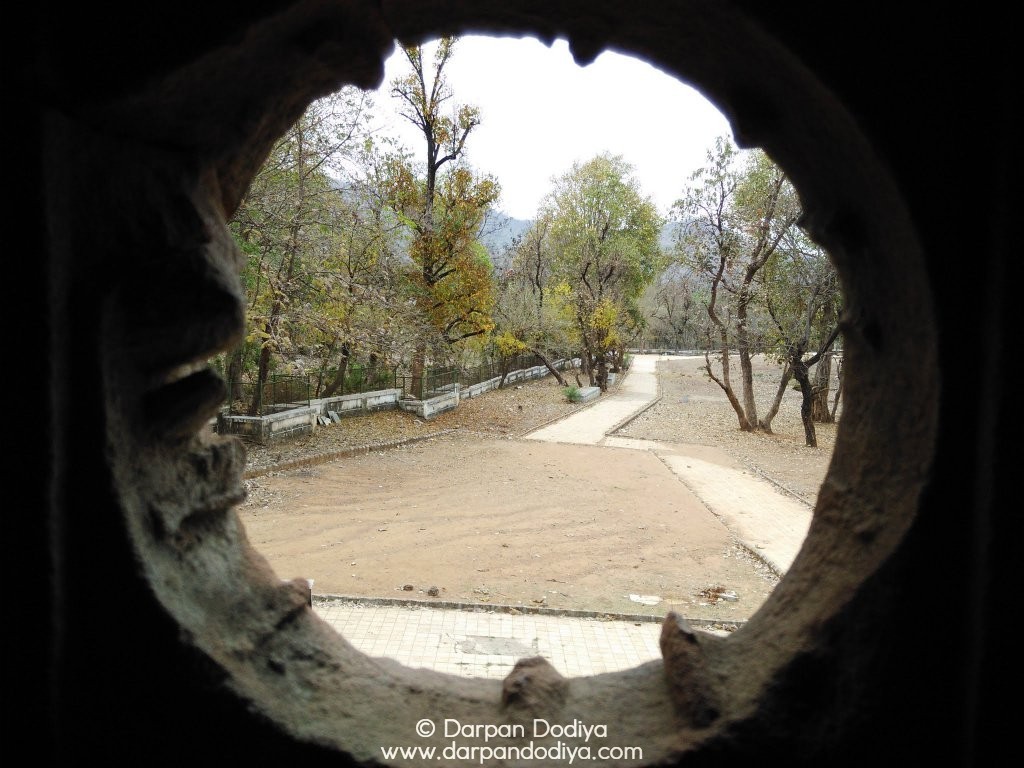 I recently came across these event on Internet.
The Impossible Race at Polo Forest: 17th – 20th March, 2016
Polo Forest MTB &
Polo Forest Road Biking
Very exciting!
Website: http://www.theimpossiblerace.com
For us, unplanned trip to Polo forest turned out to an awesome adventure!
Special mention to last part of our journey, return to Idar from Polo, during which we sat on top of jeep! I still remember those mesmerising winds!