Saputara Monsoon Festival is a month-long event, organized and promoted by tourism department. The monsoon festival begins in August month every year.
The festival features plentiful events, activities and cultural programs in 30 days. Local Dangi food items and spectacular cultural shows portraying lifestyle of Adivasis are most exciting events of the festival. From 10-year-old  kids to 90-year-old grandma, the festival guarantees good time for everyone.
Tourism department also holds special tour packages during monsoon festival.
Normally if  you visit Saputara, you'll find it calm, quiet and pleasant. However, if you visit during this monsoon festival, be ready to see crowds. No surprise, many people come to enjoy the monsoon festival.
Where to Stay – Accommodation
Saputara has many hotels. Though, prices will be skyrocketed during monsoon festival and you may have hard time getting overnight stay.
You can find list and book hotels in Saputara via:
Little History of Monsoon Festival
From what I remember Gujarat Tourism (TGCL – Tourism Corporation Gujarat Limited) organized the first ever monsoon festival in year 2011. It was a massive hit.
Year after year, they kept adding more events and activities. Visitors too kept increasing in folds.
This year, 2016 will be the 6th edition of the Saputara Monsoon Festival.
Events, Activities and Programs
A lot happens during the monsoon festival. Some are,
Cultural Programmes in Evening
Boat Race
Varli Drawing Competition
Photography Exhibition
Handicrafts Exhibition
Archery Practice
Adventure Sports
Paper Craft Workshops
Zipline & Aerial Adventure
Rock Climbing
Food Park
Craft Village
Varli Arts Display
Places to Visit In Saputara
For a list of places with rich information, visit: Saputara Sightseeing List
During time of monsoon festival, Saputara Lake and Table Top point are most crowded.
Sunrise point and echo point attract less people.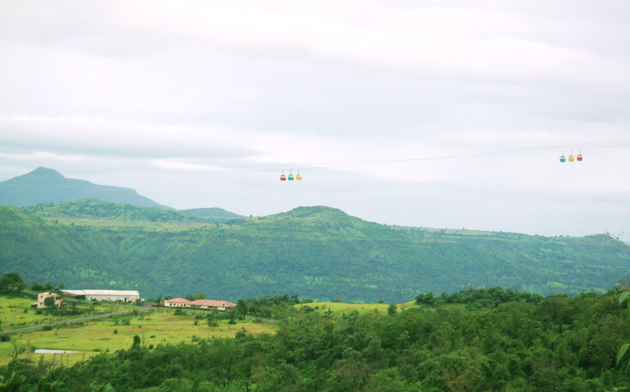 Photo: narendramodi.in
Places to Visit Near Saputara
Saputara falls under Dang district. Dangs has dozens of tourist places. During monsoon season, Dang area scenes have God level awesomeness.
Detailed list of places at: My Journey Of Dang Forests
Don't just limit your sightseeing to Saputara only. Make best of your trip to Saputara Monsoon Festival and cover as many places as possible.
Unlike other places in Dang, Saputara has excellent public transportation facilities. You can hire jeep in Saputara for local sightseeing.
State run buses are frequently available from Surat, Valsad and Bilimora bus station.
Nearest railway station is Bilimora.
Distance Matrix:
| | | |
| --- | --- | --- |
| From | To | Distance in km / Time in hr |
| Surat | Saputara | 160 km / 3.30 hr |
| Mumbai | Saputara | 300 km / 6 hr |
| Ahmedabad | Saputara | 400 km / 7 hr |
| Vadodara | Saputara | 300 km / 5.30 hr |
| Valsad | Saputara | 130 km / 3 hr |
| Nasik | Saputara | 80 km / 2 hr |
Gujarat Tourism department has prepared a 2 page brochure about this monsoon festival. Please find its link below:
Saputara Monsoon Festival 2017 – Download Brochure PDF
Monsoon is the best time to visit Saputara and Dangs area. Nevertheless, if you're the kind of person who likes placidness — don't visit Saputara during monsoon festival.
Featured photo credits: youngama.in